In-depth report: How to choose a mini excavator
Mini excavators weighing under 6 tonnes deliver performance in tight spaces and on urban job sites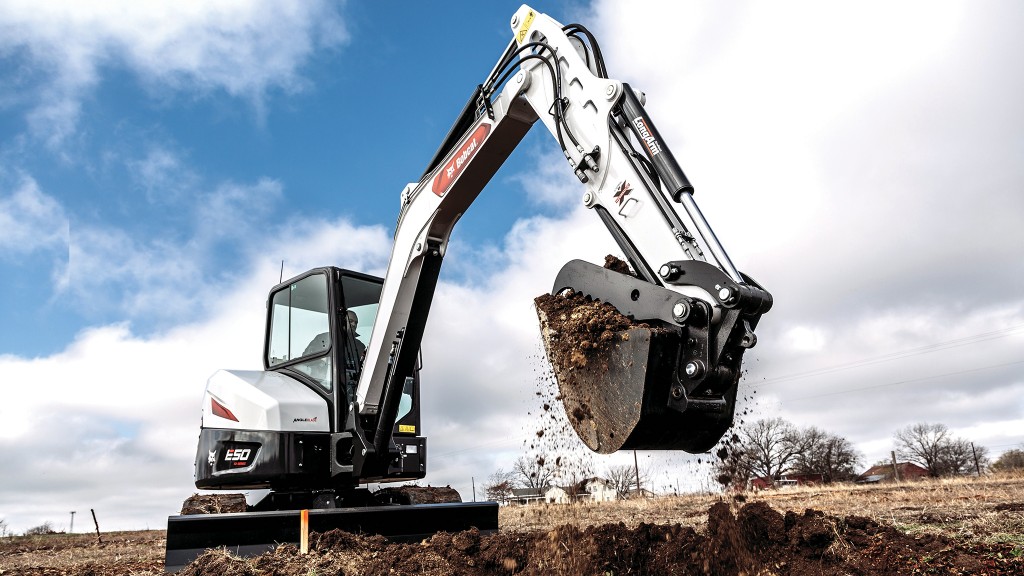 For contractors who need to get work done in tight spaces, difficult-to-access job sites or urban environments, the mini excavator is an indispensable tool.
There is a wide range of mini excavators available in the under-6-tonnes size class, and manufacturers have expanded their feature offerings for these smaller machines to keep operators more comfortable and more productive. Spec'ing a machine with the right configuration and options will result in greater productivity and equipment utilization, but with so many models on the market, what features do you need to get the most value for your money? Here's what you need to know before choosing the best mini excavator for your job site.
What you need to know before visiting your dealer
The first step to choosing a mini excavator is to evaluate the job or jobs that it needs to perform – for both the appropriate size and necessary features, as well as transportation considerations. Keith Kramlich, national product and training manager, Takeuchi-US, next recommends that you determine the amount of material you'll need to move and how fast you'll need to move it. That job information can then be matched to the capability of the mini excavator.

When evaluating the dig depth and lift capacity for your job site, Justin Steger, solutions marketing manager, site development and underground, for John Deere Construction & Forestry, suggested considering whether your business will expand into larger, more complex jobs. "Purchasing a compact excavator capable of digging or lifting roughly 25 percent more than what you typically do daily will allow your business to grow without having to replace equipment as fast."

Size, operating weight and tail swing are also key considerations that give mini excavators an advantage on urban job sites, as well as other work spaces that are narrow, have a low ceiling profile, or are hard to access. For the contractor, it is important to balance size and navigation needs with the power to do the job at hand.

When choosing between conventional, limited or zero-tail-swing options, Jason Boerger, marketing manager – excavators, Bobcat Company, said, "If customers work in confined spaces like residential properties or commercial properties, every inch counts." He noted that a zero- or minimal-tail-swing excavator of a given size will generally be wider than a conventional model. If the operator routinely needs to pass through tight spaces, a conventional tail swing may be the best choice. According to Boerger, the usual width of a conventional tail swing on a 3- to 4-metric-ton excavator is roughly 60 inches. By comparison, a zero- or minimal-tail-swing model that delivers similar performance will be about 70 inches wide.

Knowing which work tools you will need on the job is essential when approaching the machine selection process – this includes both rental tools for occasional use and the tools that you own. Common tools, such as buckets or thumbs, are staples for an excavator owner, but you may also need a hydraulic breaker, auger or other specialty tools depending on your line of work, said Aaron Kleingartner, product and dealer marketing manager for Doosan Infracore North America.
What you need to know about engine size and hydraulics
Chris Lucas, excavator product manager for JCB, recommends considering the application when choosing attachments and hydraulic capability. When selecting the best diesel engine for your needs, you'll need to evaluate your end goal: do you need the highest-performing excavator, the most fuel-efficient excavator, or a combination of both?

Steger noted that contractors need to understand that higher engine horsepower does not necessarily mean higher hydraulic horsepower. Paying attention to gross versus net horsepower when looking at engine ratings on mini excavator models is also essential. "Depending on which figure you look at, you might not be comparing apples to apples," he said, and added that you'll want to factor in fuel consumption and fuel efficiency as there can be tradeoffs with horsepower.
Before buying an attachment, you need to ensure that your machine is capable of operating it – check the flow and pressure requirements, ensure that the machine has adequate auxiliary circuits, and make sure that the attachment is not too heavy for the machine, recommends Kramlich. If you already own attachments and are shopping for a mini excavator, pick the machine that will run those attachments to their maximum potential. A small machine may be able to run a certain attachment, but not at its full potential.

Kleingartner recommends discussing auxiliary hydraulic flow with a sales specialist. "Make sure the machine has enough hydraulic flow required for some hydraulic attachments. It's also important to inquire about secondary auxiliary hydraulics flow for attachments that require it. Check if the hydraulic hoses are standard equipment and how they're routed on the excavator's boom and arm. Are they out of harm's way, or could they get caught on an object?"

According to Jonathan Gardner, product manager, construction equipment – Kubota Canada, you'll want to choose a mini excavator that provides easy access to the key maintenance points: oil filter, hydraulic filter, fuel filter, fuel/water separator and air filter.

Maintenance costs also need to be considered when choosing the best mini excavator for your needs, said Kramlich. Larger machines have larger engines that require more oil and larger filters; a larger hydraulic system will also be more complex and require more oil. "Larger replacement parts and larger fluid capacities means increased parts cost, not to mention the increase in fuel consumption on a larger mini [excavator]. However, those costs can be offset by the increased production time."
Why choose a mini excavator with an enclosed cab?
Spec'ing your new machine with an enclosed cab will result in a higher cost up front, but there are advantages for operator experience and safety that can make choosing a cab beneficial for your bottom line.

An enclosed cab setup gives the operator the best control over their environment to combat the weather elements and fatigue, including heating, air conditioning and noise protection, noted Gardner.

Machines with an enclosed cab offer a range of benefits for both operators and the business. A more comfortable work environment, in both temperature and noise levels, will be a more appealing experience for operators and will keep them productive. Lars Arnold, product manager for Volvo Construction Equipment, noted that there is also an important safety benefit – protecting the operator from flying debris.

Kleingartner noted that today's mini excavators come with automotive-style features, such as Bluetooth systems and speakers that allow the operator to listen to music or connect their phone for calls, which results in improved operator comfort.

An enclosed cab also serves as a deterrent against theft or vandalism, and Steger added that these assets are more desirable for resale.

The climate that the equipment will be operating in is also a factor – both hot and cold. Kramlich pointed out that mini excavators with an enclosed cab can keep working for more months throughout the year, and this extended utilization can offset the additional cost.
How does the addition of technology benefit the productivity of a mini excavator?
While there may not be as many options available for smaller equipment, telematics has become a widely available option for mini excavators and is the best way to monitor equipment to maximize uptime. Formerly only available for larger machines, digging technologies are also now available for some smaller machines.

"Telematics is now an essential feature in the compact equipment industry," said Boerger. "It allows both owners and operators the ability to maximize uptime with the added benefit of peace of mind. Telematics technology, like our Bobcat Machine IQ, works with electronic sensors in the equipment to collect machine-specific data and sends out via a wireless network to a mobile device or computer. This provides a constant pulse on the health and safety of the excavator."

Monitoring the health and utilization of the equipment can reduce service trips as it monitors run hours and equipment data, Kramlich said. The utilization tracking will allow you to make decisions based on actual equipment use, and the telematics system will also minimize cost by precisely identifying service events as soon as they start, allowing the service person to bring the correct tools and parts for the repair.

Kleingartner added that geofence capability is another benefit of adding telematics to a mini excavator. The geofence will minimize equipment theft – compact equipment is one of the most common types of stolen equipment.

Boerger from Bobcat, Gardner from Kubota and Kleingartner from Doosan all noted the value of spec'ing a mini excavator with dig depth indication, which delivers accurate dig depth measurement for precision grade control. Adding this feature to a mini excavator prevents overdigging and underdigging, reducing the use of manual labour and measurement.
What else to consider when choosing a mini excavator
There are many factors to consider when choosing from the range of machines on the market – from capability to transportation, to value in the resale market and the support that dealers can provide.

"Hydraulics requirements as they relate to application is probably the most neglected consideration customers make when purchasing a mini excavator," said Lucas from JCB. "Oftentimes customers won't think ahead to all of the projects or applications they could use their machine for and may not consider single acting auxiliary [hydraulics] versus bi-direction auxiliaries or high-flow versus standard-flow requirements."

According to Kleingartner, arm length may be the most neglected consideration when choosing a mini excavator. Some manufacturers offer mini excavators with either a standard arm or a long-arm option. The standard arm provides higher breakout forces, while a longer arm will deliver additional digging depth and reach – with this option, Kleingartner noted, the owner may not need to move up to a larger machine for the job.

The right coupler and buckets can expand the use of your machine significantly, according to Gardner from Kubota. Coupler choices include pin-on, mechanical quick attach and hydraulic quick attach. Combining the right coupler with specialized mini-excavator buckets purpose-built to a specific task including trenching, ditching and reversible trenching or ditching.

Choosing a machine with a fuel-efficient engine and auto shutdown features is one of the best ways to significantly lower your total cost of ownership by reducing both fuel consumption and total operating hours, according to Arnold from Volvo CE. This will reduce service and maintenance costs and help retain the asset's value for the used equipment market.

Weight and size are just as important to consider for transportation requirements as they are for job site performance. Boerger from Bobcat recommends that all contractors double check the towing capacity of the vehicles used to transport their excavators and have a plan for hauling before selecting a machine size. It is important to also be aware of local road and bridge weight restrictions.

According to Steger from John Deere, it's also important to consider dealer support services when choosing a mini excavator. "Sometimes price or other considerations may outweigh the dealer support up front. However, over and over, customers tell us that parts availability, service, knowledge and the dealer relationship prove to be much more valuable in the long run."

Keeping an eye to the future is also the point that Kramlich from Takeuchi made. "Many customers will shop for a mini because they need to perform basic tasks such as digging a hole or trench. So, they find a mini with a bucket and don't look at the other features. This is a large investment and you should consider other features and options that you may use in the future or could actually help you out now."

For example, you may want an auxiliary circuit in case you want to add a thumb later on. Buying the machine with the auxiliary circuit already installed will be significantly cheaper for excavator owners than adding an aftermarket kit later. Kramlich added that some other features you may want to consider include work lights or a hydraulic coupler, and concluded, "Buy a machine that will continue to grow with your business."
Related Articles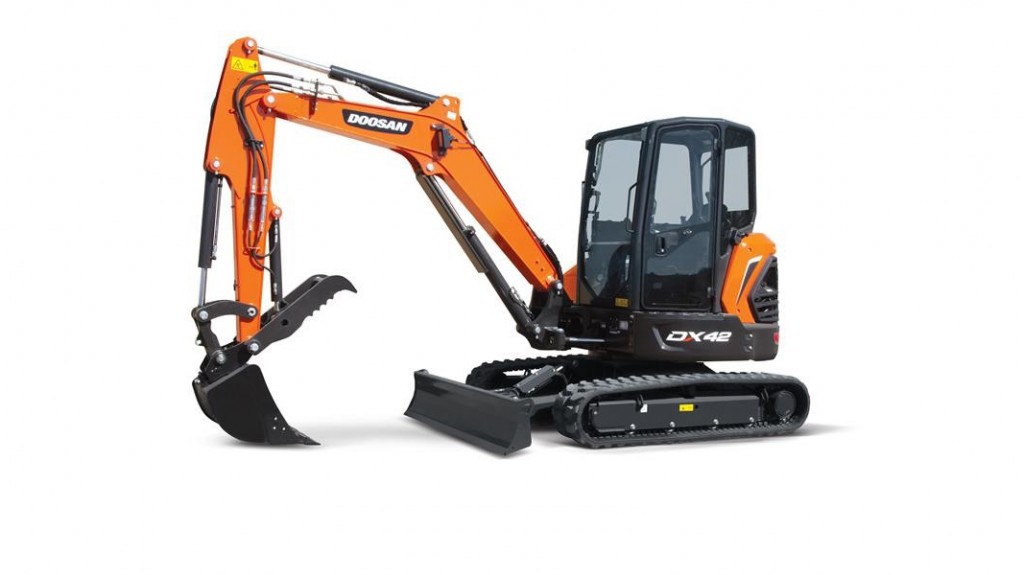 Doosan's updated mini excavators feature enhanced performance and productivity