Articulated dump trucks optimized for operators
In-depth report: Articulated dump trucks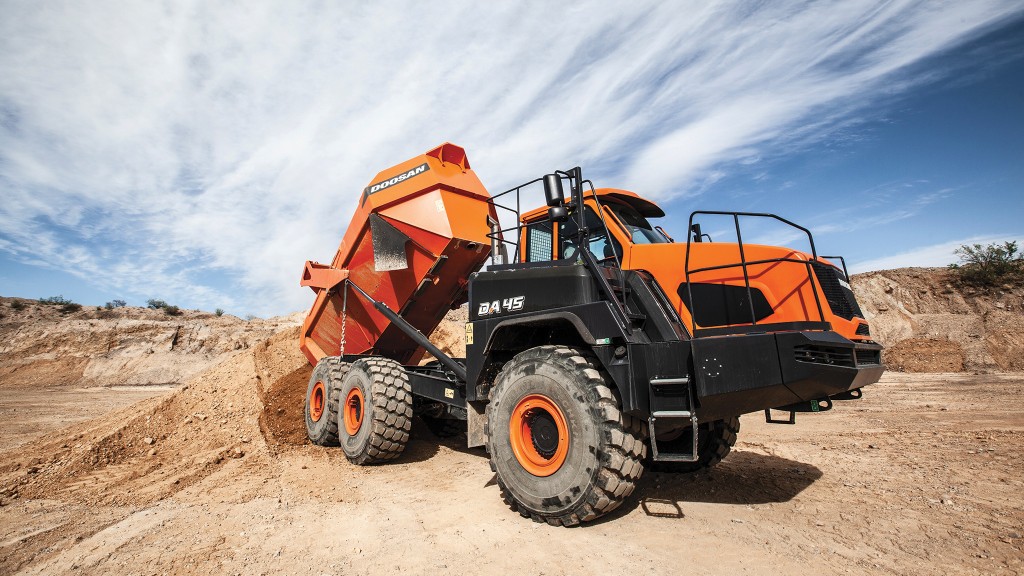 Articulated dump trucks are a strong choice for a variety of excavation sites, materials, and haul distances – plus they're one of the easiest machines to operate. With controls similar to on-road cars and trucks, ADTs can be handled by operators with a range of skills, which combines with technology to keep these trucks productive throughout the day. Heavy Equipment Guide asked a group of experts about the many benefits that ADTs can bring to a construction fleet.
Comfort and ease of use improve performance
New operators just getting their feet wet in excavation work will often find their first machine on the job site to be an ADT. Why? It's easy to operate, the job generally isn't complex, and it provides green operators with a chance to understand how to run a machine in the dirt. Manufacturers recognize that fact, putting safety and ease of operation at the forefront.
"We understand who runs our machines. We understand that it can be a little intimidating," said Caterpillar Product Application Specialist Scott Thomas. "The Caterpillar team has a lot of technology built into our trucks that works seamlessly behind the scenes to allow an experienced operator to be even more experienced, and the inexperienced to be more comfortable in their surroundings."
Machines that carry up to 50 tons of payload may seem daunting, but technologies like automated traction control that work in the background, sensing spins starting and redirecting power to reduce those potential slips, ease the job for the operator. Liebherr, which has just launched its ADTs in Canada, has added automated traction control, said Sales Manager David Reid.
"It's about ease of use and safety. Operators are getting harder to come by - how can you make their life easier? How can you put that person with less experience in the seat and make them competent more quickly?" Reid said.
Speed control, which Liebherr offers on its ADTs, manages speed for the driver based on set top and bottom ranges. The Liebherr truck brakes automatically using a retarder on downhills to stay within range. Other tools like automatic central lubrication can also be a benefit.
Safety plays into driver comfort and productivity, and a variety of tools help keep ADTs safer for operators and the job site as a whole. Doosan designed its machines to increase operator visibility with a centre-mounted seat and a standard rear-view camera, according to Product and Dealer Marketing Manager Aaron Kleingartner. An automatic transmission and hydraulic retarder keep the machine at a proper speed even on downhills.
In many ways, ease of operation comes down to automation - many of the tasks that an ADT does in a day can be automated, reducing the operator's work and allowing them to focus on driving. Bell ADTs, represented in Canada by Wajax, are highly automated, according to Territory Manager Brad Castle.
"We've got a push-button start, a push-button stop, automatic turbo spin-down so when you turn the truck off it will automatically idle until the turbo is at a decent speed to turn off," Castle described, noting that the dump operation can be done at the touch of a button.
Less complicated operator stations are a big part of managing operator comfort and productivity, and John Deere's machines take that on as well, according to Solutions Marketing Manager Justin Steger, who notes that the E-II ADTs have 25 percent fewer switches to manage as part of their enhanced design efforts.
Sometimes it's the small things that can make a difference, and for Rokbak, that even comes down to the side mirrors. Product Manager Chris Alexander noted that they have been moved to improve visibility. "They're now mounted on the handrails, instead of on arms from the cab. You get lower vibration on the mirrors, which improves visibility and just makes life a lot easier for the operator," he explained.
In all, efforts across the board have been focused on making ADTs easier and smoother for any operator to run. That's important to any contractor, said Volvo Construction Equipment Product Manager Eric Fatyol.
"They're probably putting their lowest paid operator in these haul trucks, which can cost more than a half million dollars depending on the size - so they're looking to put someone in that truck who can go to work right away in something that's easy to use," he said.
Drivetrain features improve cycle times
Technical improvements to the drivetrains of articulated dump trucks have brought a variety of performance and productivity benefits in recent years, much of which comes down, again, to easier and more automated operation.
Automatic transmissions reduce the number of inputs that an operator needs to make while running the machine. For Doosan, that means the trucks really only have two control mechanisms - a control lever for the transmission and a lever for the dump body, Kleingartner said.
"You put it in forward, the machine is ready to be moved. If you put on the brake, it will stand still, and if you take your foot off the brake, the machine will start moving, just as you would use your accelerator in an automatic transmission automobile," he noted.
Travel speeds are important considerations when selecting an ADT, and tie into the transmission design, Reid noted. Liebherr's transmissions offer eight forward speeds and several in reverse to provide quicker movement and faster cycle times, he explained.
Caterpillar has integrated more technology into its drivetrains, taking advantage of new communications capabilities to add better functionality.
"With technology, smart transmissions and engines, you can communicate better. We have APECS . . . Advanced Productivity Electronic Control Strategy," Thomas explained. "In the past, it would seem that when the clutch would come off, the truck would hit a lull . . . you'd come to a little pause on the haul road if you're going up a grade. APECS has allowed us to really keep the top end of the torque curve where it needs to be."
Allison transmissions paired with Mercedes-Benz engines are both efficient and equipped with their own technology in Bell trucks, Castle said. Allison recently released FuelSense software in its transmissions that change the gears based on the road profile, ensuring the truck is always in the most efficient gear for the road conditions.
Traction control combines with an interaxle differential lock for Komatsu ADTs to improve efficiency, explained Komatsu Product Manager Robert Hussey. "This system enables Komatsu ADTs to work in poor underfoot conditions without compromising steering capability. The interaxle differential lock automatically engages to stabilize the machine when the Komatsu Traction Control System is activated."
Engine efficiency also comes into play in the drivetrain design. With the move to Stage V emissions compliance, Rokbak has also brought in more efficient operations, Alexander noted. Its Stage V emissions-compliant machines save around 7 percent compared to previous models, thanks to an improved SCR system and removal of EGR.
John Deere uses three drive modes on its ADTs to help customers improve the bottom line, Steger said, while at the same time reducing operator inputs. Normal mode reduces fuel consumption by up to 7 percent compared to previous ADT models, while Eco mode adds even more savings by smoothing throttle input and reducing maximum rpm - up to 12 percent compared to Normal mode, in the right conditions. Traction mode aids the operator to maintain tire traction in soft underfoot conditions by automatically engaging the differential lock to cut down wheel spin.
Variety of body and chassis designs add capability
In terms of overall design, articulated dump trucks are relatively simple structures that, over time, have been strengthened and polished to handle larger loads. Volvo's machines started out with two axles back in the 1960s, Fatyol noted, but the needs of the industry have expanded them over time.
"As time progressed, we carried bigger loads, so we went to the six-wheel drive that you see today. Customers are demanding more and more production - there are many applications where you can't use a rigid or on-road dump truck," he said.
The dump box is one area that sees plenty of variety in design and features on ADTs; buyers will sometimes install sideboards, spill guards, tailgates, and liners in their boxes. The overall box design might not be the first thing to come to mind, but it can be important in a number of ways. Boxes need to have a low centre of gravity and be easy to dump, while keeping material from being stuck in the bed, Thomas explained.
The diverse uses of ADTs and the machines that work with them make that box design question important, Reid agreed.
"It's not necessarily on a site where it's just loading with an excavator all the time. It can do different jobs. It can be anywhere from the gravel pit to moving dirt to overburden. With that, the loading vehicle can vary too - you're not always going to be loading with an excavator. You may be loading with a wheel loader at some sites."
Castle noted that much engineering work has gone into the box design on Bell ADTs based on loading equipment. Longer beds are generally loaded by a wheel loader from the side, while shorter beds are often loaded with an excavator from the rear, as it can reach the headboard.
Deere boxes are also designed for lower overall height and have a wider bin for better coverage over the tires, Steger explained. Wider bin floors make it easier to clean out the box, and updated side sheet designs make loading height over the side the same from front to back. An optional tailgate is designed to keep transport width under 12 feet.
Under the machine, design features aid in maximizing the load carried. A unique axle design helps Doosan's ADTs carry the weight, Kleingartner said.
"Our machine has one rear axle, and on each side of that it's connected to a tandem bogie system that is gear driven. Depending on the machine, there's either seven or nine gears," he said. "That is a free swinging bogie, so it will travel independently left and right . . . helping to improve the side-to-side balance of the machine which, again, allows us to carry more material."
Moving material out of the dump body can be a challenge in some climates, so arrangements where the truck's exhaust is channeled through the body for heating are quite common on ADTs.
"Heated-body arrangements are recommended for customers working in cold climates or hauling wet materials that can build up in the dump body, resulting in material carry-back," Hussey said. Komatsu offers both heated and non-heated units, but all of its bodies have the exhaust channels in place to allow for easy conversions.
One option that can be used to ensure a quick, clean dump on ADTs is an ejector body. Not all manufacturers offer them, but there are aftermarket versions available. The general consensus is that these can be helpful for some applications, allowing trucks to dump their load without raising the box in low overhead clearance, and giving the ability to spread material.
Telematics data and other technology aid efficiency
While ADTs may be a straightforward machine overall, the advent of telematics has made them just as connected as every other piece of equipment in a contractor's fleet. Telematics offer the ability to review fuel consumption, payload, and various measurements that help determine the safety of the job site such as when unsafe body lifts are recorded.
"You have all this data available online, anywhere in the world to look at any of your trucks. You can see what each operator's doing, and it allows you to see how efficient each of them are on various sites," Alexander said. "Time-wise it might help you identify which operators need training - either dump truck training or possibly loader and excavator training."
Payload management tools are a key part of productivity, providing the ability to review the performance of the operator and truck based on the material moved. Sensors and gauges built into the truck provide the operator with precise knowledge of the load level, and some machines feature indicator lights on the box to keep the loading equipment operator aware. Cat has indicators on its cab display and on the box corners, for example, Thomas noted.
Accuracy on Bell payload systems is improved by the use of three points of reference, Castle said.
"We have measuring points on our walking beams on either side, as well as our oscillation tube, so we're getting weight calculation in the box and what's getting transferred through to the front of the truck," Castle said.
Ensuring the truck is properly loaded is important for a variety of reasons, Reid related, ranging from safety to maintenance.
"If you get the machine loaded correctly it will be easier for operation . . . safer for the operators, safer for the job site, and better for the truck," he explained. "If you're running in an overload scenario, that's not good for the longevity of the machine - you run into issues with lifting the box, and that sort of thing. You want to get the right load of the truck."
The ability to identify different types of material and the amount moved aids in site management and planning, Kleingartner said. "If you know exactly how much material you need to move and the cycle time it takes the truck to get from point A to point B and back, you can determine if you need one, two, three, or ten trucks on the work site."
Payload data incorporated into a telematics system is just one piece of data that can provide greater management insight for owners.
"With the ability to track these machines, you can reduce fuel burn and idle time; a lot of companies have targets of trying to get to a lower idle time. Believe it or not, the average idle time for most articulated trucks in the world is about 35 percent," Thomas noted.
Owners can also determine if the configuration of their truck is maximized for the best possible load based on telematics information collected in systems like Komatsu's Komtrax, Hussey said. Customers can determine if their trucks are being loaded to capacity and, if not, they can figure out why, or deal with overloads as needed.
Volvo's Haul Assist platform can collect cycle data or work in a project mode that breaks down the material being moved during the truck's operation, Fatyol noted, which aids in costing out material movement in contracts.
"You can break it down by operator, say that one is more efficient than another. You can break it down by tons per gallon. There are all different ways to break it down. Most people are looking at production and wanting to see how efficient an operator or a truck was in a day, week or month's time," he said.
Whether they're hauling rock, dirt, or sand, articulated dump trucks are a key part of earthmoving job sites. For owners, finding the best configuration of power, capability, and efficiency is the route to a successful, productive operation.
Related Articles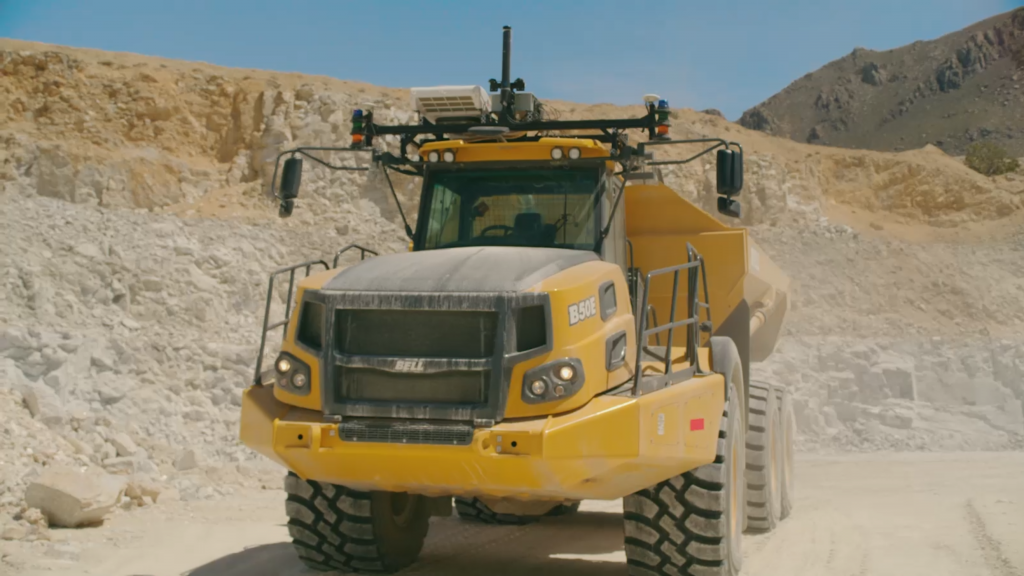 (VIDEO) Pronto AI to provide Bell Trucks America with autonomous technology for articulated dump trucks