bauma announces 2022 Innovation Award winners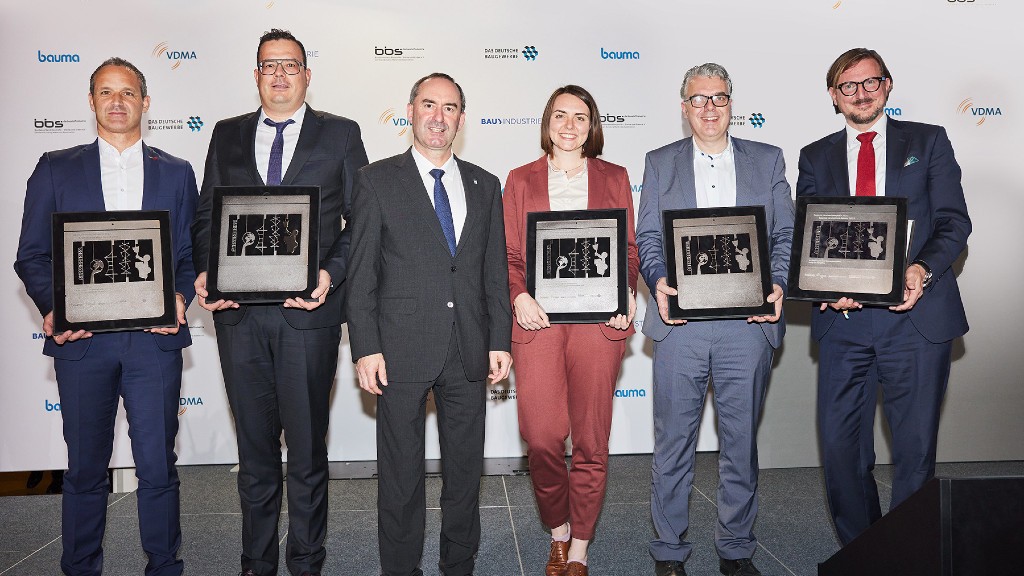 The 2022 bauma Innovation Awards were presented in a ceremony in Munich on Sunday, October 23. Awards were presented in five different categories including Climate Protection, Digitalisation, Mechanical Engineering, Building Innovation, and Research Innovation.
The bauma 2022 Innovation Award winners are:
Climate Protection – Liebherr-France SAS for its R 9H2 hydrogen-powered crawler excavator
The H2 hydrogen drive in Liebherr's R 9H2 crawler excavator does not require a permanent energy supply and generates low NOx and CO2 emissions. Depending on how emissions are measured, and whether the entire life cycle of the machine is taken into account, the hydrogen combustion engine reduces CO2 emissions by almost 100 percent in day-to-day operations, or by 70 percent, for the entire life cycle of the machine, from manufacturing to its end of life.
Liebherr's hydrogen engine is designed for heavy-duty applications, and the R 9H2 is deisgned to match the performance of its diesel-powered counterpart.
Learn more about all of the Climate Protection award finalists
Digitalisation – MiC 4.0 Machines in Construction for its common digital language for construction sites
MiC 4.0's aim is to create a universal, uniform, and manufacturer-independent data interface between construction equipment and attachments. Through the cooperation of over 25 users and machine and tool manufacturers, a data interface via the CAN bus internet protocol is being defined under the name MiC 4.0 BUS, which can map use cases for communication between attachments and machines.
Mechanical Engineering – Herrenkneckt AG for its continuous advance tunnelling process
Herrenknecht AG's new continuous tunnelling process is for tunnel infrastructure in common soft ground formations with or without water-bearing layers. Using the latest technology, the continuous tunnelling process leads to a significant reduction in construction time for longer sections of tunnel as it eliminates the stop-and-go process.
Learn more about all of the Mechanical Engineering award finalists
Building Innovation – Holcim GmbH for carbon prestressed concrete (CPC)
Instead of steel, the concrete of Holcim's carbon prestressed concrete (CPC) panels is reinforced exclusively with prestressed carbon fibres. The thin concrete elements enable material savings of up to 80 percent, depending on the design, and reduce the component's CO2 footprint by up to 75 percent.
Learn more about all of the Building Innovation award finalists
Research Innovation – Freiberg University of Mining and Technology Mechanical Engineering Institute for deep sea sampling
The research project aims to electrify a compact trench cutter and transform it into a smart, semi-automated vertical mining unit for deep sea mining. Conditions on the sea floor include water pressures of up to 400 bar, complete darkness, and temperatures around one degree Celcius – all of which are challenges for equipment technology.
Learn more about all of the Research Innovation award finalists