Weekly recap: spec'ing your mini excavator, Komatsu's sustainable wheel loader, Caterpillar races Hot Wheels and more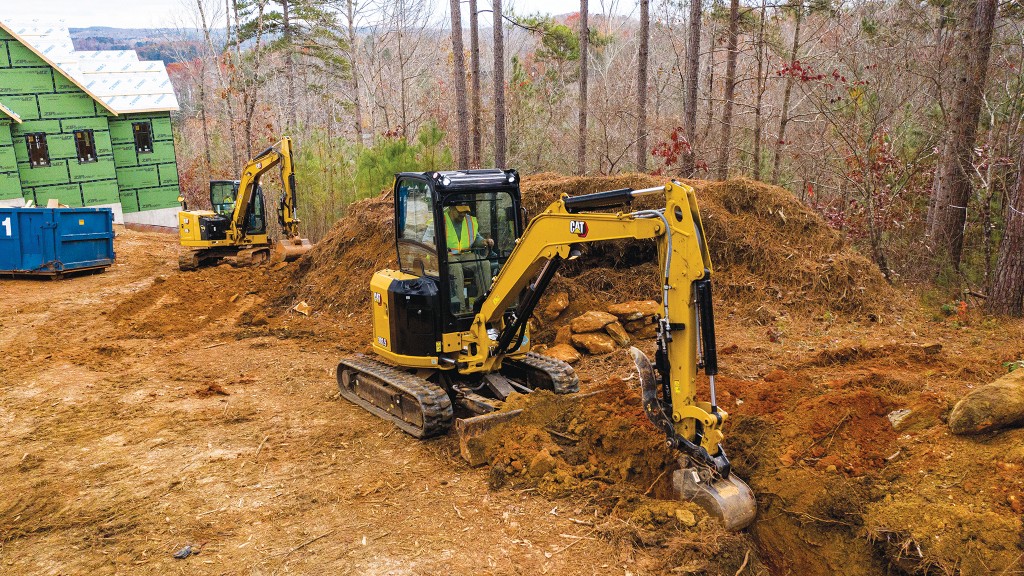 This week has been full of speed, efficiency and sustainability. We saw Caterpillar drift its way around a Hot Wheels race track, learned how tiltrotators optimize landscaping and found out more ways to improve job site efficiency. Below are six articles from this week we hope won't pass you by.
How to spec the right mini excavator for trenching and utilities applications
The mini excavator has long been considered a utilitarian machine, often with minimal bells and whistles, designed to get the job done on compact work sites where a minimal machine footprint is vital. As these small machines become available with more options in attachments and configuration, the benefits of using a mini excavator over a backhoe loader for utilities and trenching work open up new opportunities for contractors.
Find out how to spec your mini excavator for trenching and utilities applications in the full article.
Watch Caterpillar race life-sized versions of Hot Wheels cars in newest Cat Trial video
Caterpillar's Cat Trial 11: Hot Wheels features a playground with life-sized versions of Hot Wheels cars, next generation Cat wheel loaders and other Cat gear. For this trial, Caterpillar brought in professional stunt drivers, track designers and equipment operators from around the country. The project leaned on Cat machines and technology to bring it all to life.
Race your way to Caterpillar's Cat Trial 11: Hot Wheels video in the full article.
New Komatsu hybrid wheel loader offers sustainable operation, enhanced fuel efficiency
For mine operators with a focus on sustainable operation, Komatsu's new WE1850-3 wheel loader can be used for main line production and shovel backup as well as cleanup and ramp building. The WE series of wheel loaders have an SR Hybrid Drive system that is fully regenerative and feeds power back into the electrical system during braking or retarding.
Learn if a WE1850-3 wheel loader can help make your operation more sustainable in the full article.
Boliden collaborates with Epiroc and ABB to develop electric trolley truck system
Epiroc, Boliden and ABB will develop and demonstrate an electric trolley truck system on a test track in the Kristineberg mine, Sweden. The electric trolley truck system is a vital component in enabling heavy transportation with electric driven battery vehicles. All three partners have clear corporate goals that support more sustainable operations.
Read about how Epiroc, Boliden and ABB want to lower mining emissions in the full article.
How tiltrotator-equipped excavators make efficient work of landscaping tasks
Grading, material handling and compaction are all tasks for an excavator on a landscaping job, and if you're looking for an edge, outfitting your machine with a tiltrotator can deliver some impressive benefits. The tiltrotator allows you to work at many different angles, to tilt or rotate your attachments, and to work in front of the carrier, beside the carrier or behind the carrier, but still control the direction of the attachment.
Find out how adding a tiltrotator to your excavator can change how you approach landscaping jobs in the full article.
Volvo CE is expanding its electric compact equipment lineup with three new models - two mini excavators and one wheel loader. The new models increase Volvo's electric lineup to five machines, the largest range of electric equipment on the market. Volvo CE's growing range of electric machines are providing customers with a cleaner, more silent and more comfortable work environment.
See if your fleet can benefit from a new compact electric machine in the full article.