How to spec the right mini excavator for trenching and utilities applications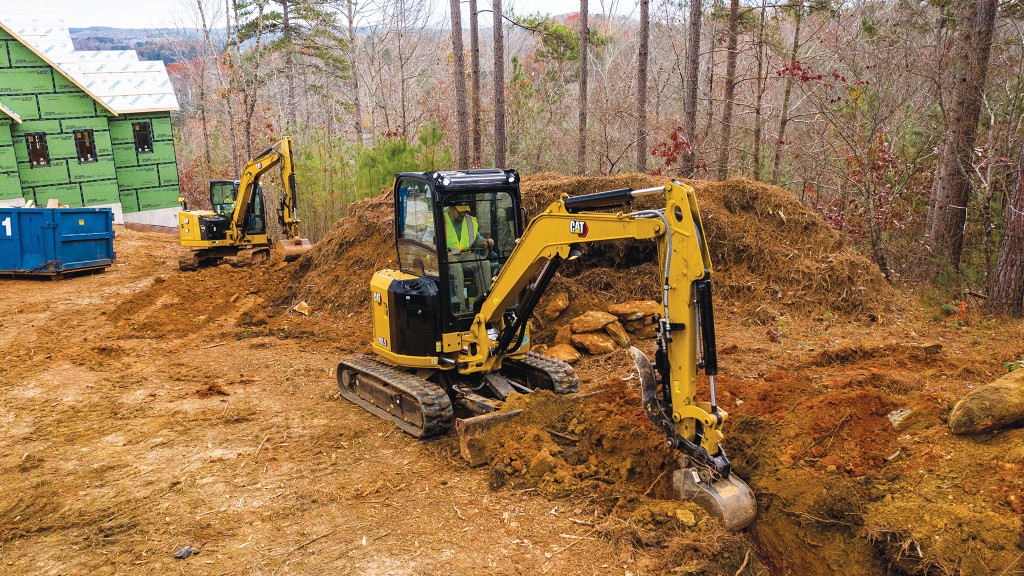 The mini excavator has long been considered a utilitarian machine, often with minimal bells and whistles, designed to get the job done on compact work sites where a minimal machine footprint is vital. But, as these small machines become available with more options in attachments and configuration, the benefits of using a mini excavator over a backhoe loader for utilities and trenching work open up new opportunities for contractors.

"Traditionally, backhoes were the Swiss Army knife of the construction industry," says Greg Worley, market professional with Caterpillar. "They are quick, they're on rubber tires, and you can get them in position – but this is a big machine."

As cities have expanded, utilizing a backhoe that can drive out from the depot to do utilities jobs around a city has become much more challenging – and trailering a backhoe isn't ideal.

Mini excavators have emerged as a popular option for trenching and utilities work because so much capability can be packed into them, and that capability is easier to trailer to more job sites.
A mini excavator is not a production digging machine designed to move material in the most efficient way – it serves the purpose of getting the job done in a compact area, says Dave Donneral, specialized machinery manager with Kobelco. Mini excavators, with no stabilizers and a smaller size, are also easier to move around job sites than backhoes, he points out.

Rubber tracked, low-weight machines are ideal for utilities jobs on improved areas; for example, if there is a finished driveway or landscaping around the job, or if the machine must go through narrow points of access. Aaron Kleingartner, product & dealer marketing manager with Doosan Infracore North America, adds that some of the smallest mini excavators have retractable undercarriages which enable them to narrow even further.

There are a range of tasks that utilities operations need to carry out – trenching, lifting of street plates and transformers, and backfilling, for example, and all need to be considered when spec'ing your mini excavator.
How to spec your machine
Lift capacity
Often when evaluating a machine, an end user will consider what they typically lift most of the time, but Kleingartner always recommends making the decision based on the known maximum that the end user wants to lift. Once that maximum weight is determined, you need to know where that lift is going to be performed. Will it be lifted from the side, or over the front of the excavator?

The machine will be most stable when lifting over the front with the blade down, but if the upperstructure is rotated 90 degrees to lift over the side, the machine will become less stable. "You always want to spec that machine for lift capacity with its maximum expected weight you want to lift over the least stable portion of the machine – and typically that's going to be over the side."

Donneral notes that whether there's a bucket on the machine or not will also factor into calculating the needed lift capacity – if there's a bucket on the mini excavator, the weight of that bucket needs to be included in the lift weight.

If you're going to be lifting street plates, you'll need lifting capacity to match those weights. Worley says that Caterpillar's latest 303 Next Gen machine is designed to do just that. Cat has spec'ed the machine specifically to handle 2,000-pound street plates for trenching and utility work, and the machine has the capability to manipulate and place them.

On the other hand, Worley says that some contractors don't use street plates or lift much at all – they just do trenching. If you will be setting transformers, these may not be the heaviest lifts, but the operator may require significant reach to lift over obstacles and that needs to be factored in when consulting lift charts.

Knowing how high, up and down, you're going to need to lift your heaviest materials will factor into the decision as well, adds Kleingartner.
Dig depth
Maximum dig depth of the machine should be deeper than what you need to trench.

"We often will promote maximum dig depth, but maximum dig depth is really only achievable at the very lowest portion of an arc. That boom and arc pivots around a mounting pin on the mainframe, and you can only get so deep based on that lowest point of the arc," says Kleingartner. "A lot of times, people will refer to an eight-foot dig depth location, and that way you compare it more easily machine-to-machine on what's the maximum vertical wall dig depth you could have at eight feet deep. You can take a look at those two numbers to really compare machines."

Kleingartner recommends spec'ing your machine so that 85 percent of its capability will get the job done, and then you have an extra 15 percent of capability if you need it. For example, that extra reach can be beneficial for dumping spoil far enough from the trench.

"You don't want a machine that will dig a maximum of eight feet [if you want to dig an eight-foot-deep trench]. You want a machine that will dig further, as it's that flat bottom trench you're really looking for," Donneral says. If you spec a machine with a 10-foot dig depth, you'll have the eight-foot depth to get an eight-foot flat bottom in the trench – and you won't have to move the machine every time.

Ultimately, according to Worley, dig depth may not be as big a concern as most mini excavators will reach the necessary dig depth for the types of utility work that they're deployed for. One exception is in northern regions where, for example, the excavator needs to dig for utilities to lay them below the frostline. Another advantage of employing a machine with a longer stick is that the operator will have to reposition the machine less and will be more productive. Worley says that what Caterpillar is hearing from customers is, "I need the most powerful machine possible in the smallest package possible to meet my digging criteria." This is particularly important for contractors working on domestic hookups – for them, finding the right balance between machine size and dig depth is vital.
Boom and stick configuration
The swing boom that is found on most mini excavators is great for utility work in confined spaces, says Donneral, giving operators the ability to swing the boom to the left or right for trenching without moving the upper house of the machine.

Options are available when configuring the stick, and there are three different configurations to consider – standard, long-arm or extendable arm machines. Kleingartner says that a machine's characteristics are best configured for the standard machine, and a long-arm model will typically have extra counterweight in the rear. While a long-arm option may be necessary for contractors needing a greater dig depth, an extendable-arm machine can offer an additional 18 to 20 inches of reach ideal for placing materials, such as in landscaping applications. Most utility or traditional digging operations will find that a standard or long-arm mini excavator is the best fit.

Worley adds that sometimes you have to move up to a larger machine in order to get the reach you need from a longer stick without sacrificing lift capability, such as for placing a transformer.
Undercarriage
When choosing a machine, consider the width of the trackpad itself – this is not typically something that can be changed, and the machine will be widest at the tracks. Worley notes that choosing a machine with a retractable undercarriage can help here.

You may also have a choice between rubber and steel tracks for some larger mini excavator models. Rubber tracks will be the clear choice for most contractors, but if you're working in especially harsh conditions, steel is the way to go, says Kleingartner.

Donneral elaborates that when selecting rubber tracks, there are several options. Some have a more aggressive track pattern that will give you more traction in rougher areas, while others are much smoother so that you can drive them on grass without tearing it up. Some manufacturers will have different styles with varying thicknesses and hardness of rubber.
Blades
Most machines come standard with a blade, which adds weight to the machine's undercarriage and delivers greater stability in lifting and digging tasks in addition to its backfilling function.

Blade options for mini excavators include a standard straight blade or an angle blade. Worley is seeing growth in adoption of angle blades, a high-end configuration, even on lower-end canopy machines. The reason? Efficiency. Worley notes that the angle blade speeds up backfilling and the final grade significantly and utility customers are recognizing that benefit.

A commonly requested feature is float position on the blade, says Donneral, which, after pushing forward, will gently follow the contour of the ground when the machine is in reverse, providing a more level area.

Kleingartner adds that on very small mini excavators with retractable undercarriages, the outer sections of the blade will usually be segmented so that they can either be retracted manually or removed from the machine. Another benefit of the blade is that when working on an incline while digging a horizontal flat-bottom trench, the blade can level the house of the machine so that it will work the bottom of the trench like you expect.
Radius and counterweight
Consideration of radius will depend on the type of job site, and it won't be necessary for all utility work, particularly when laying out utilities before a new build – especially if you're handling heavy reels and prime cable, LAN, etc. says Worley. Counterweight, however, will be important for machine stability when manipulating transformers or junction boxes, which will usually require a machine in the 4- to 5-ton class.

Once you're working on domestic hookups, however, getting the machine with the capability you need, where you need it, can be a challenge. Worley adds that Cat has recently changed its 1.7-ton compact radius machine to incorporate a heavier base counterweight.

Zero- or reduced-tail-swing machines will allow the operator to get into position without worrying where the machine is swinging, but they will typically be wider than their counterparts, and, Kleingartner says, they typically will have a lower lift weight rating on the front of the machine due to where the weight is located. "Make sure you have the proper machine balance for lifting versus digging capacity versus access and the need for that reduced tail swing model – because there are trade-offs in all those scenarios," he says.

Donneral agrees that you need to keep the performance trade-offs in mind when selecting a zero-tail-swing excavator. If a conventional machine that weighs 7,000 pounds can get your job done, then you might have to move up to an 8,000-pound machine to get the same operating capacity with zero tail swing.
Tiltrotators and attachments
Attachment options, quick couplers and tiltrotators have changed how machines are used on the job site, with benefits for an operation's allocation of labourers as well.

"Years ago, a customer would buy a mini excavator with a couple of buckets. Now, they're buying a mini excavator with 10 to 15 different tools," says Donneral.

While this investment in work tools and tiltrotators is significant, it can free up labourers to take on different tasks as an added benefit for operations. Worley is seeing a surge of interest in tiltrotators in North America although not quite yet for the smaller two-ton mini excavators working in utilities applications. Those machines are often still seen as a utilitarian machine, but, Worley says, "The mini excavator is more than just a utilitarian machine – it's more than just a wheelbarrow."

A tiltrotator can be a great addition to any size machine, says Kleingartner, but he also cautions that a tiltrotator adds weight to the stick and reduces what a machine can lift. While adding a range of tools is a significant financial investment, ultimately the versatility will translate into efficiency gains and new work opportunities while also offsetting concerns surrounding labour shortages.
Let the application be your guide
Ultimately, when selecting a mini excavator for trenching and utility work, the application will be your guide – and use for utilities work is growing.

But, given the nature of some utilities jobs, trade-offs between machine parameters may be necessary when making a selection.

Look at the movable factors, suggests Donneral. Does it make sense to remove a fence if you need significant capability on a job site? You won't be able to move a building, but you can get creative with some of the other job site factors, and much of the time there is no cookie cutter job.

Kleingartner recommends that when spec'ing out a machine, you should consider the prime use of the machine first and then consider some of your outlier activities; for example, tasks that require greater dig depth, or the narrowest job sites that you have to access.

"Sometimes, even if that's once or twice versus an everyday activity, it's worth it to have a machine that would fit that particular scenario. And other times the contractor might say, 'For those one-off situations, I'll rent a machine for that job that fits that specific need, but I'm going to buy a machine that fits that 80/20 role of what my prime use of the machine is going to be,'" Kleingartner adds.

Worley is excited by the growing role of mini excavators for utilities work. "I just think that the mini excavators have stepped up the game to be more competitive, more suited into the utility business," he says.