Canada and U.S. lift industry is picking up
From new heavy lifting options to challenging projects, the crane and lift industry has been very active this year. Heavy Equipment Guide looks at some of the latest developments.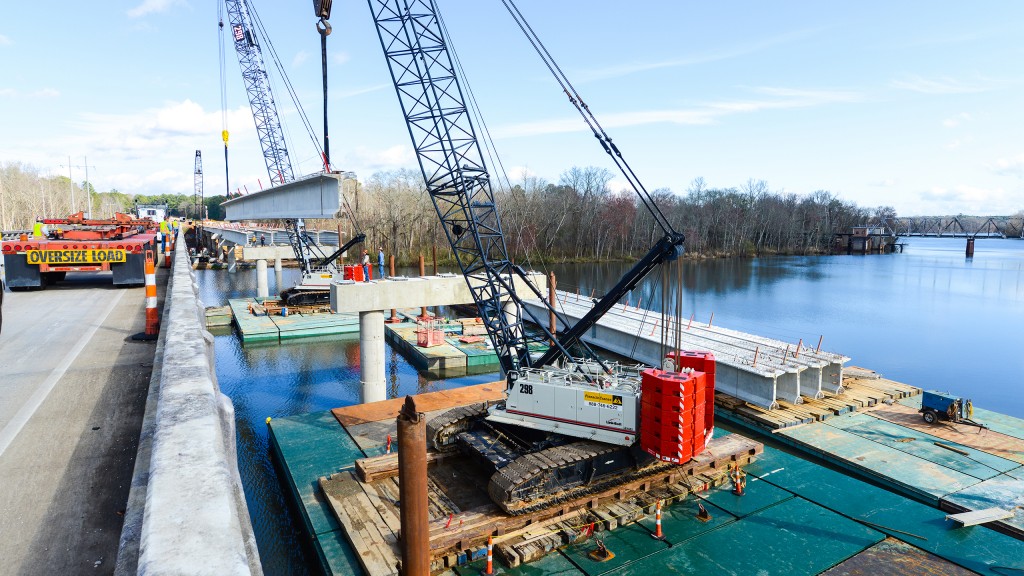 The first Grove TMS9000-2 truck crane to be delivered in Canada has immediately gone to work for its owners at R&D Crane Rental. The lighter, longer and stronger 115 USt unit offers a lighter carrier, a 169-foot main boom and impressive load charts.
For the Burnside, Nova Scotia-based rental company, the TMS9000-2 represented an opportunity to grow its business.

"We're a relatively new company, and we wanted to add a crane to our fleet that would boost our reputation in Canada," said Alex Jenkins, operations manager of R&D. "We feel that the TMS9000-2 has done that. The main selling point for us was the longer main boom. Other comparable cranes only have 142 feet of main boom, while the TMS9000-2 gives you 169 feet."

The TMS9000-2's added reach is already coming in handy on the jobsite. R&D is putting the crane to work to help build a new Marriott-branded hotel in Halifax, Nova Scotia, where the crane is hoisting formwork panels at radii ranging from 140 to 150 feet.

Jenkins also credited the crane's weight and 115 USt capacity with giving R&D an edge over its competition.

"The TMS9000-2 has a comparable gross weight to that of a lower-capacity crane, but you also get extra boom length. This makes it easier to get proper road permits in our region," Jenkins explained.

Cropac Equipment, a Terex Cranes distributor with locations in Ontario, Quebec and Alberta, has recently placed an order for four Demag cranes, including the AC 300-6, AC 220-5 and AC 160-5 all-terrain machines.

Since being reintroduced to the global market in 2016, Demag all-terrain cranes have continued to gain traction among lift and access companies. Demag all-terrain cranes are among the most compact units in each of their respective capacity classes, and are easy to transport, set up and rig. Each unit also features the latest crane innovations, including the optional IC-1 Plus control system that calculates the crane's lifting capacity for every boom position as a function of the superstructure's slewing angle in real time. Demag all-terrain cranes' design, features and functionality deliver high productivity and exceptional return on investment.

Infrastructure projects often require hefty loads to be lifted and moved; when that load is a bridge beam, the job calls for plenty of crane power. In one recent case, that called for brand-new Link-Belt equipment.

Contractor United Infrastructure faced some tough conditions as part of a bridge replacement project on a busy state route. Notably, the job required the placement of 170-foot bulb-tee beams each weighing 200,000 pounds - some of the longest erected in that particular region. To successfully complete the work, United purchased a brand-new 250-ton 298 Series 2 lattice crawler crane from Link-Belt, as well as a 298 HSL.

Only half of the 500-foot-wide river could be blocked off at one time during construction with barge platforms. The efficient footprint of the two Link-Belts allowed for greater river width, and also eased the logistics of barge placement.

Each crane used identical rigging consisting of 40-foot-long, doubled over nylon Kevlar-reinforced slings rated at 200,000 pounds each. With 100 feet of boom in one crane and 120 feet on the other, there was plenty of headroom to pick the beams off the existing bridge and place them on the new pier caps, or swing them 180 degrees directly behind the crane to the storage barge for later placement.

The tandem lifts required the operators to synchronize their moves while lifting, swinging, booming and lowering. They encountered no problems operating the large-capacity Link-Belt 298 rigs.

Italian manufacturer Raimondi Cranes has introduced a new approach to heavy lifting with its LR330 luffing jib crane. The company states that its newest addition is productive, strong and durable to handle tough lifts with ease.

The Raimondi LR330 is the newest luffing jib crane in the range with a maximum jib length of 60 metres and a maximum capacity of 18,000 kg, with two falls and four falls configurations. At maximum radius, it can lift 3,300 kg in ultra-lift mode. Six different jib length configurations, from 30 to 60 metres, satisfy all needs in terms of specific jobsite configurations. The LR330 may be equipped with three different hoisting winches: standard installed power of 80 kW or the two falls configuration with the more powerful 110 kW, while the four falls configuration has an installed power of 80 kW.

The LR330's ease of use is most apparent to crane operators who can now control and tailor the machine's work to their preferences, thereby reducing jobsite stressors. Together with the new Raimondi safety control system, there is a significant advancement in performance and control of the LR330's three movements. Crane operators can now choose between three different configurations, enabling a change in parameters related to movement speeds and dynamic. This functionality allows the operators to align the crane closer to their specific needs.

Linden Comansa's recently introduced CUBE cab for its tower cranes has been recognized with a prestigious prize for industrial product design.

Tower crane cabs are often utilitarian, designed to meet the basic needs of a crane operator but with little consideration to anything else. Linden Comansa's CUBE cab is targeted at providing more space and comfort for the operator, who may spend a full day at height. More comfort means more productivity, and the design of the cab - a cube, as its name implies - provides excellent views all around the operating space.

For Linden Comansa and cab designer BigD, the prestigious iF Award, in the Vehicles and Automobiles section, represents the icing on the cake of a project that took almost two years to complete. According to Alberto Munárriz, Linden Comansa's general manager, "The iF award recognizes the great work of BigD, who knew how to put themselves in the shoes of a crane operator from anywhere in the world to offer a pleasant work space with the greatest possible comfort. In addition, the CUBE cab offers an innovative aesthetic design, very different from what the market has offered so far, and includes all of the technical requirements that we needed to add to the cabin as a fundamental part of the crane."

Users of truck-mounted cranes have a new option to consider as Stellar Industries has released the Model 6521 telescopic crane, with a maximum lifting capacity of 6,000 pounds. This new crane is designed to the same standards as the Stellar Heavy-Duty Crane Line and has the same look and feel.

Every 6521 crane comes standard with the Stellar CDT (Crane Dynamics Technology) system. The Stellar CDT system is a proprietary collection of revolutionary, industry-first features that control, power, and monitor these new cranes. The Stellar CDT-equipped cranes will engage and communicate with the crane operator by using multiple sensory indicators when approaching maximum capacity. Three main features of this control system include the use of coloured LED lights and pulsating vibrations transmitted through the hand-held remote handle. Some Stellar CDT systems will also allow the operator to go into a Boost Mode and operate at 118 percent of its normal operating capacity for a short period of time when at maximum capacity. The third revolutionary feature of the CDT system is the ability to function in safety mode when a safety feature is damaged or malfunctions.

The 6521 offers boom articulation of -10 to +80 degrees. This allows the operator both easy reach to stow the snatch block as well as offering maximum ability to load items into the load bed. An additional feature to this crane is the quick release snatch block stow hook. This can be found on the underside of the boom and allows the operator to easily un-stow and stow the snatch block. When the boom is raised to 60 degrees, the unique design allows the snatch block to gently release ensuring a safe and orderly deployment.

Terex Utilities has added a new option for users of its Commander Digger Derricks - Load Display. This operator aid adds a load cell which measures the actual winch line pull, and displays it at the control station to help operators as they follow the load chart. The load cell attaches between the winch line and hook and wirelessly transmits the value to the display.
Digger Derrick Load Display was one of several concept technologies Terex Utilities featured at the International Construction & Utility Equipment Expo last fall. Customers can now request Digger Derrick Load Display on new Commander

Digger Derricks or to retrofit on existing models. Available as a six-ton system for single-line capacity, the actual load must be calculated based on the number of parts of line used times the value displayed.

Elliott Equipment, a pioneer in truck-mounted lift equipment, is celebrating its 70th anniversary in 2018.

Founded in 1948 by Dick Elliott, the company's products enjoyed early adoption by electrical contractors and utilities as post-war America constructed its electrical grid.

Transportation departments also recognized the benefits of an aerial work platform that could handle materials and began using the Elliott HiReach for sign and lighting installation and maintenance.

Today, Elliott serves customers in the utility, sign and lighting, public works, mining, telecommunications, energy and construction industries.

All of Elliott's HiReach aerial work platforms, BoomTruck cranes and Digger Derricks can be equipped for material and personnel handling and in some cases digging in addition to their primary functions.

This allows users to maximize their equipment utilization and do more with their investment.