World of Asphalt and AGG1 2018 Show Preview Part 2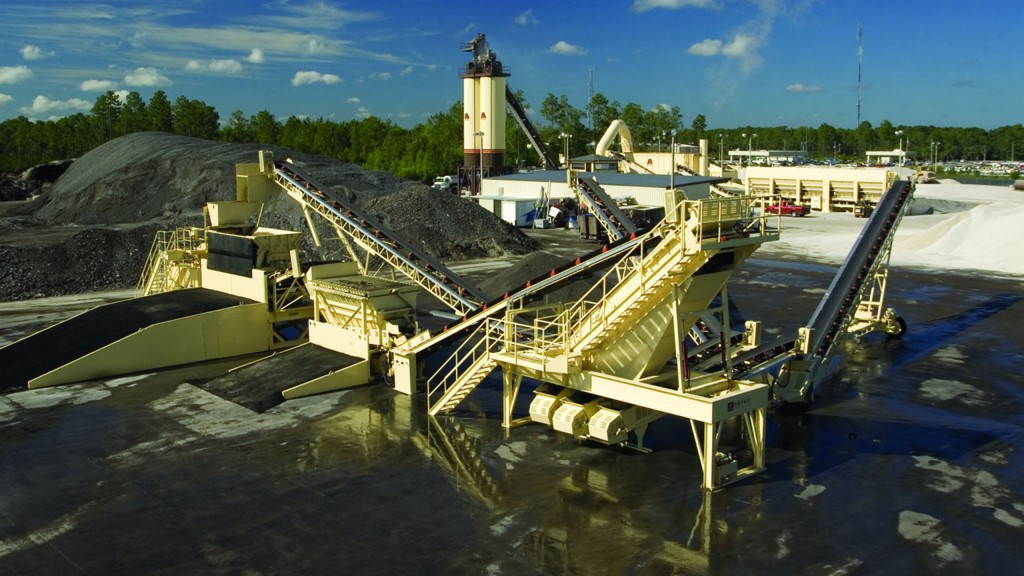 World of Asphalt will be held in Houston, Texas, from March 6 to 8 and features educational programming and exhibits focusing on the latest technology and innovations for the asphalt industry. The Agg1 Aggregates Academy & Expo, co-located with World of Asphalt, offers educational sessions and exhibits on the latest developments for the aggregates industry. The following are highlights of products that attendees can expect to see at the shows.
You can find Part 1 of Heavy Equipment Guide's Show Preview here.
From material extraction to processing, ESCO offers a range of blades, crusher wear parts, lip systems, ground engaging tools, attachments and wear management. At World of Asphalt, ESCO will showcase the latest in tooth systems, crusher wear parts, blade systems and other high-performance products.
The Gencor Portable Ultraplant for hotmix asphalt features a totally integrated drum concept that allows high-production continuous mix with high volume and high moisture recycle. As a result, Gencor says that their plants are accepted in the most stringently regulated and environmentally sensitive regions.

Designed for minimal structural vibration, Haver & Boecker's Tyler F-Class vibrating screen is ideal for tough applications, such as scalping and classifying ores, minerals, stones, sand and gravel. The F-Class offers three screen decks and features a double-eccentric shaft design that's supported by four high-performance double-spherical roller bearings. The vibrating screen is ideal for screening situations that require consistent load-independent performance at constant g-force in all operational modes.
To minimize downtime for screen media change-outs, Haver & Boecker equips cambered decks on the F-Class with its Ty-Rail quick-tensioning system, which cuts media replacement time by about 50 percent. An optional chassis offers portability as well as simple setup in less than 30 minutes. Each F-Class pairs well with the company's Tyrethane media, including Ty-Wire, Ty-Max and Ty-Deck. The polyurethane media comes in both modular and hooked forms, eliminating the need for expensive deck conversions.
HCSS has introduced digital plan management software designed specifically for heavy civil construction. HCSS Plans allows contractors to upload and publish any PDF set of plans, perform quick takeoffs and add markups that the entire field can see instantly.
Users can mark revisions with clouds; link to callouts; mark off key areas using polygons; and perform material and volume calculations, vertical/horizontal scaling, and average end area calculations. They can add notes and photos, and all changes are updated instantly. This ensures crews are always working off the most current set of plans and building correctly the first time, reducing issues and rework.

Layers allow users to work in a sandbox without making permanent changes, and revision history shows all changes made to a PDF. Revisions and as-built drawings can even be sent to stakeholders.

HCSS Plans will integrate with HeavyBid to provide estimators' calculations and annotations, and quantities calculated in HCSS Plans can be sent to HeavyJob for accurate reporting.
John Deere will have several pieces of equipment on display, including the 824K-II wheel loader and 844K-III Aggregate Handler wheel loader. The 844K-III aggregate handler package is purpose-built for two-pass loading with larger material-handling buckets from 9.3 to 9.8 cubic yards. The unit has larger tilt cylinders, higher hydraulic pressure, and increased counterweighting. Additionally, JDLink Telematics will be on display to show how customers can track their machines, which machines are working and if they are working properly and to their utmost productivity and efficiency.
Attendees will also have the chance to see the Kespry Unmanned Aerial Intelligence System that is sold and supported by John Deere dealers. The system lets users easily conduct site surveys and visualize job progress. The complete system provides accurate data for earthwork planning, progress tracking and material reporting for the entire jobsite.

KM International's display will include the KM T-2 asphalt recycler and KM 8000T four-ton asphalt hotbox reclaimer. The KM T-2 asphalt recycler is a trailer-mounted, four-tph asphalt RAP recycler capable of transforming asphalt millings, chunk and other RAP material into plant-quality mix or better hotmix asphalt. The KM 8000T asphalt hotbox reclaimer is a four-ton trailer mounted hotbox reclaimer intended to maintain the temperature of HMA or reclaiming bulk-stored virgin hotmix asphalt. Using a hotbox reclaimer allows a contractor to buy only what is needed - eliminating the need to discard asphalt that lost heat throughout the day. An asphalt hotbox also has the ability to reheat or reclaim properly stored virgin asphalt back to its original temperature overnight.
Kolberg-Pioneer, Inc. (KPI), Johnson Crushers International, Inc. (JCI), and Astec Mobile Screens, Inc., will be showcasing RAP and aggregate processing solutions at the World of Asphalt and AGG1 shows. Through high-performance crushing and screening equipment, the group of Astec companies is able to improve a producer's bottom line by increasing RAP utilization in operations. KPI-JCI and Astec Mobile Screens RAP and aggregate processing solutions come in multiple configurations from mobile units to complete portable or stationary systems. Scale models will be on display at the conferences.
Heavy Equipment Guide's World of Asphalt and AGG1 Show Preview continues
Company info
Related products