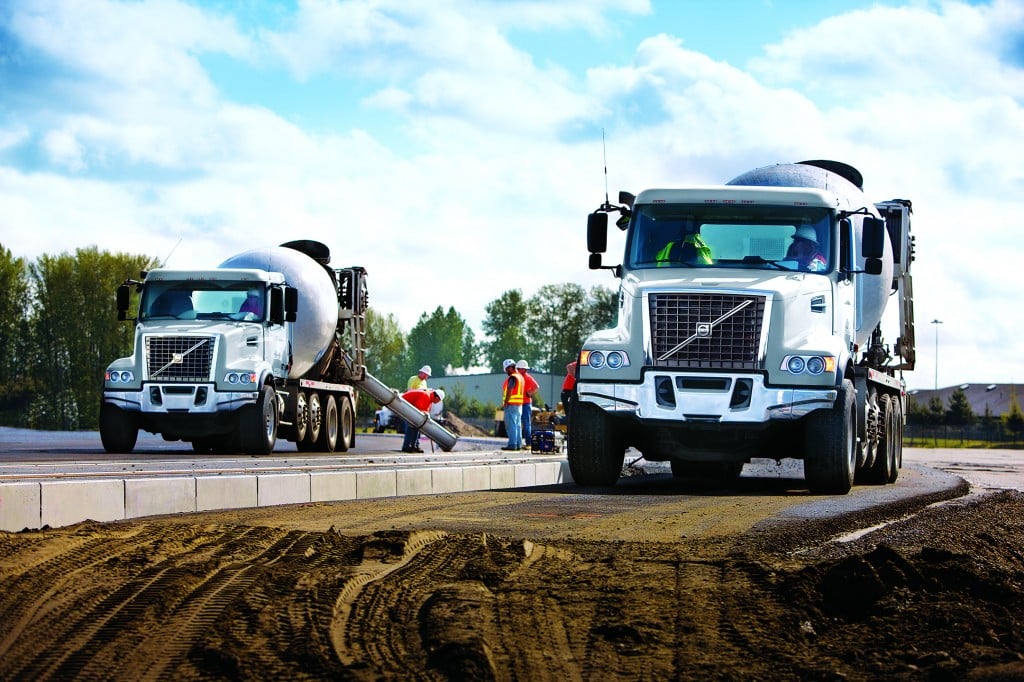 The purchase of a concrete mixer truck requires a lot of careful planning. Specs, regulations, work site conditions and even weather have to be considered very carefully before a decision is made.
We asked vocational truck manufacturers for advice on how Canadian operators should approach spec'ing their mixers. Here are some of their suggestions to get the most out of your purchase.

Seek out expert knowledge
Advice can come from many directions when it comes to where you start with a truck spec sheet, noted John Felder, vocational product marketing manager for Volvo Trucks. "Key design criteria are vehicle weight and reliability, as the mixer trucks haul a time-sensitive commodity. It's important to seek advice within the market where the truck will be operated," Felder said.

Chad Semler, Director, Product Marketing Severe Service with Navistar explained that "This is a mature industry and the truck specs are well defined by the mixer-body manufacturer and OE (original equipment) chassis providers. For example, International has mixer application features such as levelling suspension (mixers are heavier on the left side when full), special cross member location for PTO pump mounting, transition plates for bridge formula mixer body installation, and others."

Tim Wrinkle, construction product manager with Mack, said the spec'ing process should also start with a knowledge of what truck companies can offer in terms of support. "For example, Mack's body builder support group is dedicated to working with customers before, during and after the upfit to ensure a smooth process and timely delivery of the finished truck."

From regulations to suspension - there is lots to consider
When it comes to Canadian consumers, there are numerous considerations to keep in mind when buying a concrete mixer truck for concrete use. The range of regulations from province to province can be a challenge. Local dealers are familiar with the regulations for their region, so be sure to make use of their expertise when researching the type of truck you want to buy.

"As with any commodity-hauling business, the goal of a mixer is to deliver as much concrete as possible in accordance with laws and infrastructure restrictions," Felder noted.

"Just like weight laws can change from state to state in the U.S., Canadian provinces have their own regulations that change and have major impact on truck specs," said Wrinkle. "For example, Ontario allows heavier weights than any other province, and has instituted new standards that mandate certain percentages of weight be balanced between steerable axles and rear axles. This will come into effect in 2020, so it's imperative to work with your local Mack salesperson to ensure you will be legal in three years time."

"The axle capacities, lift axles and booster axles depend on local weight laws and desired payloads," Semler said. "For example, International offers a Dana 50,000-pound capacity tandem drive axle specific for concrete mixer applications that fills a need in certain parts of the country."

When it comes to keeping mixers within a certain length, owners may want to look at a set-forward steer axle configuration with no protruding parts in front of the bumper, according to Peter Schimunek, Marketing Manager, Western Star Trucks. This is especially important if a liftable booster axle is required.

Mixer trucks are top-heavy and deal with plenty of shifting weight. It's important to ensure that the right suspension is part of the spec'ing process.

"Mixers typically need to perform both on- and off-road, and since mixers have a high centre of gravity with the spinning barrel carrying approximately 40,000 pounds of concrete, they are more prone to rollover than other vocational applications," Wrinkle described. "Mechanical suspensions with high roll stiffness and high roll centres are best suited for high centre of gravity applications."

In addition, the way the drum moves can cause imbalances, Felder said. "There is an inherent imbalance introduced to the mixer truck due to the rotation of the drum, causing the concrete to collect on one side of the drum. The Volvo T-Ride suspension has 17 inches of articulation and an equalized downward force to each wheel end. Stiffeners can be added to the multi-leaf springs, or offer a spring bias solution to compensate for the drum's imbalance when full."

There are also many lighter-weight chassis components that can be considered, according to Schimunek. They recommend looking at a deep single channel frame rail, versus a double channel - this design is lighter and eliminates the risk of corrosion between the rails. Consider a factory installed transition plate which is used with mixer barrels that are equipped with a subframe. It is typically bolted to the frame at the back of the cab and helps to relieve stress on the rails.
Schimunek suggests that chassis height is also an important factor, as the mixer body must be able to fit beneath the hopper. A lower frame height results in a lower centre of gravity, which provides increased vehicle stability. Safety features such as Enhanced Stability Control (ESC) are offered as an option on Western Star trucks.

The weather can be an influence on mixer design as well, depending on the province, Felder noted, but the main consideration is to ensure the most efficient delivery of concrete possible within legislated limits.

Engine and transmission
The heart of a mixer truck is the engine, which pulls double duty; it provides the power to get concrete to the jobsite, and also needs to push power through a PTO to turn the drum.

"The engine should have sufficient power to perform the job, [be] lightweight and with good fuel economy in order to maximize the efficient delivery of the load," Felder described. "We typically recommend spec'ing the Volvo VHD truck for mixer applications with an 11-litre Volvo D11 engine and the Volvo I-Shift automated manual transmission with crawler gears. The D11 engine provides 425 hp and 1550 lb-ft of torque, which is a good solution for mixer trucks." Mack recommends its 11-litre MP7 for mixer applications based on its power and performance capability.

"The MP7 offers the power and performance to manage any task but in a smaller displacement engine to provide weight savings," Wrinkle said. "It has multiple ratings of 325 to 425 hp with 1,225 to 1,560 lb-ft of torque, and is 390 pounds lighter than the 13-litre MP8."

Semler said that for International trucks, "Generally there are two power options for concrete mixers - a 9-litre and 12- or 13-litre. Nine-litre power is used in areas that are very weight-sensitive... this reduces the weight of the chassis 400 to 500 pounds, allowing for more payload, but with less power and gradability than a 13-litre. Both use a rear-engine power takeoff to power the mixer - this provides live power, regardless of transmission status, to turn the mixer barrel."

The right transmissions make a big difference. Low-speed creeper gears can be very useful for mixer trucks.
"Mack was the first truck manufacturer in North America to offer low reduction creeper gears in a proprietary automated manual transmission," Wrinkle noted. "Along with the Mack mDRIVE 14-speed, Mack also offers the mDRIVE HD 13-speed. Integration with the mDRIVE HD 14-speed allows for seamless communication among components that the vehicle is always in the right gear without the driver having to manually shift, reducing driver fatigue and increasing safety." Mack's lowest creeper gear is a 32:1, which can be useful for low-speed operations such as curb pouring.

Volvo introduced its I-Shift 14-speed AMT in 2016, which includes two crawler gears for low-speed maneuvering and improved startability. "This new offering is weight-conscious, cost-efficient, capable and simple to operate in the field," explained Felder. "[It] has three reverse gears as standard and up to six available, making the transmission ideal for fast backing."

Semler noted that "Allison automatics are prevalent but some operators still prefer manual transmissions."

Concrete mixers are one of the more complex trucks out there - they have many moving parts that must all work together on a wide variety of roads, bridges and uneven jobsites. Doing careful research before you buy will provide you with the best mixer for your needs.
Company info
Related products