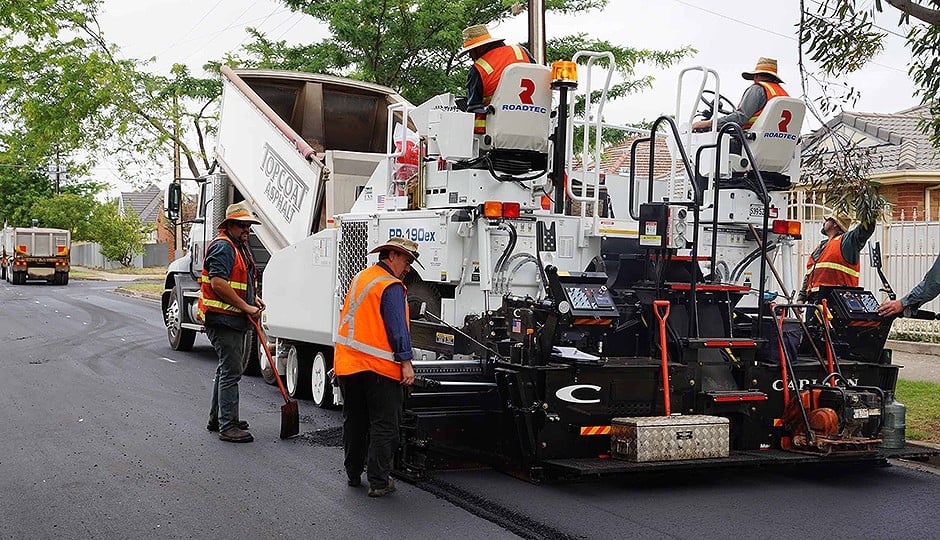 The RP-190e is a powerful, rubber-tired paver made for highway work. Seats of the dual operator stations can move hydraulically out beyond the sides of the machine to give the operator an excellent view down the sides of the machine. The four-way adjustable operator seats feature a ride control tension system for ultimate comfort. Noise levels of the Tier 4 Roadtec pavers are among the lowest in the industry thanks to variable speed fans. Roadtec pavers come equipped with standard fume extraction systems for the operator area.
Like all Roadtec pavers, the RP-190e features Roadtec's exclusive antisegregation design of the feed tunnel, the feed tunnel discharge, and the rear augers.
Features & Benefits
FRAME
All Roadtec Asphalt Pavers start with an extremely strong frame completely fabricated, welded and assembled by us. This gives us complete control over the design and quality of the build.
HYDRAULIC PUMPS
All Roadtec Asphalt Pavers use Sauer Danfoss® Series 90 hydraulic pumps for propel and material feed. These pumps allow the entire hydraulic circuit to run extremely cool greatly prolonging the life and lowering the maintenance costs.
COOLING PACKAGE
The cooling package on Roadtec pavers is mounted on the side of the paver where it can get the cleanest and coolest air. The radiators are also rated for higher horsepower engines and the fan is controlled hydraulically.
AUGERS
The auger assembly on Roadtec pavers can be hydraulically raised and lowered. This feature can assist in eliminating segregation in certain mixes and is very helpful during the loading and unloading process as well as constructing "supers".
FEED SYSTEM
All Roadtec pavers feature a 13 inch high conveyer opening for excellent throughput and have bolt-in wear resistant liners. Each conveyer is independently driven so material delivery can be fine tuned for each side.
DELTA PLATE AND CLOSE PROXIMITY OF AUGERS TO CONVEYORS
The Delta Plate defines the front wall of the material tunnel, preventing mix from rolling forward under paver, a main cause of centerline segregation. It also removes mix from the conveyors providing better conveyor efficiency.
VISIBILITY
The seats and controls mounted to the seat station slide out past the side of the machine for increased visibility.
Specs
Key Specifications

| | |
| --- | --- |
| Basic paving width | 10' (3,048 mm) |
| Paving Width | to 284 fpm (86 mpm) |
| Max Power | 230 hp (172 kW) @ 1,900 rpm |
| Weight | 38,800 lbs (17,600 kg) |