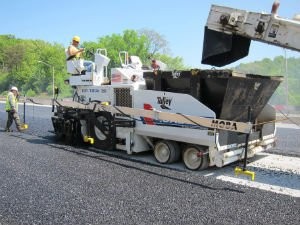 Roadtec, Inc. new powerful, heavy-duty rubber tire RP-190e asphalt paver features a new design and offers operator comfort and safety with 360° visibility, fingertip controls, fully adjustable seats, low noise levels, and fume extraction systems. The exclusive Roadtec anti segregation design gives consistent pavement quality with this tough and dependable paver.
Redesigned operator stations give greater efficiency and comfort, including hydraulic-pivot consoles and selectable seat positions. Among the numerous design refinements are a new adjustable delta plate design, redesigned hydraulic tunnel panels for improved accessibility, and lower deck height.
Oversized variable displacement pumps are used for propel and feed systems on all Roadtec pavers. The high-capacity pumps can run at optimum speed to keep components cool, leading to longer component life. Access to hydraulic filters and test ports has been greatly improved by clustering these components in one easily accessed location. Release agent spray-down systems are now standard and include a dual system; one for diesel, the other for release agent.
A heavy-duty, anti-segregation feed system is standard on the RP-190e. The feed system is designed with durable, abrasion resistant components to combat segregation while lowering operating costs. Full offset link conveyor chains and chromium carbide clad floor plates increase the life of the wear parts and decrease the time spent on machine maintenance. The full offset link chains have a higher tensile strength increasing the chains' wear life. The chromium carbide clad floor plates are dropped in, requiring no bolts and an exceptionally low amount of maintenance time. A new dual hinge apron plate design allows easy access and clean-out of the conveyors.
Electric flow gates and 18" (457 mm) hydraulic tunnel extensions provide excellent control of material flow from the hopper to the screed. Cast 16" (406mm) diameter Ni-Hard augers can be hydraulically lowered, raised, and tilted for increased control over material segregation. The augers can also be operated independently of the conveyors giving the operator complete control over the material.
A Cummins® TIER 4 Interim, 230 horsepower (169 kW) engine powers the new paver. The standard cooling package includes a variable speed, hydraulically driven fan providing lower noise levels and better fuel efficiency.
The RP-190e is also compatible with the Guardian Remote Telematics System. With Guardian, the machine's electrical system, hydraulic system, engine, pressure transducers, auger speed sensors, flow gate height, and fuel consumption can be closely monitored in real-time via cellular signal. The Guardian system allows owners and service technicians to obtain production data for the paver. The Guardian system will automatically email all fault codes and maintenance reminders.
Company info
Related products