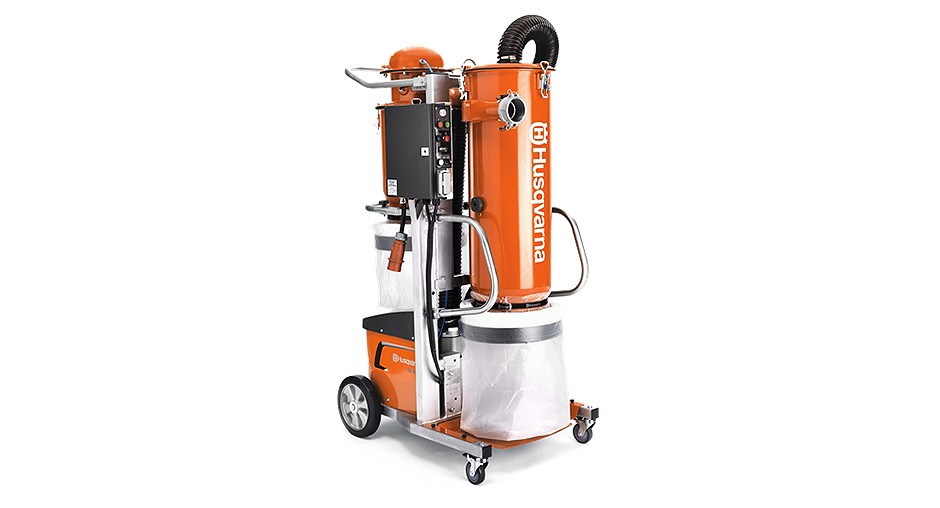 DC 6000 is an effective industrial dust collector to match the highly productive Dual Drive Technology™ grinding machines Husqvarna PG 820, PG 680 and PG 530 3-phase. DC 6000 is developed with a unique double shell cyclone technology and automatic filter cleaning. The cyclone technology enables constant high air flow and high productivity, leaving less dust on floor and thereby saves the user time with cleaning. Possibility to lower the machine makes it easy transport. Can be used for both wet and dry applications.
Features & Benefits
95% separation of dust
Patended double shell cyclone technology, gives more than 95% separation of dust, i.e. only a small amount of dust continues to filter.
High productivity
Thanks to the automatic filter cleaning, you can keep operate without interruptions. The dust collector has a constant high airflow, and leaves minimum dust on the floor.
Low noice and clean working environment
A dust-free environment with low noice makes a better working place. The blower runs quietly and leaves no airborn dust. The HEPA 13 rated filters meets health environment standards.
Easy to use
This machine is easy to use and easy to transport – you can lower the machine into transport mode. Thanks to the automatic filter cleaning the dust collector keeps the same efficiency over time.