Husqvarna launches the DC 6000 an effective and high performance dust collector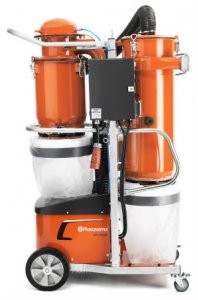 With the DC 6000, Husqvarna now has a dust management system with advanced cyclone technology, which enables high air flow and high productivity while leaving less dust on the floor. "It is a big time saver. The technology will definitely contribute to higher efficiency and productivity for the users," says Joakim Leff-Hallstein, Global Product Manager for Surface Preparation.
Benefits
The new system matches our highly productive Dual Drive grinding machines, the Husqvarna PG 820 and PG 680. The Husqvarna DC 6000 will replace the DC 5500, a vacuum cleaner with a traditional two-filter system. The patented double shell cyclone technology with auomatic filter cleaning takes the DC 6000 to the next level.
The centrifugal force in the double shell cyclones separates 95% of the dust from the intake air. The dust is then collected in a Longopac® system. The durability and reliability of Longopac® allows fast, drop-down, dust-free disposal into individually sealed plastic bags.
The air continues into the filter cylinder, where the filter catches the remaining dust. Also, compressed air is used to always keep the filter clean and effective. The purging cycle is computerized for optimum filter cleaning, which results in a productive dust collector with no loss of suction over time.
"All of this means significantly less dust on the floor and in the air, which saves time but also contributes to a more healthy working environment for the users and surrounding area," says Leff-Hallstein.
Customers in focus
The DC 6000 was developed to ensure operators not only have a highly efficient filtration system, but also a highly maneuverable, easy to transport solution.
It is equipped with a HEPA 13 rated filter, a standard requirement on job sites in the industry. This means no air-borne dust and a minimal amount of dust left on the floor surface - resulting in a cleaner working environment. It is a certified filter that meets global health environment standards.
The auxiliary power outlet enables quick and easy power connection of the PG 820 or PG 680. Only one cable is needed to connect to the power supply. For easy transport, the DC 6000 can be lowered 11 inches (28 cm) in order to fit in vehicles.
Company info
Related products