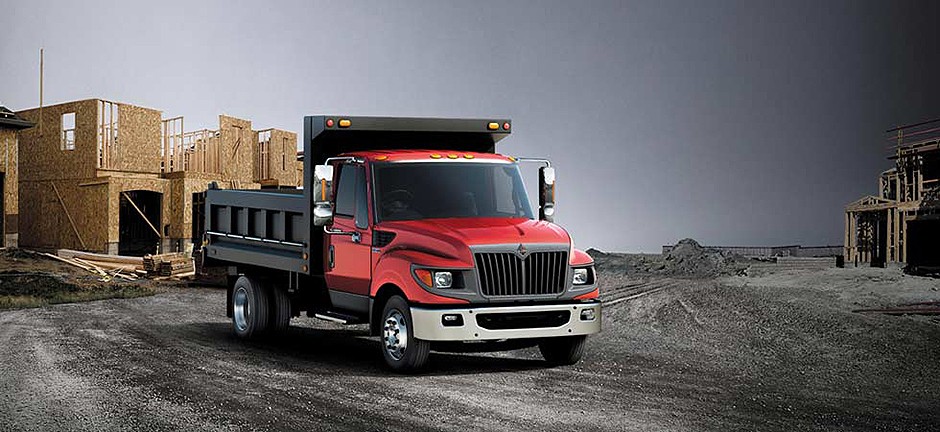 When it comes to getting the tough jobs done, few trucks are as ready to get down and dirty as the International® TerraStar.® That's because the rugged TerraStar was built from the ground up to be the ultimate commercial-duty truck. TerraStar hails from 100 years of truck-building experience. That expertise shows in every facet of this truck. We built TerraStar® with room to spare. Compared to the leading competitor, TerraStar gives you 7" more interior width, 9" more headroom, 2" more belly room, and 20% more overall cab volume. TerraStar is built on the three pillars of commercial-duty performance: ease of operation, efficient power and commercial grade components. So if you need a tough, reliable and efficient work truck that'll get the job done, the TerraStar isn't just up for the job—it was born for it.
Features & Benefits
Engines
The Maxxforce® 7 is built strong with a V8 turbodiesel, incorporating advanced design elements and components from Navistar's market-leading 16 commercial engines.
Allison 1000 SeriesTransmission
The International® TerraStar® with an Allison fully automatic transmission fits your needs with commercial-grade quality and durability.
Fabco Transfer Case
Its helical forged gears are 94% stronger than gears in other transfer cases and are designed to outlast its competitors. The TC-28's Cast Iron housing provides more strength and less deflection than competitive transfer cases with Aluminum housings.
The Strongest Frame Rail
At 80,000 PSI, the TerraStar's frame is the strongest in its class and was designed to take on commercial grade loads like the rest of the International Truck lineup. Weaker frames on competitive trucks will flex and bend under heavy loads.
Cab Space
Our cab is designed to meet the most strict government roll over requirements for commercial trucks and made of high strength, double sided galvanized steel.
Specs
Key Specifications

| | |
| --- | --- |
| Engine Model | Maxxforce® 7 |
| Power Output (164-224 kW) | 220-300 hp |
| Peak Torque (762-898 Nm) | 560-660lb.-ft. |