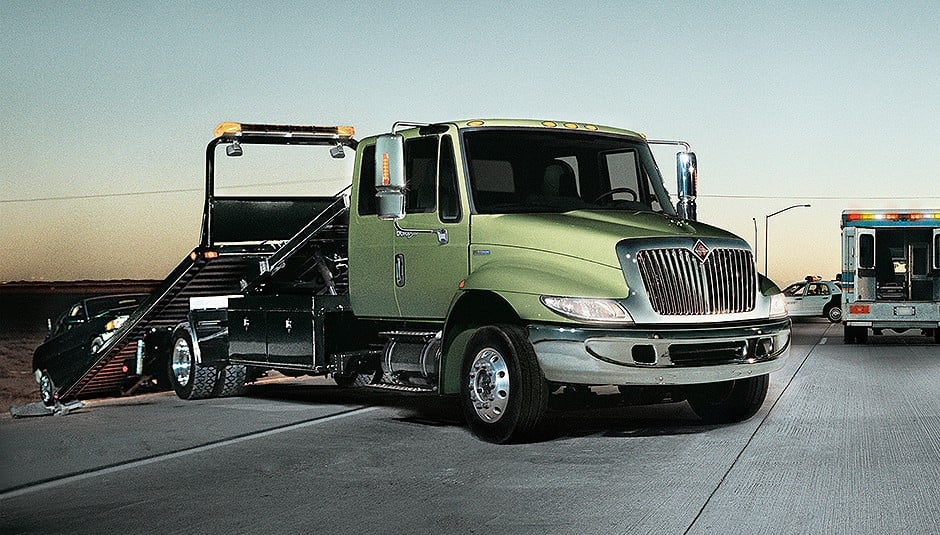 If you've got a job to do, trust the International® DuraStar® to do it right. In the world of medium-duty trucks, the DuraStar goes beyond efficiency, durability and driver satisfaction. Built completely of commercial-grade components and materials, its quality construction and materials can handle the action: Whether you're towing cars in a snowstorm, repairing downed power lines or racing to a fire, count on the DuraStar to answer the call, every time.
And now, with the available Cummins ISB6.7 engine, DuraStar has the largest portfolio of diesel engines in the medium-duty market — so you can choose the power that's best for you.
Features & Benefits
EFFICIENCY
The Diamond Logic® electrical system streamlines the process of integrating equipment into the chassis electrical system, giving you on-board diagnostics and a range of programmable features and safety interlocks.
DURABILITY
Built completely of commercial-grade components and materials, DuraStar® boasts a nearly indestructible huck-bolted chassis and a sturdy cab that exceeds SAE rollover safety regulations.
DRIVER SATISFACTION
The 82" wide cab gives drivers and passengers room to maneuver. The ergonomic design of the seats, steering wheel and instrument panel help reduce driver fatigue.
NEW ENGINE OPTIONS
The N9 engine brings traditional big-bore features such as wet-sleeve design and in-chassis rebuild capability to the mid-range diesel market. Cummins SCR technology delivers improved fuel economy while reducing NOx emissions.
Specs
Key Specifications

| | |
| --- | --- |
| Model: 4300 4x2 -- Cummins ISB6.7 Engine | GVW: 23,500-44,600 lbs., 200-300 HP, 520-660 lb.-ft. torque |
| Model: 4300 M7 4x2 -- Cummins ISB6.7 Engine | GVW: 23,500-37,000 lbs., 200-300 HP, 520-660 lb.-ft. torque |
| Model: 4300 M7 4x4 -- N9 Engine | GVW: 23,500-31,000 lbs., 275-330 HP, 950 lb.-ft torque |
| Model: 4300 Low Profile 4x2 -- N9 Engine | GVW: 23,500-29,000 lbs., 275-330 HP, 950 lb.-ft torque |