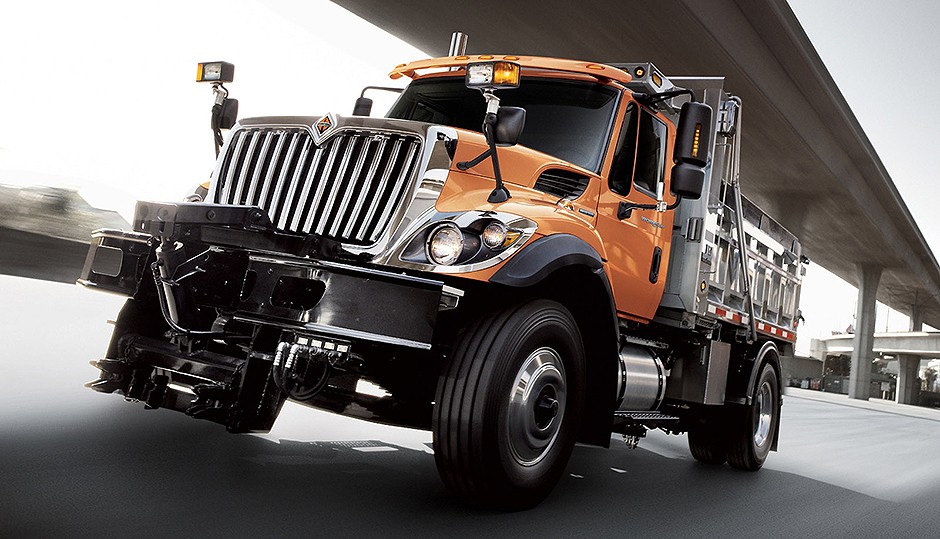 No matter what you throw at it, there's just no stopping the International® WorkStar®. With a broad range of available powertrain options, front and rear axle configurations, framerail options and GVWR ratings, the WorkStar® can muscle its way through even the heaviest loads and the most rugged jobs. Couple that power with an electrical system that offers body control functionality and more efficient diagnostics, and you've got a truck with the brains and brawn to keep your business running at its best.
Features & Benefits
Durability
A broad portfolio of powertrain options, a double-sided galvanized steel cab with extensive 5-step corrosion protection, single and double-frame rail offerings - including C-channel reinforcements with tensile strength up to 120,000 PSI
DRIVER SATISFACTION
At 82"-wide with a choice of standard, extended or crew cabs, the International® WorkStar® is spacious and quiet with ample room for drivers and passengers.
PERFORMANCE
Combine the pulling power, a broad portfolio of powertrain options, confidence from a wide-track front axle, and the sight lines from an available high-visibility sloped hood, and no job-site is unreachable with the International® WorkStar®.
Specs
Key Specifications

| | |
| --- | --- |
| Model: 7300 -- MaxxForce DT Engine | GVW: 27,500 - 66,000 lbs, 270-300 HP, 860 lb.-ft torque |
| Model: 7400 -- MaxxForce DT Engine | GVW: 27,500 - 66,000 lbs, 270 - 300 HP, 860 lb.-ft torque |
| Model: 7500 -- N10 Engine | GVW: 27,500 - 66,000 lbs, 310 - 350 HP, 1050 lb.-ft torque |
| Model: 7600 -- N13 engine | GVW: 35,000 - 73,000 lbs., 365 - 475 HP, 1700 lb.-ft torque |