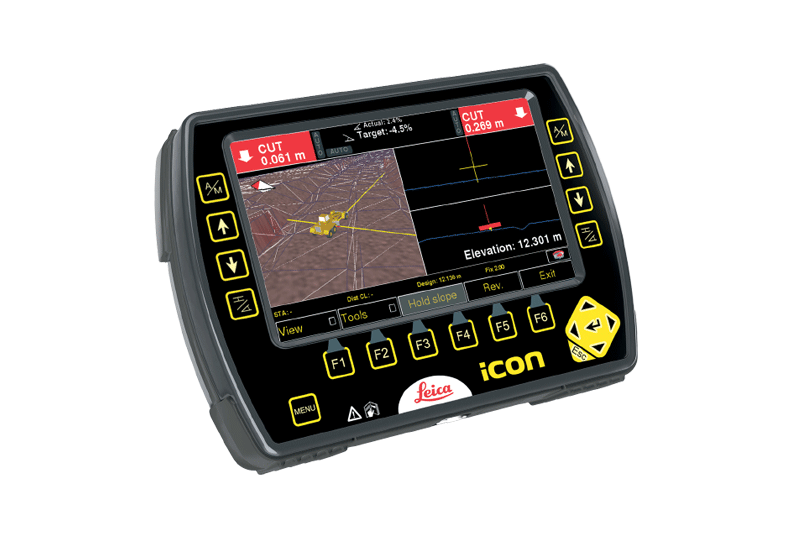 Leica iCON iGD3 grading system will revolutionize the way you move dirt and fine-grade. It not only boosts your productivity, it also offers unmatched flexibility. The 3D system brings design surfaces inside the cab. Work independently, and accurately, anywhere on the project design guided by a GNSS system or a Leica Geosystems robotic total station. Leica iCON grade iGD3 system for dozers can dramatically increase machine utilization, productivity and optimize material usage on any earthmoving and fine-grading contract. It can be used with a wide range of sensors and combines ease-of-use, unrivalled flexibility with powerful and intuitive user interface. The system integrates Leica iCON telematics which enables you easy data transfer from office to machines, remote support and basic fleet management via the iCON telematics website.
Features & Benefits
Maximizes your machine utilization and return-on-investment from day one, by getting right to grade the first time.
Save time, setup and go in minutes. iCON grade iGD3 system remembers all your settings.
Fully scaleable from basic 2D entry system to full 3D capability. Laser, slope, sonic, GPS and total station control options.
Simple upgrade step to 3D – buy a 3D-ready panel and upgrade later or rent the GPS/Tracker and 3D software only when you need it.
Easy removal of key components for overnight security.