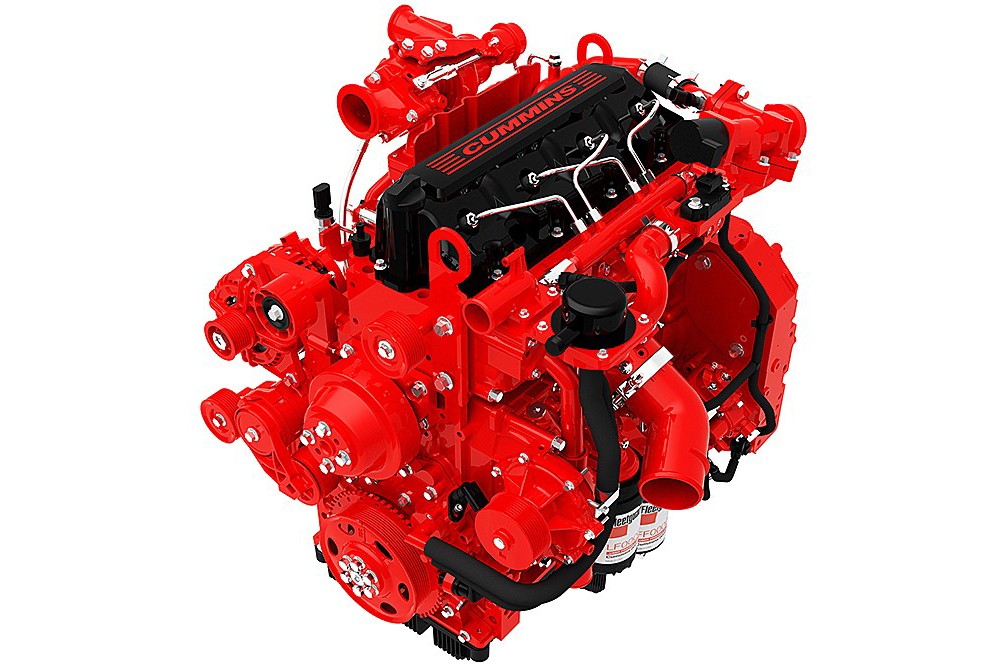 Cummins next generation 4-cylinder QSB4.5 engine will meet U.S. EPA Tier 4 Interim and EU Stage IIIB off-highway low emission regulations in 2012 with our proven 4.5-liter engine platform and a fully integrated system from air-intake to exhaust aftertreatment.
Features & Benefits
Direct Flow Air Filtration System
Specifically developed for Tier 4 platforms to provide a smaller, more flexible installation package and higher air filtration efficiency.
Variable Flow Turbocharger
Electronic controlled for enhanced air management.
Full-Authority Electronic Controls
Higher microprocessor capacity and speed for optimum control of the engine and after-treatment.
Cooled Exhaust Gas Recirculation (EGR)
Lowers combustion temperatures for reduced emissions and optimized fuel efficiency.
Cummins Particulate Aftertreatment System
Fully integrated for uncompromising performance and reliability. Removes over 90% of particulate matter and is specifically developed to withstand severe shock loads and vibrations typical of industrial applications.
Crankcase Ventilation System
Prevents crankcase emissions escaping from the engine with a highly-efficient coalescing filter. Also, eliminates oil mist and tiny oil droplets to maintain clean engine operating conditions.
HPCR Fuel System
Delivers a precise mixture of fuel and air at a constant pressure, regardless of engine rpm. This flexibility in injection timing allows multiple injection events per cycle.
Lowest Cost Of Operation
Reduced maintenance, long service intervals and the best fuel efficiency of any engine in its class add up to superior lifetime value.
Specs
Key Specifications

| | |
| --- | --- |
| Engine Type | In-Line, 4-Cylinder |
| Displacement | 4.5 L (275 cu in) |
| Advertised Horsepower | 110-168 hp (82-126 kW) |
| Peak Torque | 347-460 lb-ft (471-624 N•m) |
| Aspiration | Turbocharged and Charge Air Cooled |