Cummins QSB4.5 powers up to 173 hp for Tier 4 Final
VGT turbo enhances 4-cylinder performance, showcased at World Ag Expo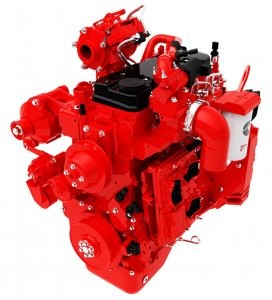 Cummins Inc. announced that the next-generation QSB4.5 engine will meet Tier 4 Final near-zero emissions standards with top-rated power increased to 173 hp (129 kW) and a higher peak torque of 520 lb-ft (705 N•m). The 4-cylinder, 4.5-litre engine is performance-enhanced with a Cummins VGT(TM) Variable Geometry Turbocharger, enabling the higher ratings of the QSB4.5 to reach performance levels previously associated with a larger 6-cylinder engine.
For the QSB4.5 lower ratings – down to 121 hp (90 kW) – the VGT technology improves transient response on a fuel-efficient basis. For equipment operation, this means a stronger, faster response to increasing load demands compared with Tier 4 Interim engines.
The QSB4.5 was a key focus of attention in the Cummins booth at the World Ag Expo, which took place Feb. 12-14, 2013, in Tulare, Calif. The QSB4.5 is ready for U.S. Environmental Protection Agency (EPA) Tier 4 Final emissions regulations taking effect Jan. 1, 2015, and EU Stage IV regulations taking effect Oct. 1, 2014, for engines below 174 hp (130 kW).
The ability to move forward to meet near-zero Tier 4 Final emissions standards has been pre-designed into the existing QSB4.5 engine platform, retaining the same cooled Exhaust Gas Recirculation (EGR) system proven with the current Tier 4 Interim engine. The Cummins Compact Catalyst (CCC) aftertreatment is also retained, with the addition of Selective Catalytic Reduction (SCR) in the exhaust stream. The combined CCC-SCR aftertreatment is designed and manufactured by Cummins Emission Solutions, and is the result of the highest level of engine and system integration expertise in the industry.
The patented Variable Geometry Turbocharger utilized on the QSB4.5 is a smaller version of the VGT proven on Cummins 6-cylinder engines.The VGT features a unique, one-piece sliding nozzle to precisely adjust the airflow delivered to the engine. This combines the advantages of a small and a large turbocharger in a single unit, so that rapid boost is provided at a low engine rpm, and high boost is maintained at a higher rpm. The QSB4.5 achieves 173 hp (129 kW) with a single turbocharger, in contrast with other 4-cylinder engines below 5 litres requiring two turbochargers to achieve equivalent power, torque and altitude capability.
Integrated aftertreatment
To remove particulate matter (PM) from the exhaust, the CCC aftertreatment moves forward to Tier 4 Final with the same "fit and forget" advantage realized for Tier 4 Interim applications, with a smaller space claim than a Diesel Particulate Filter (DPF).
The very low nitrogen oxide (NOx) emissions levels required for Tier 4 Final standards are achieved by incorporating Cummins SCR aftertreatment in the exhaust stream, configured for compact 4-cylinder applications. The SCR uses a specific catalyst to deliver a robust solution, is able to operate more efficiently at lower temperatures and features advanced sensors to provide full closed-loop control. Diesel Exhaust Fluid (DEF) dosing levels are minimized due to an enhanced mixing technique.
The CCC-SCR aftertreatment is available in multiple configurations, including switchback, horizontal and vertical formats, to provide an easier and more flexible installation.
Stronger where it counts
For Tier 4 Final, the QSB4.5 builds on the class-leading durability and uptime dependability established by the Tier 3 engine and continued by the current Tier 4 Interim engine. Deep structural strength equips the engine to handle high load factors with relaxed operation, while features such as a rear gear train provide superior stiffness and lower gear noise.
The High Pressure Common Rail (HPCR) fuel system and Electronic Control Module (ECM) of the 4-cylinder QSB4.5 are of the same design and offer robustness equal to that of the fuel system and ECM utilized on the 6- cylinder QSB6.7, capable of up to 300 hp (224 kW).
Broadest ever 4-cylinder range
The QSB4.5, together with the recently announced QSF3.8 and QSF2.8, extend Cummins 4-cylinder engine range to a broadest ever 49 hp-to-173 hp (37-129 kW) capability for Tier 4 Final/Stage IV emissions standards. The three engine platforms offer an ideal step up in displacement and incremental performance to provide equipment manufacturers with compact 4-cylinder power for machines such as tractors, swathers, sprayers, harvesters, power units and many other agriculture-market machines.

Company info
Related products