Volvo Penta and Gradall collaborate on electric telescopic boom excavator concept
Concept excavator is currently under development
Volvo Penta and telescopic boom excavator manufacturer Gradall Industries, Inc. showed an electrified version of the OEM's XL 4100 V highway speed wheeled excavator at CONEXPO. This concept machine is currently under development.
The zero-emissions EL41H4 concept machine is powered entirely by two Volvo Penta batteries matched to the duty cycle of the excavator. They fit into the existing engine compartment of the Gradall. The electric driveline system from Volvo Penta also includes the complete high voltage system – electric motors, gearboxes, inverters, junction boxes, and cabling.
The partnership between Volvo Penta and Gradall began in 2014 when Volvo Penta became the exclusive supplier of 5 and 8-litre Tier 4 Final engines for Gradall's diesel-powered telescopic boom excavators.
"We were looking for a major power solutions provider with a good track record to partner with," says Mike Popovich, President of Gradall. "We see Volvo Penta as a power partner rather than an engine supplier – this is a turnkey solution to them. We didn't want to be in a situation where we're mixing and matching from 10 different suppliers and trying to make it all work seamlessly. Volvo Penta's full systems approach and expertise, together with proven Volvo Group technology, was the ideal solution for us. This is a natural progression of our existing partnership toward where we're both heading in the future."
Municipality customers seek quieter, cleaner solutions
With growing interest from Gradall's municipality customers for quieter, cleaner solutions that meet intensifying sustainability demands and regulations, collaborative discussions between Gradall and Volvo Penta began in spring 2022.
"Expanding our partnership with Gradall into electromobility is an exciting development for us," says Hannes Norrgren, President of Volvo Penta's Industrial Business Unit. "This is our first electrification project in a construction application, representing another milestone in Volvo Penta's electromobility journey and aligning with our sustainability ambitions."
Unique excavator designed for highway roading is fully electric
Unlike a traditional hydraulic excavator, Gradall's highway speed solution features a telescopic boom mounted next to a separate cab sitting to the rear of a road-going chassis that allows the machine to be independently dispatched to many locations throughout the workday.
With a hydraulic system powered by a Volvo Penta–supplied electric machine power take-off (EM PTO), this concept machine can effectively use battery power to transport its own excavator. The system will deliver 94 kWh of energy, and can reach full capacity in under 45 minutes from a 150kW charger.
The unique highway speed design – and its suitability for work in environments where knuckle boom models may not be the ideal fit for operation, such as under overhead obstructions like power lines – means the concept has potential for application to other designs in the Gradall portfolio. Currently, the EL41H4 is still a concept machine and further testing and development is required before commercialization.
Gradall continues to collaborate with Volvo Penta
Following its appearance at CONEXPO and at the Association of Equipment Manufacturers (AEM) display at the National Mall in Washington, DC, in May, the EL41H4 will undergo extensive testing and verification.
"At Volvo Penta, we partner with our customers and collaborate to optimize the design and adapt the complete electric driveline system for a specific vehicle, allowing us to deliver a tailored solution based on their exact usage requirements," concludes Fredrik Högberg, President of Volvo Penta North America. "We are on hand and provide technical expertise throughout the entire design and development stages, so our collaboration with Gradall is still very much ongoing – it's a true partnership."
Related Articles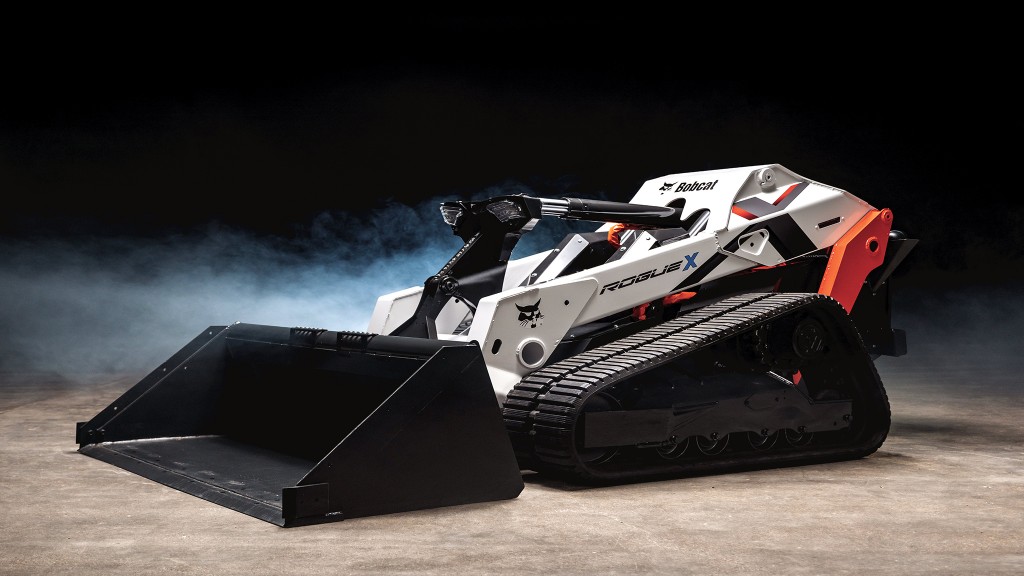 First look: Bobcat RogueX all-electric and autonomous concept machine