FLO Components wins SKF Lubrication Management's 2022 Lincoln Distinguished Distributor Award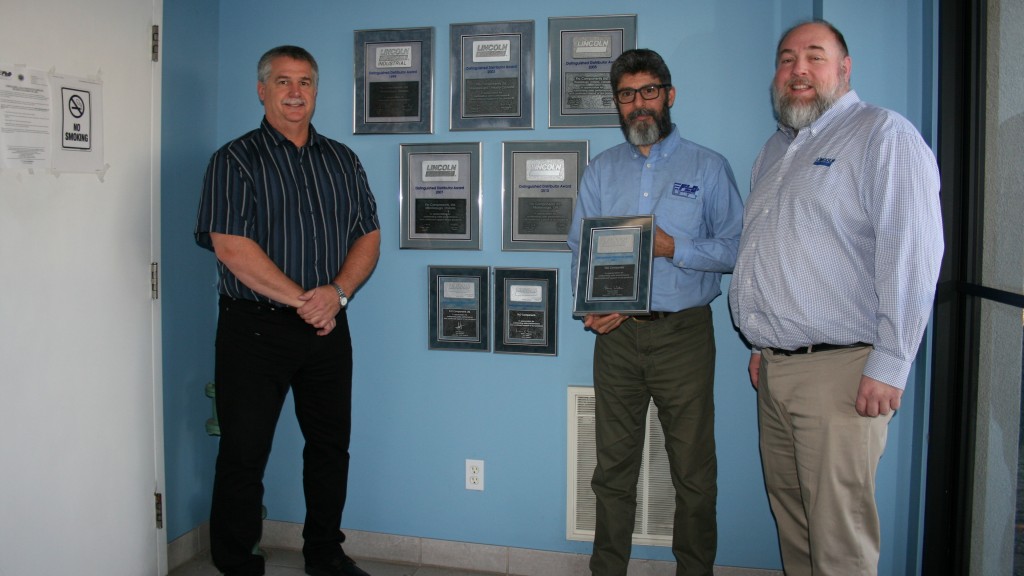 FLO Components Ltd. has received the SKF Lubrication Management, Lincoln Distinguished Distributor Award for 2021.
This is the eighth time FLO has received this award - presented annually for outstanding sales performance to one or two distributors in North America. FLO has been a distributor for Lincoln in Ontario since 1977 and has been previously recognized with this award in 1999, 2002, 2005, 2007, 2010, 2017, and 2020.
The award was presented to FLO's Vice-President, Mike Deckert and Operations Manager, Roger Freitas by SKF Lubrication Management, Ontario District Manager, Bert Nyenhuis on November 1, 2022.
"FLO Components and SKF Lincoln Alemite are true partners," says Bert Nyenhuis. "It is much more than a manufacturer and distributor typical relationship. At all times and in every way, we work together to find the best lubrication solutions for the end user. It is truly my honour to support the knowledgeable and strong team of people at FLO Components."
"It was an honour as usual to receive this award," says Mike Deckert. "The global pandemic certainly made 2021 an exceptionally challenging year for us, as it did for companies and people everywhere. But we have a very determined and dedicated group of individuals working at FLO. We got through the worst of it by focusing on the one thing that's always made us great, which is our corporate approach of 'people helping people'. We continued to maintain strong relationships with our customers by responding quickly, by installing professionally and by providing quality customized lubrication solutions - done right the first time, no matter what challenges the pandemic threw our way. This award is a testament to that focus and that commitment to helping people."
Company info
40 Executive Court
Toronto, ON
CA, M1S 4N4

Website:
skf.com
Phone number:
416.299.1220
Read more