Adcock Equipment purchases largest Xtreme Manufacturing telehandler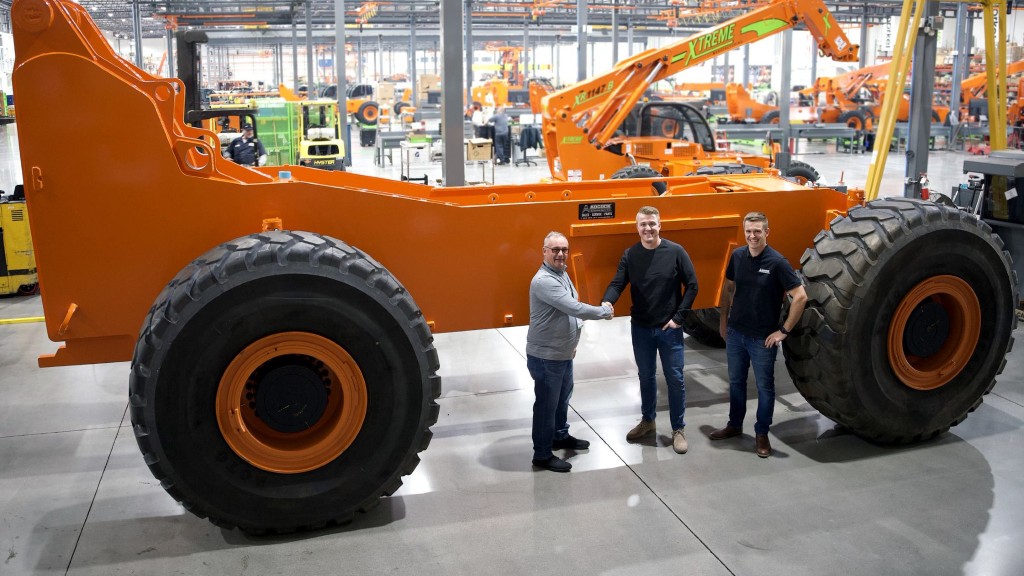 Adcock Equipment, a Canadian aerial work platform and telehandler dealer, has placed an order for the Xtreme XR7038 telehandler at World of Concrete 2022.
Ordered from Ahern Canada, an official Xtreme Manufacturing distributor, this is the first Xtreme XR7038 telehandler for Adcock Equipment. The telehandler will be delivered by Adcock Equipment to a large mining contractor, who will use it with a custom attachment for moving and dumping rocks. The Xtreme XR7038 is the only telehandler on the market compatible with this attachment.
The Xtreme XR7038 was introduced in 2014 and has won multiple awards for its capabilities. The unit is popular in mining, oil and gas, and infrastructure applications, as well as on large-scale construction projects. The XR7038 is capable of lifting loads up to 70,000 lbs. (31,751kg), has a max lift height of up to 38 ft. 2 in. (11.6m), and a forward reach up to 22 ft. (6.7m). Weighing 115,000 lbs. (52,163kg), the Xtreme XR7038 is powered by a Cummins 9L 300hp Tier 4 Final engine.
The order for the Xtreme XR7038 was placed with Ahern Canada during World of Concrete 2022. During the visit to Las Vegas for the show, the Adcock Equipment team visited the Xtreme Manufacturing headquarters and production facility in Henderson, Nevada, where they saw their new machine at the first stages of the assembly process.
"Adcock Equipment is a great company and they are growing quickly," said Tom Bell, sales representative, Ahern Canada. "When they decided to start to sell new equipment, they placed an order with us for their very first piece, a Snorkel SR5719 compact rough terrain telehandler at The ARA Show 2020 in Orlando, Fl. This is the smallest telehandler available in the Snorkel range. In less than two years, they are now ordering the largest telehandler in the Xtreme range - and in North America - the XR7038. This is testament to their focus, determination and customer support."
Adcock Equipment is a family-owned business that started out as a pre-owned equipment dealer in Western Canada. The company operates two branches, one serving Edmonton, Alberta, and surrounding areas, and one in Langley, BC, serving greater Vancouver.
"Over the past four years we have worked incredibly hard to become a leading provider of telehandler and AWP solutions for Western Canada," said John Adcock, president, Adcock Equipment. "Between Snorkel and Xtreme we have a wide range of equipment that we can customize to help solve our clients' most complex access challenges."
The company carries a large selection of both new and pre-owned aerial work platforms and telehandlers and is an authorized dealer for multiple brands, including Xtreme Manufacturing and Snorkel.