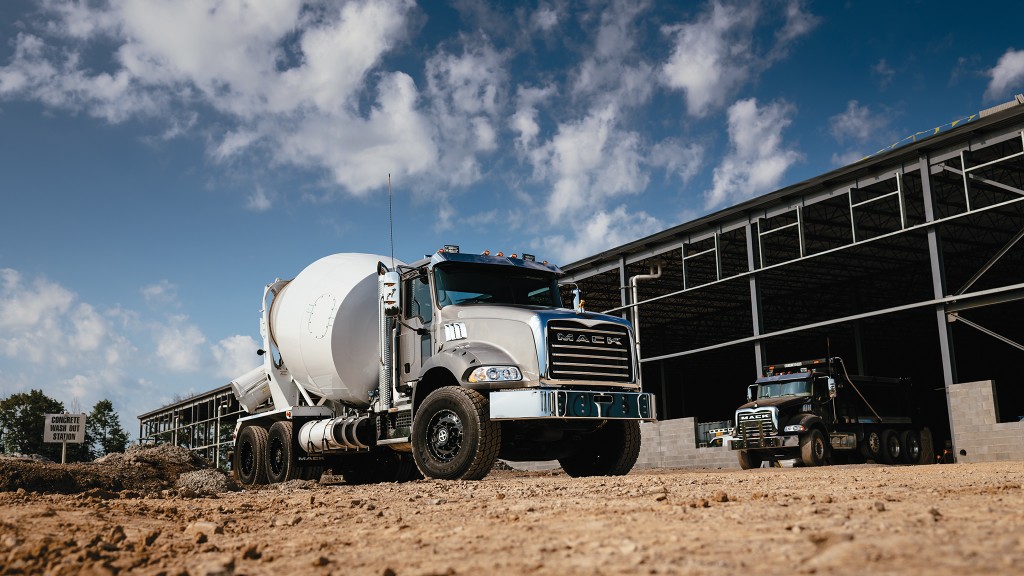 They're big, rugged and handle the heavy-duty hauling needs for all sizes of construction projects. Vocational trucks deliver many of the products that are needed to build everything from roads to skyscrapers, and while they may differ from their long-haul counterparts these tough trucks are becoming just as technologically advanced. From more fuel efficient engines to active safety features, vocational trucks offer plenty of new features to enhance safety and owners' bottom lines.
Global concepts update vocational market
Owners of vocational trucks – mixers, dump trucks, crane trucks, and others – are generally looking for a tool that can handle heavy loads, often on challenging jobsites. However, the changing face of construction has added a number of new demands, and truck manufacturers are taking those to heart.

Daimler Trucks North America, which manufactures Freightliner and Western Star trucks, is taking advantage of its global resources to bring concepts from around the world, both in truck and automotive design, to the table, pointed out Samantha Parlier, DTNA vice president, vocational market segment development.

"What we are able to do is take a look at how technology was developed for automotive use, then how we can adapt those to on-highway trucks and ultimately to vocational," she said. "We can take a look at, say, Detroit Assurance, which has active brake intervention collision mitigation – we can look at how that performs on-highway, then we can tweak it to see how it will perform in a vocational space."

Hino is also bringing global concepts to its line of vocational trucks, and going beyond the obvious points, according to Mark Lorentz, Hino Canada vice president of sales.

"It is easy to focus on only the obvious new electronic item that is in front of you. The reality is new technologies have much bigger impacts on fuel efficiency, chassis strength, drive comfort and other areas that are taken for granted," he said. "Hino makes global investments in the advancement of truck design and operation that have resulted in higher fuel efficiency, lower emissions and superior driver operating environments, all while maintaining the highest quality standards and durability."

Drivers are facing plenty of pressure as demands on them increase in vocational service, noted Andy Hanson, product marketing manager with Volvo Trucks North America. Reducing those demands by removing some of those tasks, providing enhanced awareness and greater efficiency, is one way technology is being used.
"The VHD, VNX and VAH truck models can be upfitted with a rain sensor that activates the wipers based on the vehicle's speed and rain accumulation on the windshield," Hanson said. "This removes the need for a driver to reach for the control that sets the wipers, allowing their hands to remain on the wheel and their focus on obstacles beyond the windshield. Volvo Trucks' VADA (Volvo Active Driver Assist) system enhances driver awareness through audible and visual warnings."

For Mack, new technologies are helping drive higher levels of performance, safety, uptime and driver comfort, said Tim Wrinkle, construction product manager.

"Our advanced powertrains are engineered to deliver the most performance for a variety of vocational applications, while our cab designs and features provide all-day comfort for drivers. Our advanced telematics solutions also maximize uptime, helping keep trucks on the job where they belong," he said.

Connectivity is constantly improving for all trucks, not just work trucks, noted Bruce Vasbinder, Director Severe Service Product Marketing with International's parent company Navistar.

"The computing power of the truck and its connected ability as a vehicle is growing by leaps and bounds, almost monthly," he said.
Key development steps
The past few years have been busy for technology advances in the vocational truck market. Much of the past decade's development efforts have gone into emissions reduction, pushed by U.S. and European regulations; with that dealt with for the moment, manufacturers have been able to focus on new areas, Parlier said.

"One of the keys with the vocational market is really understanding what the customer is trying to do at the end of the day. They are trying to operate a business, and that is where the truck is a tool," she said. "They're building something, they're working on construction sites. Understanding the inputs to their business that make them profitable, then shaping the data and saying 'here's what you can access through data and technology, and how you can modify and change your business' – that's an interesting market."

Safety has been a key driver of technology for Volvo, Hanson described. "Whether it is the integration of cameras into a system such as Volvo Trucks' infotainment system or collision avoidance systems such as Volvo Trucks' VADA safety technology is being adopted by the larger and more advanced fleets," he said. "These fleets recognize the value in these systems and are effectively implementing them to reduce overall operating costs."

With end users asking for their trucks to constantly do more in their tasks, advancements in lubrication and fluids to cut down service intervals has been another area for manufacturers to consider; however, that comes with a need to keep drivers in mind as well.

"Longer operating hours make for an economic improvement, but unfortunately increase stress and fatigue on the driver," Lorentz said. "Hino has always put an emphasis on driver comfort with roomy and quiet cab designs with excellent visibility. As new Hino models are being introduced, these interior designs are redesigned to make driver interaction and comfort even better."

Vasbinder agreed that drivers are a big part of the current development focus for vocational trucks. Driver demographics are changing, and a lot of experienced operators are leaving, opening space for younger drivers that are less comfortable with manual transmissions and other older features. Automatic and automated manual transmissions are becoming more commonplace because of that, he said.

"A lot of the changes out there are making it easier for the drivers to drive in safety, so you're getting into mirror collision indication, backup cameras, blind spot warnings – all that is starting to catch on," he described.

Mack Trucks has focused its technology efforts toward improving performance and efficiency along with comfort, Wrinkle said. The company's Command Steer helps reduce the effort drivers need to put into steering the truck, helping reduce strain and potential injury, while technology add-ons like Bendix Wingman Fusion with Enhance Features on the Mack Granite improve safety by reducing accident potential.
Technology pushing powertrain updates
Mack is also emphasizing its efforts in improvements to the powertrain of its trucks. Recent years have brought the new mDRIVE HD automated manual transmission, which offers customers what Wrinkle described as two drivetrains in one.

"Low ratio creeper gears allow us to give customers two drivelines in one, enabling fantastic startability and gradability on the jobsite, as well as excellent on-highway performance and efficiency. It also provides low-speed gearing for applications that require it, such as mixer curb pouring or dump road work," he said. "In addition we recently added Auto Neutral, Roll Start and split shaft PTO functionality."

The company's drive axles are also key to improving durability, Wrinkle noted; the Durapoid bevel and helical gears provide favourable gear tooth geometry to help eliminate stress and loading on the gear tooth end.

Ashley Murickan, product marketing manager with Volvo Trucks, said the AMT has also been a focus for his company with the I-Shift in 13- and 14-speed models featuring crawler gears.

"It is not only easy to train new drivers to drive in vocational applications, it also makes the life of experienced drivers more comfortable, with less distractions," he said. "For those vocational applications that have a proportion of time on highway, the Volvo I-Shift with crawler gears provide the benefit of spec'ing with faster rear axle rations, thereby bringing fuel efficiency without compromising on startability."

Lorentz said that Hino's drivetrain focus has continued to be on improving efficiency that follows on from the emissions work that has been happening over the past decade.

"Improvements to engine electronics allowed tuning that was historically impossible to achieve. Integration of engine and transmission controls allows even further fine tuning providing a decrease in fuel usage while improving on-road performance and driveability," he said. "Technology advances in metallurgy have developed lighter yet stronger materials resulting in some weight reduction to many components on the truck chassis."

A specific part of the emissions reduction process has recently received an upgrade on Daimler models equipped with one of the company's Detroit engines. The DD15 Gen5 engine has incorporated a process called ThermoCoasting which improves aftertreatment performance while managing overall engine temperatures.

"We effectively use the engine brake to increase the exhaust temperature, which makes the chemistry through the catalytic converter and SCR (selective catalytic reduction) system more efficient – we don't have to do parked regeneration," Parlier described. "On the highway side, it results in fuel economy benefits and on the vocational side it results in not having to park. That is an area where from a powertrain standpoint it's a really significant change in technology that seems minor, but actually changes the customer experience, and especially the driver experience."
Making connectivity click
Telematics and other connectivity features have been growing in use for on-highway operations for some time, but they are now making inroads on vocational trucks as well. There are many connected features on today's trucks, though there's still work to be done to meet the needs of buyers according to some manufacturers.
"There is a disconnect between what the original equipment manufacturer views as the benefits of telematics versus what the end user finds value in," Lorentz said. "The good news is this perception gap is closing, and features such as over the air updates provide a big boost. Downtime is reduced for the operator while bottlenecks in the service network for the OEM can be avoided through a simple software update. Advancements like this will increase the value proposition for vocational truck owners."

The usefulness of telematics in vocational fleets is quite different from that on long-haul trucks, Parlier noted, with maintenance and expense management often the biggest drivers. "Think of a situation where you have a fleet of dump trucks, for example, and one of their expenses is fuel. . . a customer could pull up the telematics data and see what percentage of time the truck is idling and not in PTO mode. They can say 'if we put in an automatic shutdown that shuts down after two minutes of idling, what kind of financial benefit will we get from that?'"

Remote diagnostics are an excellent way to reduce potential costs for owners, rather than being blindsided by sudden repair needs, Vasbinder said.

"You get an onboard diagnostic fault, which then relays the telematics and tells someone, either the driver or the administrator back in the office, that this is a fault and we'll fix it when you get here – here's the parts list. Or, there are five to ten codes on a truck that you need to pull over right now," he described. "That's the biggest thing we're looking at – protecting the vehicle, providing reliability and the ability to keep the truck running."

International's 360 demote diagnostic system is drawing interest from large fleet customers including utilities, thanks to its ability to provide a variety of services such as geofencing, vehicle tracking, and other monitoring and diagnostic benefits.

Automated monitoring such as Mack's GuardDog Connect provide proactive solutions for owners, Wrinkle pointed out. GuardDog Connect monitors critical truck codes and provides alerts to customers when a potential issue could lead to downtime.

"If the system detects an issue, Mack's 24/7 OneCall staff at the Mack Uptime Centre is automatically notified. Depending on the severity of the issue, OneCall agent will reach out to the customer's designated contact with actionable information through Mack ASIST, an online communications and service management portal," related Wrinkle. Should service be required to resolve the issue, service bay space and parts availability are confirmed at the closest dealer, all while the truck is still on the road.

Kenworth is also focused on remote diagnostics as key for its telematics offerings. The TruckTech+ system provides real-time engine health information that can help optimize truck uptime and productivity, while allowing fleets to track truck locations. Notification levels advise the driver as to the severity of the issue, and will advise to stop the truck immediately if necessary. The system can send information to a dealer prior to arriving for service so the technicians are ready to handle whatever problem might have arisen.

Volvo's remote diagnostics offer enhanced proactive diagnostics, detailed analyses of fault codes and emergency notifications; these services have the ability to reduce diagnostic times by 70 percent and repair times by 22 percent, Murickan said. "With Remote Programming you'll no longer have to take your vehicle out of service to perform key software and parameter updates. It offers the power of customization in vocational applications by over-the-air updates for many powertrain parameters."
Focusing on the driver
When it comes to serving the driver and making their job easier, safer and more comfortable, manufacturers are adapting their approach from the on-highway sector to meet the needs of vocational customers more closely. According to Parlier, when telematics is adapted for vocational work by Freightliner and Western Star its focus tends to change – long-haul truckers face challenges from boredom and loss of attention, while vocational drivers must deal with the urban environment.
"It's less likely that a truck driver is distracted or gets drowsy and causes an incident – more likely, because they're operating in an urban area that someone else causes an incident for the truck. So we're seeing telematics being moved into that space to help the customer," she said. Knowing that the truck is where it's supposed to be and that its activity is being recorded to give the owner proof that it was operating correctly is a key benefit.

Mack customers are able to take advantage of a range of safety features like the Bendix Wingman Fusion system to reduce accident potential on Granite trucks, among others. Most recently, the company has added the advanced Command Steer system, Wrinkle related.

"Combining an electric motor with the existing hydraulic steering system, Command Steer monitors terrain, driver inputs and environmental elements more than 2,000 times per second through sensors found throughout the truck. Based on that input, the system provides variable steering effort through its electric motor, which applies additional torque as needed to the steering," Wrinkle said. "This reduces steering effort at slow speeds, while also helping filter out uneven terrain such as the holes, dips and ruts common to most jobsites."

Ensuring drivers don't get fatigued and that they don't have to look away from the road are focuses for International, Vasbinder said. One change has been a move toward a new shifter on the column rather than the traditional T-handle shifter or push-button shifters on the dash that often require the driver to look down to shift. The company has also moved gauges and switches into positions where the driver can see and use them much more easily, he added.

Collision avoidance is also a target for Kenworth, which has added WABCO's OnGuard ACTIVE system as an option on its T880 and W990 models. An advanced driver assistance system, OnGuard ACTIVE helps drivers mitigate or avoid rear-end collisions and offers adaptive cruise control.
"Kenworth continues to introduce systems that can assist drivers to maintain safe distance, mitigate collisions and operate safely in rapidly changing and challenging road conditions. The offering of WABCO OnGuardACTIVE gives customers an additional driver assistance system option for the Kenworth T880 and W990," said Laura Bloch, Kenworth assistant general manager for sales and marketing.

While technology add-ons are helpful, some manufacturers are focusing their driver-first efforts on the cab and ergonomic improvements. Hino has introduced a new automotive-inspired interior for the 21MY-L truck line, Lorentz said, that has been popular with drivers thanks to a comfortable seat, driver ergonomics and a quiet environment.

"Safety features such as lane departure warning and collision mitigation are being rolled out and becoming a desirable option for many fleets; these tech features make it easy to overlook the fact that every Hino truck has exceptional sightlines and standard power, heated exterior mirrors, for example, making safety a key design feature," he noted.

Volvo Trucks has also made the driver environment a focus, Hanson said, with a new steering wheel on the VHD model.

"The Position Perfect steering wheel improves the tilt and telescoping steering wheel by adding a second pivot point between the steering wheel and column," Hanson said. "The Position Perfect wheel reduces driver fatigue by allowing the driver to adjust the steering wheel to a more optimal location."

In addition, Volvo has added ventilated seats on the VHD, something that puts the vocational truck right alongside luxury cars for driver comfort.