Digging different: an in-depth report on hydro excavators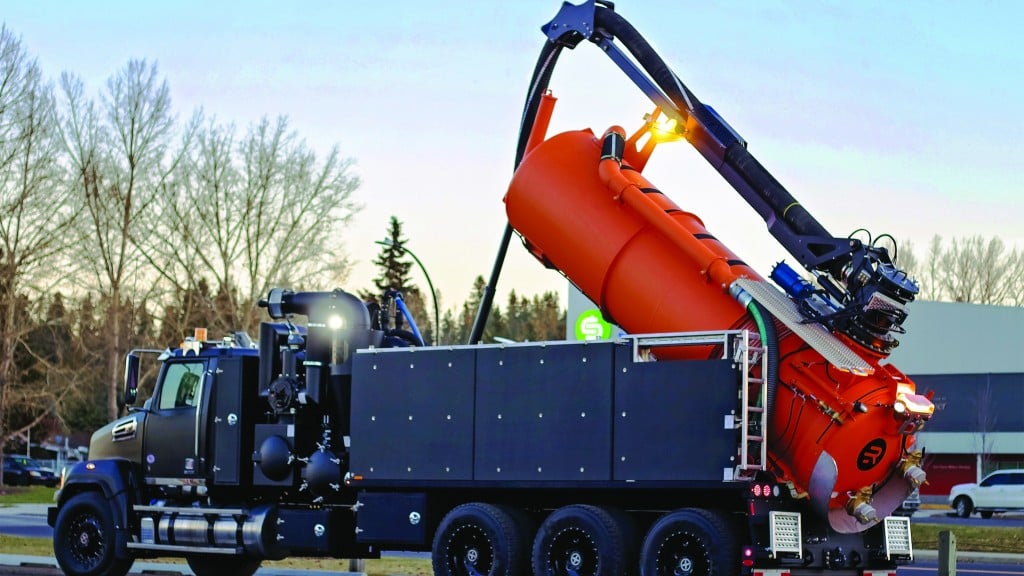 Underneath the traffic jams that snarl Canadian city streets, there is another type of congestion faced by municipalities and contractors: kilometres and kilometres of utilities that criss-cross one another in a growing tangle of pipes and conduits.
The horizontal drilling boom that has helped bring high-speed internet and cable services to so many parts of the country has also brought more challenges for the providers of those and many other services. It has become a more hazardous prospect to dig with an excavator or backhoe when it comes to these busy locations, for fear of striking a buried line and causing a spill or breaking a cable – both costly mistakes.

Those concerns have opened a door for the use of hydro excavation units, which can be used to open up the ground with far less likelihood of damage to existing services. These machines, which started out in industrial service in the oil and gas sector and have spread into more and more uses over the past decade or so, are a versatile option for municipalities and contractors, as well as for industrial users.

"Hydro excavation brings a number of benefits to the industrial excavation world. It is now the most preferred method of digging because it's the safest way to dig without damaging known or unknown items underground," explained Mike Reis, vice president of industrial sales with hydro excavator manufacturer Super Products. "The primary benefit of hydro excavation is that it provides for better damage and safety control when compared with mechanical methods. Since it is accurate, it limits accidents and injuries for labourers, as well as other people. It also does a better job of digging."

According to Ben Schmitt, general manager of Edmonton-based Westech Vac Systems, oil and gas operators were first to turn to hydro excavators back in the late 2000s during the first boom in hydraulic fracturing.

"During that boom, vacuum excavators were – and still are – an integral part of the oilfield industry, as oil tanks and pipelines were continuously installed to support the increased production of oil. Companies employed vacuum excavation to safely install new pipelines without damaging the myriad of existing pipelines in the ground," Schmitt related.

Today, the resource sector still uses vacuum excavation, but the benefits of excavation with a lighter touch have been recognized in more areas, according to Nick Bruhn, product manager with TruVac. "With an ever-increasing amount of buried utilities, aging infrastructure, infrastructure upgrades and new construction, vacuum excavators are in high demand for a variety of jobs, including potholing, visually verifying locates, slot trenching to install new utilities, ensuring an HDD bore head safely avoids existing utilities, and exposing utilities for repairs," Bruhn said. "Vacuum excavators are used throughout all stages of a buried utility's life cycle."

Hydro excavators work by combining high-pressure water with a vacuum system, Reis explained. The water cuts into soil and breaks it up, and the vacuum then lifts that resulting slurry out of the excavation area and pulls it into a debris tank that can later be dumped elsewhere. It's becoming a more popular excavation option for work in cities, with both municipalities and contractors picking up truck- or trailer-mounted units.

Brian Showley, director of sales with Vermeer MV Solutions, said that contractors remain the main buyers of hydro excavation equipment, but that cities are buying their own equipment more and more. The division of who is purchasing what, in terms of either the truck or trailer models, is also shifting, he noted.

"What we're seeing is a trend where some of the contractors that in the past were using trucks are finding that because of load restrictions, the truck sizes are coming down to scale with the new regulations. On the municipal side, we're seeing a big uptick in trailer units; larger cities own big snorkel trucks, but they're finding that they can buy a 500- or 800-gallon trailer-mounted vac, get multiple units, and for a fraction of the cost do smaller jobs and not tie up the big trucks."

Rival Hydrovac, a Canadian vac truck manufacturer, has been aiming for that smaller truck market with its products, according to partner Tim Dell. Load limits are becoming more challenging for hydro excavator owners to manage, so smaller trucks that provide the digging power needed for today's excavating jobs are ideal for the market, he noted.
"They know the big trucks have to be legal, and they can't haul as much as the little trucks because there's so much equipment on them and the trucks weigh so much empty," he said. "You have this big truck that you can't use to the extent it's built for because you can't fill the tanks all the way."

Rival builds two truck models, the T7 and T10, which carry seven and 10 yards of debris respectively; the T10 was built for operators who might need a little more space, Dell described.
"It's probably 30 percent bigger than our initial truck; that's for the guys who need to be legal but want a little more truck – maybe they do some work industrially or in the oilfields, but also work in the city," he said.
Regulations drive developments
Different provinces have different regulations surrounding vacuum excavation trucks and weights, and the landscape is always changing. That makes it tough to find the truck that best fits the needs of the location. Westech and its sister company Vactor Manufacturing have been working to adjust their offerings based on provincial changes.
"Up until the middle of last year, vacuum excavators in the Ontario market were considered roadbuilding machines, which made them exempt from many DOT regulations, most specifically weight compliance," Schmitt explained. "The roadbuilding machines exemption was recently removed, which sent the industry (users and manufacturers) into panic mode. As a result, Westech and Vactor have developed specific configurations for this market to help our customers better comply with the new regulations while maximizing their legal payload and productivity."
Smaller machines offer maneuverability and capability to do work on tighter jobsites as well, noted Showley.
"In a case where you're going out and doing utility locates, you don't notice as big a difference as you might think from the performance side of things, so they can get the job done more efficiently with a smaller truck – a tandem axle, rear tandem axle or even a rear single axle truck and spend a lot less dollars on the initial investment," he said.
Benefits in busy underground environments
When it gets to the jobsite, hydro excavators offer plenty of benefits to operators who are dealing with modern cityscapes or industrial installations that hold surprises underground.

"We have to change the way we excavate. . . you can't just go out there, hit lines, repair them and move on," Showley said. "There are fees and fines associated with that, and there can be legal problems for contractors that hit a line and cause explosions, injuries and death. You used to ride down the road and see someone down in a hole watching the bucket of a backhoe digging to find a line. . . you just can't get away with that anymore – it's too dangerous."

With the proliferation of directional drilling to install everything from sewer lines to fibre optic cable, tracking just where those installations are has become a challenge for municipalities, let alone contractors, Dell noted. Even with One Call and locating services providing greater awareness of buried lines, there can still be issues with precision.

"If you're told the service is at 9 feet deep but the surface mark is off by 20 inches, you dig 9 feet and then you don't know where to go. . . you can spend half a day searching," Dell said.

Protecting those underground lines is a key part of the hydro excavator's job on any given day, especial ly after the fibre boom in Canadian cities – as Dell noted, a cut fibre optic cable can't just be taped back together, but requires expensive specialized repairs. Hydro excavation also has far less likelihood of causing an environmental or safety hazard.

"Hydro excavation. . . is now the most preferred method of digging because it's the safest way to dig without damaging known or unknown items underground," Reis noted. "The primary benefit of hydro excavation is that it provides for better damage and safety control when compared with mechanical methods. Since it is accurate, it limits accidents and injuries for labourers as well as other people."
Schmitt notes that regulations in some jurisdictions are requiring the pairing of a vacuum truck with hydraulic directional drills to prevent potential underground clashes.

"Many regulations and consumers require exposing each utility the bore will cross to ensure the bore bit will cross the utility safely," he said. "These lines are exposed by hydro excavation. On larger HDD applications, vacuum excavators are used to vacuum the drilling fluids and mud produced during the course of the application. They can also be used to clean up the drill and jobsite once complete."

Hydro excavators are relatively simple machines in construction and design – they are essentially a pressurized water system, a large vacuum and the associated tanks. Advancements in design and construction haven't moved far from that formula, but have focused on improving efficiency and performance.

The differences are often in the areas of boom design, weight distribution, tank size and similar aspects. Each manufacturer has its own design and structure.

"TruVac has responded to the increased demand for vacuum excavation equipment by providing new and innovative features and designs that enhance versatility, productivity and safety, minimize job setup and teardown, and maximize payload capacity," Bruhn said. "The demands for options are as varied as our customers' business models. Customers are often looking for a broader range of storage capacities, operating flows and pressures, vehicle sizes, axle capacities, boom reach, carrying capacities and the ability to perform additional tasks."
Improvements focus on engines, noise
As hydro excavators have become more established, manufacturers have focused improvements on aspects like engine options – diesel versus gasoline, for example – and hose size, as well as managing issues like noise. Sound levels are important to consider in urban uses, Showley said, both in terms of engine noise and the sound of the vacuum itself.

"Silencers are quieting that air. . . that's what makes a really high-pitched whining noise," he described. "We're also building full enclosures with sound-deadening material lining those enclosures. It even comes down to the plumbing. . . larger plumbing actually helps the machine quieter."
In the end, though, hydro excavators are still relatively simple machines that are simple to use.

"There's not much magic to these machines – it's really different ways of laying them out. But in the end, they all heat up water, shoot water out, suck up the mud and store it in a tank, and then dump it," Dell described.
Truck or trailer?
When the time comes to purchase a hydro excavator, the customer has a big decision to make off the start: truck or trailer? Canadian buyers overwhelmingly select trucks, Showley noted, though trailers are starting to make some inroads.

"We are working on a few projects that would bring more trailers into Canada, but it's a situation where the market has been so established with trucks in Canada for so long that the buyers are just used to going in that direction," he said.
Dell said the decision to buy a truck over a trailer often rests in how busy the machine is for any particular owner.

"Trailers are a little more versatile because you're pulling them with another truck that can then be used for other things; if it's not something you're using every day, then it's useful in that regard," he described. "An owner might graduate to a truck because he needs more productivity, he's using that trailer more than he had expected."

Hydro excavation is still relatively early in its growth cycle, Schmitt noted, and that means there's plenty of room for new developments depending on what the market is looking for.

"With the rapid changes in the industry, vacuum excavation will likely look much different in another ten years," he said. "We will likely see a continued focus on weight reduction and distribution, different methods of transportation (such as trailer vacs and hydrovac support trucks), different methods of cutting soil (such as water, air and water/air combinations), different disposal techniques, hydrovac spoil reclamation, and even autonomous vacuum excavation."
Related Articles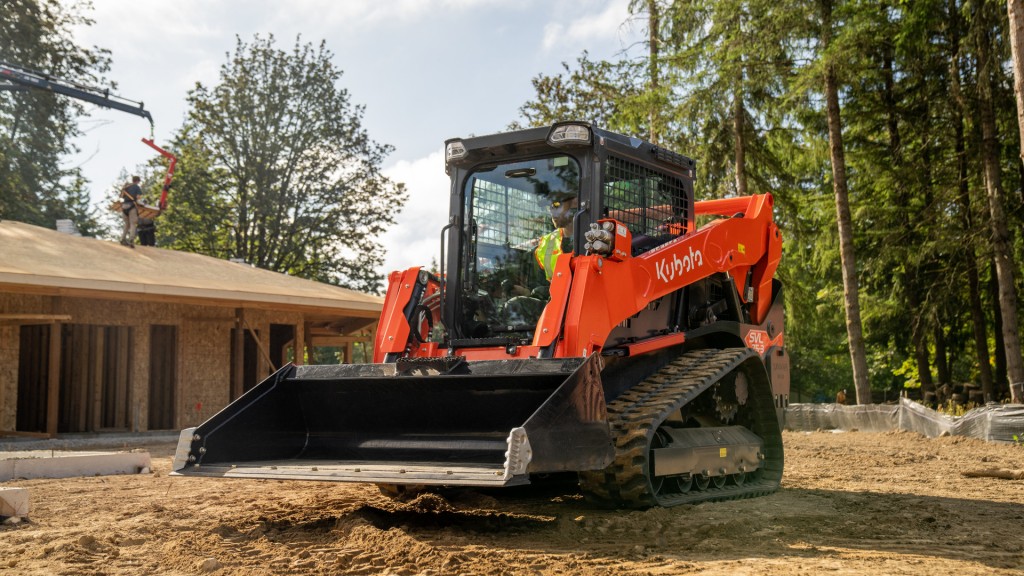 New hydraulic system and added technology updates for Kubota compact track loader