McNeilus spotlights FLEX Controls and Flexible Service and Support Network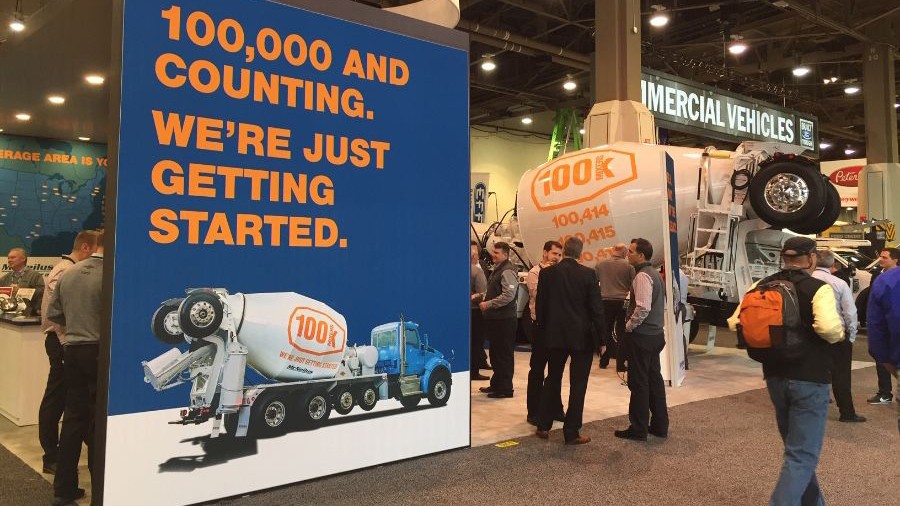 McNeilus Truck and Manufacturing, Inc., an Oshkosh Corporation company, has made a splash at World of Concrete at the Las Vegas Convention Center, January 22-25, showcasing its 100,420th Bridgemaster mixer.
McNeilus is in Booth C6413 revealing its latest innovations, including new advancements to the company's proprietary FLEX Controls. "FLEX Controls help take the guess work out of loading, mixing and pouring. We have taken what is an industry innovation and added even more enhancements to increase precision and ease-of-use," said Jesus Crespo, VP and General Manager Concrete Mixers, McNeilus Truck and Manufacturing. "And since hitting the 100,000th milestone concrete mixer last October, we're excited to bring our newest mixer, number 100,420, equipped with the latest customer-driven innovations for all to see."
McNeilus invites booth visitors to literally take control of its innovative FLEX Controls system equipped on its concrete mixers. Explore two new test systems and see why FLEX Controls are so easy to use. The controls platform offers an unprecedented level of performance and accuracy that allows better, more precise mixing. Catch the FLEX Controls training video series, which provides tips on mastering the control system. The base system and newest advancements were developed based on customer needs and requests. These new customer-driven innovations include:
GradeMaster: GradeMaster technology automatically detects when the truck is on an incline and spins the drum faster to keep the mix further forward in the drum, slowing down again when the mixer moves off the incline.
Build-up Detection: This detection system identifies concrete build-up so you know how much to load and when to chip to help avoid overweight fees.
Auto-Load Mode: FLEX Controls detects material loading and automatically engages load mode. This saves on fuel and extends equipment life.
MIP Award
FLEX Controls features six total additional advancements; stop in the booth to see them all. Based on these enhancements, FLEX Controls is up for the Most Innovative Products award at the show.
Cummins X12
McNeilus is featuring a Freightliner truck option with the new Cummins X12 engine. The Cummins X12 engine is 600 pounds lighter than other medium-bore engines in the 10-13 liter category; it is made to increase payload and productivity.
Along with Freightliner, a number of chassis manufacturers - Kenworth, Peterbilt, Mack, and International - are also including McNeilus and London mixers as a part of their World of Concrete displays.
Customer Support Solutions
McNeilus, your one source for genuine OEM parts and industry-leading service and support, provides the right part, right fit, for when you need it right now.
Check out the Street Smart Parts display, which highlights the 24/7/365 availability of quality OEM parts. Experts will be providing live demonstrations of our online parts store, StreetSmartParts.com.
McNeilus delivers the industry's largest factory-direct, flexible service and support network, including an added level of support through its Authorized Service Providers. The mobile technician network gets customers the parts and services they need when and where they need them.
Service centers are strategically located throughout North America providing support before, during and after the sale - serving customers both locally and nationally.
Giving Back
McNeilus is making a $25,000 donation to the Concrete Industry Management (CIM) program, a business intensive program that awards students with a four-year Bachelor of Science degree in Concrete Industry Management.