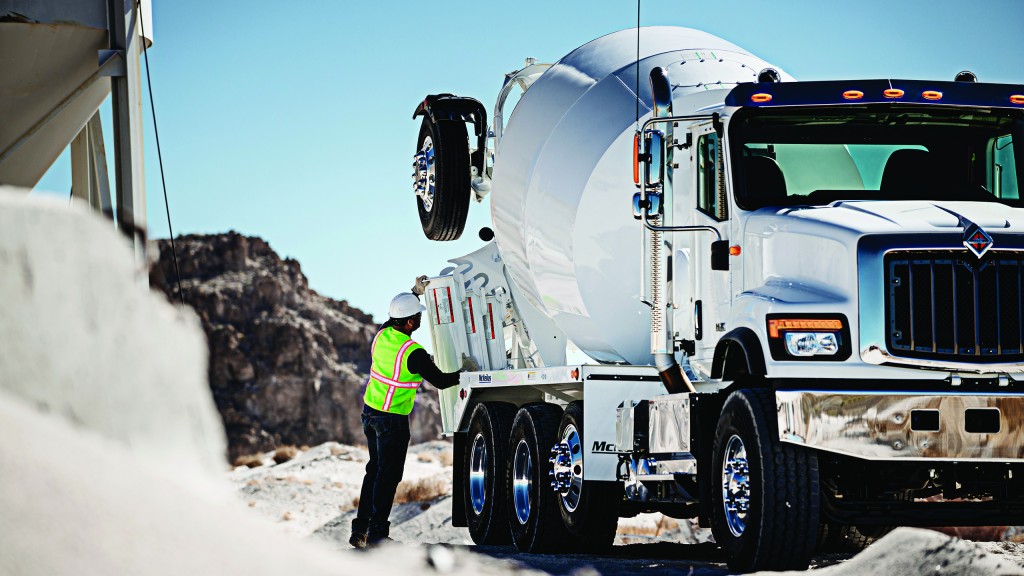 Versatile, rugged and powerful, vocational trucks are a key piece of equipment for roadbuilding, excavation, municipal work, concrete delivery, heavy hauling, crane work and other applications. These trucks have become more capable and powerful over time, and every manufacturer offers a variety of approaches to fitting them out that match up with virtually any customer requirement. Recent trends in vocational trucks have focused on getting more power to the ground with innovative transmissions, a drive to improve the driver experience to ensure companies can keep talented drivers longer, and assurances for body builders that upfitting can be done faster and easier.
Power and efficiency
A hallmark of the vocational truck is the raw power that it offers for the many jobs that it might manage, so it's no surprise that engines have been a focus of manufacturers in the vocational sector. Trends in engine development have focused on reliability, reduced weight and less clutter under the hood, according to Bruce Vasbinder, director of product marketing, Severe Service with International Trucks' parent company Navistar.

"The engine's reliability plays a large role in our customers' uptime, which remains one of most important things to them," he said. "The truck needs to be running, with minimal downtime and maintenance. Weight is important because the less your engine weighs, the more your truck can carry. This translates to a heavier load for our customers, which typically translates to more revenue."

Volvo Trucks North America customers are also looking for lightweight powertrains that provide plenty of pulling power, noted Product Marketing Manager John Felder. "We see customers in the dump and mixer truck segments seeking lightweight powertrains and favouring maximum horsepower and torque capabilities. Likewise, logging truck customers consistently request the greatest available horsepower and torque. Municipal truck customers are now requesting 1,000 lb.-ft. of torque and horsepower ranges of 300 to 350."

Making sure that engines are "right-sized" in terms of displacement, horsepower and torque for the job they're expected to do is important to ensure that they operate at peak efficiency, said Allan Haggai, channel marketing manager for Freightliner and Detroit brands. "In the past, engines were often over-spec'd to make sure there would be an abundance of power to exceed the job demand. Today, modern diesel exhaust aftertreatment systems work best when the engine is in the upper end of its operating range. Extended idling periods and light loads can decrease aftertreatment efficiency and require more frequent regens and unscheduled maintenance. The Detroit DD8 and DD5 mid-range engines feature variable cam-phasing technology to help support efficient aftertreatment system performance. Simply put, variable cam phasing introduces more engine heat into the exhaust system during extended idling and low-load PTO operations. Optimized aftertreatment system temperature reduces forced regen situations and can improve productivity."

Lighter weight engines are also becoming popular; Cummins recently added the lightweight X12 that can be spec'd into the Freightliner 114SD, reducing weight by around 600 pounds compared to other medium-bore engines in the category, Haggai noted.

Internal design changes have aided in the development of engines that fit the bill when it comes to smaller and lighter options; Mack Trucks' 11-litre MP7 is one example. Tim Wrinkle, Mack Trucks construction product manager, said the engine – designed to provide similar power to a 13-litre engine while reducing weight and fuel use – uses unique components to boost its effect on the bottom line.

"The MP7 features a patented wave piston design that, in conjunction with a new common-rail fuel injection system, enables more complete combustion of fuel within the cylinder. This in turn helps reduce emissions and improve fuel efficiency. Combined with a two-speed coolant pump, these features help increase MP7 fuel efficiency by up to 2.1 percent compared with the previous MP7," Wrinkle said.

Improved fuel efficiency is important to all manufacturers, and while vocational truck owners may not see the same magnitude of improvement as on-highway operators due to the different engine loads and uses, many of the improvements cross over between the two segments. According to Vasbinder, that leads to greater improvements to fuel efficiency no matter what the truck.

The parts and pieces that make up the engine and its associated equipment have also received attention from vocational truck makers.

"In general, desire for corrosion resistant items on engines, such as stainless steel oil pans and transmission oil cooler lines, is trending up," Felder said. "We are also noticing a demand for advancements and efficiency optimization for power takeoffs (PTOs)."

Even the space around the engine is being scrutinized; a reduction in equipment cluttering up the underhood area can improve ease of maintenance, Vasbinder noted. "When something needs to be fixed, [reduction of clutter reduces] downtime and increases uptime. With less parts, issues can be identified and taken care of much quicker. Less clutter also means a lighter engine."

Low and slow transmission trend
There have been plenty of innovations in transmissions and drivetrains for vocational trucks over recent years. Low-speed gearing and ease-of-use are two areas that have been targeted by manufacturers.

Growing acceptance of the automated manual transmission (AMT) has led to it becoming a key feature in many vocational trucks. "The increasing adoption of automated manual transmissions is continuing, as customers make the AMT the transmission of choice over manuals," Wrinkle noted. "In fact, due to customer demand, Mack made the 13-speed Mack mDRIVE HD standard in Mack Granite models. Currently, mDRIVE HD penetration is approaching 50 percent for Granite models."

Volvo Trucks' Felder agrees that AMTs are capable of handling challenging vocational applications and are also ideal for extreme low speed operation in a variety of challenging tasks. "We've seen such a strong acceptance of our 12-speed Volvo I-Shift AMT that we introduced the 13- and 14-speed I-Shift with crawler gears for applications needing ultra-low speeds and even greater startability with deep reduction gears."

Mack also offers low-speed power through the mDRIVE HD, with two options available. "Available in direct or overdrive configurations, the 13-speed mDRIVE HD has a single low-ratio creeper gear, while the 14-speed mDRIVE HD, offered in overdrive only, adds a second ultra-low-ratio creeper gear designed for curb pouring applications or low-speed, heavy-haul maneuvering. Both transmissions offer up to four reverse gear ratios," Wrinkle said.

Creeper gears provide owners with the ability to spec two trucks in one, Wrinkle notes: "The creeper gears allow us to spec a dump truck with gearing for great startability on severe jobsite terrain, along with an axle ratio that lowers cruise rpms for better fuel efficiency at highway speeds."

Another benefit to the AMT is the ability to work with advanced software for specific applications, Felder pointed out. One example is Volvo's Paver Assist software, which pairs with the I-Shift to provide support for paving operations, reducing bumps and disturbances in the pavement laying process that often occur when shifting from neutral to drive.

"Truck operators can engage drive, without first applying the brakes when transitioning from neutral and being pushed by a paver, to [pull] away from the paver equipment. To do so, the driver simply shifts from neutral to drive while rolling very slowly and depressing the plus (+) button on the I-Shift shifter," Felder explained.

With more new drivers entering the industry as older drivers retire, ease of training is another consideration when it comes to transmission selection, said Vasbinder. "A manual transmission is often the least expensive, but not every driver knows how to drive one. Automatic is usually more expensive, but is more amiable to inexperienced drivers. Make sure to consider ease of use; look at your driver training and the application to choose what is best for your business case."

Versatility for body builders
It's important that customers be able to work with their chosen body builders to get the equipment they want installed quickly and easily.

One target is to have a clean CA (cab to rear axle) configuration, Vasbinder said, which means body builders don't have to move the battery, fuel tanks and other equipment, leaving a clean frame rail to place the body on. International uses models from body builders when designing their trucks, right from the initial design, to be sure that bodies can be packaged neatly on to the chassis while helping keep the installation process easy and cost-effective.

Electrical systems that keep the body builder in mind are also appreciated, and manufacturers have introduced approaches that make wiring new bodies in much easier.

"Our BodyLink III electrical connector, which simplifies the installation of the body to the chassis, is standard," said Wrinkle of Mack's approach. "It integrates communication from your body to the truck ECU and is multiplexing capable without the need to splice wires or compromise quality. We offer many choices of dash switches, factory installed PTOs and hydraulic pumps, as well as electronic parameters that can be set from the factory for seamless body builder upfit."

Mack provides pre-wire options for the Lytx camera system on its Granite model, offering added safety and training opportunities.

Navistar's Diamond Logic system makes wiring, installing and operating electronics easier when installing new bodies and functions on a vocational truck, Vasbinder explained. "Multiplexing and programmable chassis features through Navistar's Diamond Logic have also lead to easier integration for customers. Through this, we can tie certain parameters and characteristics together throughout the truck. For instance, if a truck has outriggers deployed, we can program the vehicle transmission not to allow vehicle movement. Or, we can limit the speed of a dump truck if the bed is up. This leads to increased safety, protects equipment and ultimately leads to better uptime."

Freightliner values its partnerships with truck equipment manufacturers, Haggai said, and the company works closely with them to create reliably integrated vehicles. "We often facilitate face-to-face work sessions between our technical experts and theirs to better assess needs and chassis requirements. With features like our SmartPlex electrical system, clear back-of-cab packaging and a huge selection of frame and suspension configurations, TEMs are able to efficiently upfit on our platforms, and deliver solutions designed to stay on the job and deliver results for the end user."

Connectivity is a key consideration
Connectivity is becoming more popular in the vocational industry, particularly fleet management, said Vasbinder. "This allows owners to see where their trucks are – if it's on the road, at a truck stop or off road doing a job.

"The next big trend is vehicle health reports and suggested maintenance."

Predictive maintenance is a big part of what connectivity provides; OnCommand Connection in International trucks, for example, provides a live vehicle health report to drivers; when there's an issue, the driver receives a code that helps determine the severity of the issue and allows them to plan their downtime efficiently.

Mack's GuardDog Connect system proactively monitors fault codes that can potentially cause trouble for a truck, Wrinkle noted. "When GuardDog Connect detects an issue, it notifies Mack OneCall uptime agents at Mack's 24/7 Uptime Center, many times even before a driver realizes there is a potential problem. A team of experts quickly diagnoses the issue to determine the best course of action. If a repair is required, proactive repair scheduling and parts confirmation is done, all while the truck remains on the road."

Connected services like Detroit Connect Virtual Technician – Freightliner's solution for vehicles powered by Detroit engines – ensure that quick service decisions can be made after faults are detected while giving fleet managers the information they need to understand their fleet's health, fuel economy and performance.

"Fleet managers can now be fully informed when making service decisions. This is absolutely key for a complex vocational truck designed to perform a specific task because the fleet manager often does not have the luxury of renting a segment specific replacement vehicle," Haggai said.

As vehicle monitoring develops further, Vasbinder suggested that predictive maintenance will become a key part of telematics features in trucks. He gave an example that "if a vehicle experiences fault code A and B, they typically end up getting fault C as well. With this information, we can fix C before the truck even experiences the fault. Through OnCommand Connection, we'll also be able to let a driver receiving a fault code know which dealer near them is best prepared to complete the repair, meaning they have parts stocked for proper service and a technician is available."

Comfort drives driver retention
Today's driver pool is getting younger, and competition for the best drivers can be fierce. Truck owners are looking for vehicles that will help them draw and keep those drivers, and they have asked manufacturers to help with updated cabs and features.

"It's easy to overlook creature comforts and focus solely on vehicle performance when spec'ing your truck. However, with many businesses struggling to retain operators, that approach is a little short-sighted," Haggai noted. "Options like air suspension seats, tilt/tele steering columns, remote adjustable heated mirrors, premium cab insulation and automated transmissions can go a long way in improving driver satisfaction. In addition, options that help improve driver comfort and reduce stress can help the driver be more productive and alert, which can lead to safer operation of the vehicle."

Volvo conducted a survey of nearly 2,000 professional drivers during development of the VHD series trucks; the results were a variety of ergonomic seating options, heated and ventilated seats and a cooled passenger seat. A smart steering wheel offers access to nearly all driver interface functions, Felder pointed out, and the driver information display is customizable for straightforward operation. "The trend from manual to automated transmissions has also been an important development, as vocational truck drivers are now reporting fewer instances of fatigue."

International has also taken advantage of driver experience in planning its trucks, Vasbinder said. "We went out and asked drivers what they wanted improved within their trucks and implemented many of their suggestions. This has led to improvements in our vehicles focused on reducing driver fatigue; from ergonomic interiors that minimize driver movement to customizable switches which provide easier operation of the vehicle. Small changes mean a lot. For example, our pedestal mirrors allow drivers to move their head less than in other vehicles, which may seem small, but if you think about how many times a driver checks their mirrors in an eight hour shift, it adds up and makes a big difference."

Wrinkle explained that the 2017 redesign of the Mack Granite interior was driver-focused to provide comfort for long shifts and to incorporate good ergonomics throughout. A new dash layout and gauge cluster improved readability and visibility of key information, while frequently used controls were relocated closer to the driver. The mDRIVE AMT shift pad was moved closer, and switches were repositioned for easier reach. Mack's Co-Pilot 5-inch display, located between the speedometer and tachometer for better visibility, offers intuitive navigation. A steering wheel with what Wrinkle said is an industry-first flat bottom makes it easier to get in and out of the cab, while giving the driver a little more room in the seat.
Related Articles
As one of the latest models in the R2-Series excavator lineup, the Bobcat® E88 delivers durability, performance and quality for more productivity. Technically speaking, it's a compact machine, but it brings big performance with its redesigned engine and optimized lift performance, plus undercarriage and counterweight improvements. All these enhancements make this excavator one of the highest-performing models in its size class. With impressive over-the-side lift capacity, you can dig with greater confidence over the side of the machine. Put it to the test against similar models from other manufacturers. You'll see that the E88 can outwork the competition.