In-depth report: Horizontal directional drilling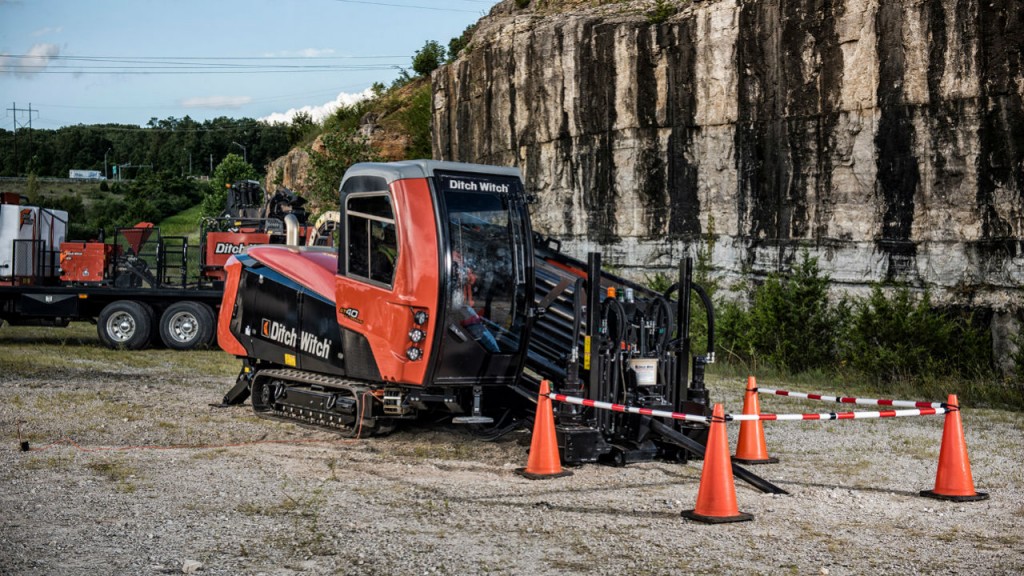 Installation of underground infrastructure has become more challenging in today's sprawling urban centres. For many types of utility and service, the need to dig under existing roads, buildings and other obstructions has brought a growing interest in horizontal directional drilling.

North America is seeing increased utilization and acceptance of HDD installation methods across all applications, from mini-rig to maxi-rig jobs, according to Richard Levings, American Augers director of product management. That growth is expected to continue this year.

Kevin Conry, senior marketing manager with Toro, agrees. "From natural gas pipelines to wind and solar conduits, telecommunications, DSL and fibre optic installations, utility contractors in Canada have realized the inherent benefits of directional drills compared to excavating or trenching."

"With oil and gas in the shadows right now, large telecoms are putting in miles and miles of fibre network," noted Lee Schroeder, sales manager with Vermeer.

"This small duct work is really driving small- to medium-size machine sales, such as the Vermeer D8x12 through D23x30 S3 Navigator horizontal directional drills. These smaller footprint machines are outfitted with the right power to get through tough jobs in tight urban spaces."

Large HDD units saw a slowdown three years ago in conjunction with a downturn in Canada's energy market. Chris Gambrell, Canadian regional sales manager for Ditch Witch, said that with the oil and gas sector's improvements through recent months, larger HDD units are starting to move once again. "Although the market has not returned to the same level it was five years ago, it continues to increase. In addition, the demand for smaller-sized HDD units (10,000- to 20,000-pound drill class) is also increasing. This trend is being driven by an influx of fibre installation projects across Canada.

Levings at American Augers commented on another aspect of HDD utilization. "There are scenarios in which excavating or trenching is simply cost prohibitive, and the investment in equipment and labour to rehabilitate an installation area would bore into the bottom line of the utility contractor's operation. Furthermore, there are other installation sites that require minimal disruption, which make horizontal directional drills an attractive choice compared to excavators and trenchers."

New technology improves productivity
With the steady growth of underground utility installation, manufacturers have invested in developing their HDD product lines. It's a simple process. Utility contractors know what they want – technical advances that help improve their productivity.

In terms of controls, newer machines are transitioning to digitally controlled systems, according to Levings.

"This allows the use of higher performing hydraulic components that offer better efficiency and increased productivity. This also improves the operator interface and increases the available information to make better drilling decisions," he said. "Remote monitoring is now commonplace and allows planned maintenance and remote diagnostics."

Advancements on Toro drills have focused on intuitive controls that allow operators of all skill levels to effectively control the rig. Toro's solution is the new TDOS-1 with SmartTouch drill operating system.

"TDOS-1 with SmartTouch streamlines pipe handling by allowing the operator to use the cam rocker switch to advance through the pipe handling process," Conry explained. "Each push of the switch corresponds to a sequence of pipe handling functions. This makes the pipe handling process easy to learn, improving the operating experience for new operators. In addition, the TDOS-1 with SmartTouch software gives the drill operator the benefit of a more visually appealing and intuitive interface for accessing functions and information on the display.

"Features include the ability to select single or dual joystick mode on the fly, as well as easy-to-use torque, thrust and tool rotation selection limits for quick adjustments to match bore requirements. Display contrast and day/night mode adjustments also allow users to make changes as light conditions fluctuate."

All-Terrain (AT) technology has been a focus for Ditch Witch machines, providing operators additional improvements when it comes to operations on remote and difficult jobsites. In addition, the AT system includes an innovative way of driving the drill bit compared to conventional mud motors.

"At the core of the AT system is dual-pipe technology, which has an inner drive shaft that reaches back to the drill so it can physically control exactly how much horsepower is sent downhole," said Seth Matthesen, Ditch Witch HDD category manager. "The switch from mud motors to AT technology provides operators with a more efficient power option. In comparison to the 50 percent of power sent downhole with mud motors, 95 percent or more of the drill's inner drive power is successfully transferred downhole using AT systems."

Matthesen pointed to the Ditch Witch AT40 All Terrain drill as an example of the AT system and its operation. A 160-gross-hp engine provides operators 20 percent more horsepower in a smaller footprint over competitive 15-foot drill-pipe models in its class, he stated. The unit also minimizes pipe-entry distance, providing operators increased drill pipe support as it enters the ground.

"New HDD machine models produced today utilize the latest engine emissions equipment. With these emissions requirements, machines have typically gotten heavier," Schroeder noted. "Because of weight and footprint increases, we have seen a trend towards smaller drill models doing the work that larger rigs once completed."

He also said that Vermeer has focussed on telematics, such as Vermeer Fleet and Vermeer Fleet +Edge HDD, which have become more prominent and offer many benefits, such as GPS locations, maintenance schedules, diagnostics, performance data and more.

Automation is more of a draw on smaller rigs such as mini-class drills, and will likely not be found at the same level on larger machines, Levings said. That technology and other electronic features are only practical when they offer operators a feasible solution to an actual problem they face on the job, such as increased operational efficiency, greater productivity, or compliance with strict personnel and environmental safety requirements.

"If the new features do not offer a solution truly beneficial to the operators, they just add cost and complexity," Levings said.

"Take rod handling systems as an example. Automated pipe handling is a much more complex feat for larger rigs than it is for the mini-HDD machines. For smaller machines using shorter drill pipe of consistent dimensions and pipe magazines, automated pipe handling is a huge advantage. Automating a small-capacity pipe loader for larger rigs using Range I and II pipe that varies as much as a foot in length from one pipe to another is not easy to achieve, nor as beneficial. We may see auto-pipe handling for the larger rigs eventually, but it's not feasible at this point."

Productivity extends to the speed at which a machine can be deployed and operated, and Toro has incorporated a number of features into its new DD2226 and DD4050 HDD units, Conry related. For example, dual stabilizers on each side of the unit can be independently adjusted to quickly and easily stabilize the unit on uneven ground.

"Fast connection and breakout speed is also a key consideration when it comes to productivity – and for longer boring applications, contractors will want to select a unit that offers open-top vice wrenches that provide the operator clear visibility to the tool joint and rods," Conry said.

"Additionally, directional drills are now more powerful than ever before. Toro is proud to offer 2,600 foot-pounds of rotational torque and 22,000 pounds of thrust and pullback on the new DD2226, while the DD4050 provides 5,000 foot-pounds of rotational torque and 40,000 pounds of thrust and pullback."

For some HDD operators, the development of guidance systems that help ensure precision and tie in with software applications has aided them on jobsites.

One example is how DCI guidance systems and Vermeer drills and technology have developed over the last few years, Schroeder noted.

"With the development of the DCI Falcon [HDD guidance] technology, contractors are able to get real-time data and accuracy. Combined with on-rig bore planning tools (Vermeer BoreAssist), contractors can overlay their real-time data with DCI LWD Live (Log While Drilling) application, allowing them to follow a rod-by-rod plan. That integration is possible due to the rod count feature on our machines to track how many rods contractors are using in a bore, which is tied to the Vermeer drill's software," he said.

Considerations for buyers of HDDs
When it comes to buying an HDD rig, there are a number of recommendations.
Uptime on jobsites keeps projects on time and lends itself to better contractor margins, said Levings, from American Augers. His advice: "Buy units with proven track records of uptime."

He also advised that contractors should choose units sized for the job. "Undersized HDD systems often rob you of profits because of the extra time and effort it takes to complete a project and increase the risk of project failure. Oversized systems usually drive up operating and mobilization costs while struggling to meet the modern jobsite footprint requirements."

Toro's Conry agreed that properly sizing the HDD rig to the application is important, and it's a challenge that should be discussed between the contractor and equipment dealer to determine the best solution for each project.

Machines handle a variety of situations and in many cases have multiple operators. Newer models offer the ability to configure the controls to the style of system your operator has learned and experienced, regardless of brand, Levings said.

"Ensure the supplier has the type of support network that fits you," he concluded. "Construction equipment will experience unexpected issues. Having a network that minimizes the negative effects of these issues is paramount to being successful. [American Augers is] committed to our customer's success with our rigs. Our North American network of authorized dealers and OEM-certified technicians ensures our Canadian customers are up and running no matter where their jobs take them."

Schroeder from Vermeer advised that there are three main things, when looking to buy, that can provide the contractor with a good place to start. First, local support from the equipment dealer – will the dealer be available to assist with after-sale support, including parts, service, field support and training? Second, keep in mind machine features that help ensure efficient jobsite performance or productivity. Finally, residual market value – will the machine hold value?

"Operational awareness paired with a comfortable workstation can boost ROI on a jobsite," Ditch Witch's Matthesen said. The former is provided by LED screens which improve visibility into machine functions and diagnostics, he added. "Many machines have also integrated tracker information into the drill display to increase productivity and enhance visibility of all jobsite functions beyond drill operation."

"When it comes to quality, selecting a reliable machine is really a no-brainer for contractors. Equipment working in tough conditions, like those utility contractors experience every day, needs to be rugged and durable. Parts availability, field service and on-site troubleshooting and drill operator training are all things to consider when making an equipment/dealer selection, as even just a few hours of equipment downtime can seriously impact the profitability of a job.

"Toro is in continuous contact with dealer and end-user contacts to help develop solutions that can help the contractor out in the field," Conry emphasized. "Some of these latest advancements include enhanced pipe-handling options, available through Toro's SmartTouch system. When it comes to selecting equipment, contractors may want to work with their dealers to determine which productivity-focused features are most important for their specific application, and use them as a resource to figure out which brand and model are best suited for their operational needs.

"A few of the main considerations are the general size and scope of the project, the total length of the typical run, the typical outer diameter of the pipe to run, materials and ground conditions, and environmental factors like traffic, existing structures or tight areas. Contractors can and should work with their equipment dealers to make a decision that is the ideal solution for their specific needs. Contractors can also contact HDD drill manufacturers directly to help answer questions about rightsizing the rig to the application."
Company info
Related products