Soilmec moves to Stage V with Volvo Penta engines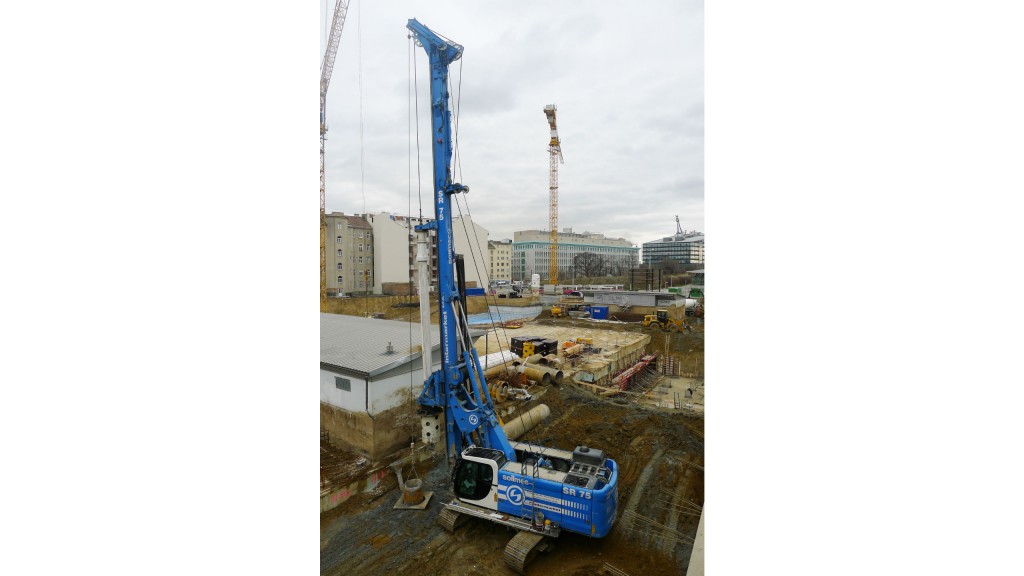 Italian ground engineering manufacturer Soilmec will install Volvo Penta's new 13-litre Stage V solution in its SR-75 piling rig. Following a successful outcome of equipping the rig with Volvo Penta's EU Stage IIIA and Stage IV engines, Soilmec has selected the Swedish company's D13 Stage V solution for future production. The change comes ahead of the new emissions regulations coming into force in 2019.
"Volvo Penta's engines are compact and versatile, and offer high power with low fuel consumption," says Alessandro Ditillo, Large Diameter Bored Piles product line manager at Soilmec. "We found that their Stage IIIA and Stage IV engines have had the great advantage of having the same mechanical configuration and a single interface on the electrical panel. Together with a substantially reduced lead time, this has allowed Soilmec to easily manage the production of our models and send them to customer's required final destination."
He adds: "We have had great feedback on the SR-75 with Volvo Penta engines and their brand is well recognized by the market and known for providing an excellent and global after-sales service. For all of these reasons, we have chosen Volvo Penta's Stage V engine solution for the SR-75 in future."
Soilmec, based in Cesena, eastern Italy, was founded in 1969 and supplies its equipment to customers across the world. Its parent company, Trevi Group, has carried out engineering work on large projects such as New York's Ground Zero, using Soilmec's machinery.
The SR-75 is an advanced self-mounting hydraulic drilling rig that is designed for creating bore holes for foundation piles, for either residential or commercial properties. The unit can create holes of various diameters and depths, including cased bore piles driven by a rotary head or casing oscillator, or uncased bore piles that are stabilized by drilling fluid or left dry. The 70-ton unit forms part of Soilmec's series of piling rigs that range from 30-170 tons; the series of units can create holes of between 300-3500mm in diameter, and of depths up to 140m.
"We have had a great overall experience with Volvo Penta," says Ditillo. "From the initial phase of the study, to the application of the engine on the SR-75, and through to the on-site commissioning and after-sales management, the availability of Volvo Penta technicians has always been total. They have been proactive in solving any issues, and so the relationship has really been very positive."
Volvo Penta's D13 Stage V engine solution is part of the full range of models from D5 to D16, that provide power from 105 to 565 kW (143-770 hp). Volvo Penta's Stage V engines are compact, with hardware layout and electrical interfaces that are compatible with engines of earlier emissions legislation. They are designed to deliver maximum power and torque at low rpm. This results in optimized performance, including smooth operation, low noise, world-class fuel efficiency as well as lower exhaust gas temperature.
The Stage V engines and exhaust aftertreatment system (EATS) are designed to work together to maximize passive regeneration during normal operation. There is no high-temperature regeneration, because sulfur regeneration in the SCR catalyst is not required. Only soot regeneration is needed to clean the DPF for the D5-D13 models; the D16 unit does not require a DPF. No additional fuel injection for sulfur regeneration is needed. This leads to increased fuel efficiency and uptime for operators.
Company info
Related products
Related Articles
Searching for the best-performing excavator? Your search ends here. We tested the Volvo EC350E and EC380E against a leading competitor in three different tests: trenching, truck loading and lifting capacity at reach. The results show a 20% difference in cost-per-ton, a 15% difference in tons-per-hour and a 12% difference in both operating costs and lifting capacity. See the results and put an end to your search for the best excavator.