Superior shows more than two dozen new products at CONEXPO-CON/AGG 2017
Minnesota-based manufacturer featured largest display of new products in history of event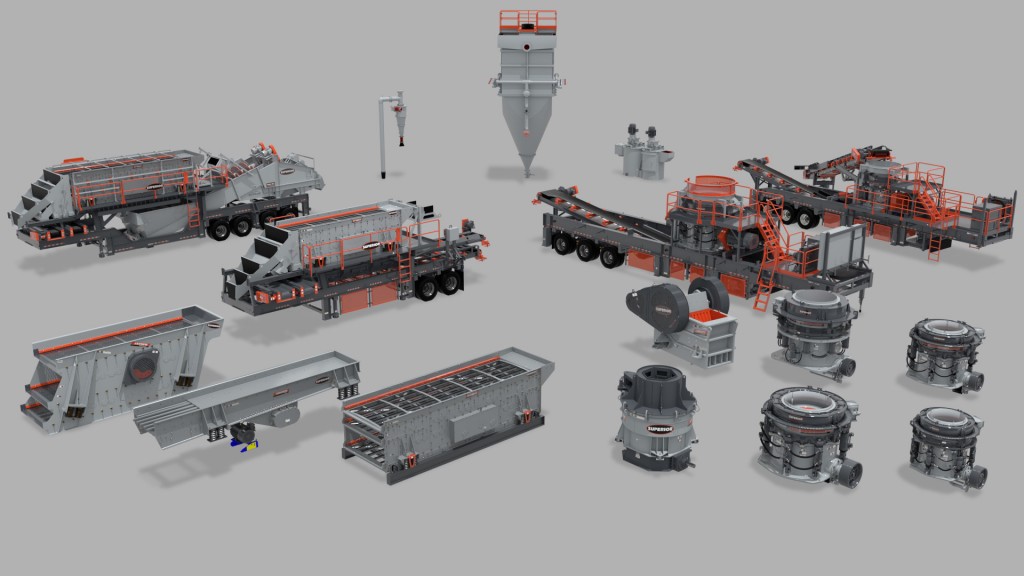 Superior Industries displayed more than two dozen new solutions for bulk processing and handling applications at CONEXPO-CON/AGG 2017. The Morris, Minnesota-based manufacturer of conveying and bulk handling equipment has undergone significant transformation in the last three years, and over the last decade, and is now a full-line supplier of quarry and aggregate, and C&D processing equipment, including conveyors, crushing, screening, washing and components, comprising a comprehensive line of products designed to provide a complete solution for what the company calls "Rock face to Load Out." Since 2014, Superior Industries has introduced 95 new products. According to the company, at this year's CONEXPO-CON/AGG, they had the largest single display of new products in the history of the event.
Crushing & screening
Superior's mega booth at this year's show, included offerings from the manufacturer's new crushing and screening lines. A Liberty Jaw Crusher, Patriot Cone Crusher and Valor Vertical Shaft Impactor (VSI) were on display. In addition, Superior showed off their new Guardian Horizontal Screen, Anthem Inclined Screen and Intrepid Vibrating Grizzly Feeder (VGF). Additional crushing and screening solutions were also incorporated into portable plants like a closed circuit cone and mobile jaw crusher.
Washing & classifying
In 2014, Superior acquired GreyStone, Inc., rebranded the company and invested resources into improving the 50-year-old product line and manufacturing facility in Columbus, Nebraska. Integrated into a portable wash plant at the trade show, Superior showed its Aggredry Dewatering Washer. The combination screw/screen removes clay, dirt and crusher dust from sand and produces an instantly saleable product with just 8 percent moisture. In addition, the first ever Spirit Sand Plant was on display this year, including cyclones and dewatering screens. The quick to construct modular system is used in sand production and fines recovery applications.
Conveying & components
Superior also showcased the latest edition of its proven TeleStacker Conveyor and RazerTail Truck Unloader. Visitors to the booth were able to interact with the latest version of automation connected to the telescopic radial stacker. In addition, more than 20 individual conveyor components solutions were on display including brand new designs for idlers, pulleys and conveyor accessories.
Construction management
In addition to engineering and manufacturing, Superior added a brand new construction management service to its portfolio since the last CONEXPO. Led by a seasoned team of industry veterans, who were inside the booth to meet with visitors, the construction management team oversees engineering, manufacturing, project management and all related field services during planning and erection of stationary processing plants.
Company info
Related products