Kubota Canada announces a new compact track loader line-up
The New SVL95-2s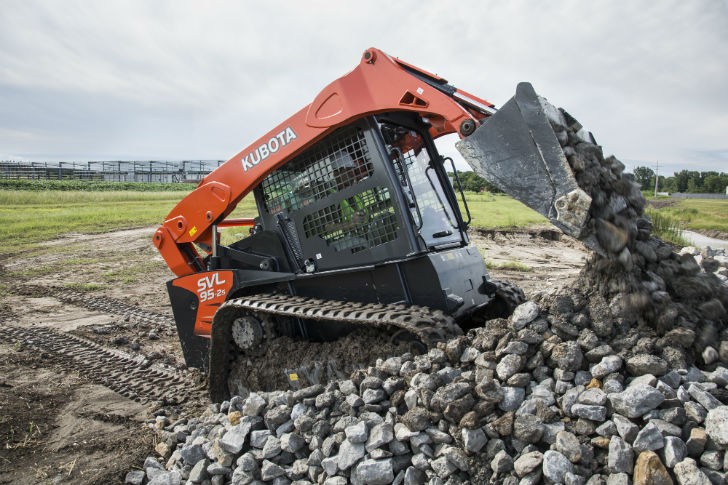 Kubota Canada. has announced that it will be adding a new model to its compact track loader lineup. The new SVL95-2s will be added to the existing CTL models, the SVL75-2 and the SVL90-2, as a tier 4 final model.
With refinements inside and out, the new model will feature a ROPS/FOPS factory cab with air conditioning and will feature lower noise levels, up to 4 decibels from existing models and a 10% improvement in air flow. The ergonomic interior layout will also offer a repositioned lap bar design, electronic throttle control, enhanced digital display and a radio ready cab.
The SVL95-2s will feature a Kubota 96 H.P. Tier 4 final diesel engine using a common rail system (CRS), diesel particulate filter (DPF)+(DOC) and (SCR) selective catalytic reduction with DEF. A new load sensing hydraulic system uses a variable displacement pump with parallel control valve which makes for improved multi-functionality and a stronger and more versatile high flow. At 40 gpm, the auxiliary flow rate is now adjustable with up to 5 pre-set modes and will allow operators to match hydraulic flow to the attachment being used.
With a rated operating capacity of 3,200 lbs at 35% of tipping load, the SVL95-2s will continue to use Kubota's unique vertical lift loader design featuring long reach and high hinge pin heights for maximum lifting and dumping applications. Two speed travel and electronic travel torque management will also be standard allowing for smooth operation and to prevent engine stalls even under severe conditions and to improve traction, a new rubber track and tread pattern will be used.
Company info
5900 14th Avenue
Markham, ON
CA, L3S 4K4

Website:
kubota.ca
Phone number:
905-294-7477
Read more
Related products