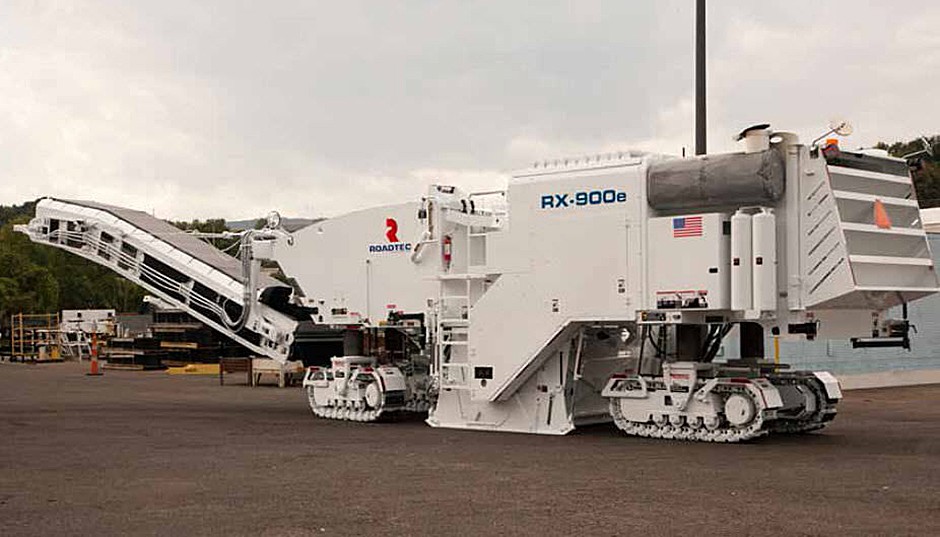 With 950 hp (708kW) the RX-900e/ex is the most productive cold planer available. Power and heavy-duty construction make the RX-900e/ex the tool to own for high-productivity, half-lane or full-lane milling. This cold planer is available with either four-track or three-track assemblies. The machine cuts up to 14" (35.6 cm) deep and can be outfitted to work with different cutting widths. Standard widths are 7'2" (218cm), 8'2" (249cm), 12' (366cm), 12'6" (381cm), and 13' (396cm). Additional custom width can be supplied. Like all Roadtec planers this model features 60° front load-out conveyor swing. All Roadtec cold planers are designed for ease of maintenance and repair.
Features & Benefits
FRAME
We are the only manufacturer to use A656 Grade 80 steel throughout the frame. This special grade of steel has twice the strength of the mild steel that is commonly used.
BOLT-ON TRACK PADS STANDARD
Roadtec offers bolt-on track pads standard because it saves the customer money. Now when your track pads wear out you can simply unbolt the old ones and bolt-on new ones, saving you precious time. No more changing grousers and wasting them.
DUAL WATER SPRAY BARS
Roadtec milling machines have two independent spray bars to inject water in the cutter housing. The front spray bar is primarily for dust suppression, the rear spray bar cools the drum.
SECONDARY CONVEYOR SWING
All Roadtec milling machines offer 60 degree conveyor swing, allowing you to easily feed a truck in an adjacent lane or around a tight bend such as in a cul-de-sac.
THREE TRACK OR FOUR TRACK
Both three track and four track configurations have benefits, so why be forced into one way or the other? Roadtec gives you a choice.
FOLDING CONVEYOR
A folding secondary conveyor is available on all Roadtec Milling Machine models to aid in transport and loading.