Roadtec Presented RX-900e at CONEXPO/CONAGG 2014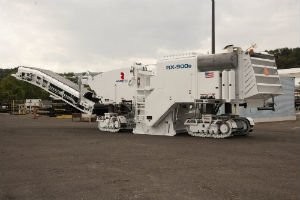 The Tier 4i RX-900e carries several new features including CAN-based electronics with onboard and remote diagnostics. True to the Roadtec way, the machine remains extremely operator-friendly with simplified controls. For example, joystick steering allows the operator to steer the machine with one hand while signaling trucks with the other.
Two full-function operator stations on a shock-absorbing platform are provided for right hand or left-hand cutting. Operator seats and operator area canopies are offered among the many available options.
Roadtec uses premium, high-strength steel to fabricate all its cold planer frames. This high-grade steel provides more than twice the yield strength of standard A 36 steel. This is why Roadtec cold planers are stronger without carrying excessive weight. The premium steel provides the necessary strength at reasonable plate thicknesses. Roadtec provides balance between the right weight to perform in the cut without being extremely heavy to transport or consuming excessive fuel to carry extra weight. In addition to optimum weight balance along with high productivity and speed, the RX-900e is available in three-track and four-track versions.
The RX-900e offers cut depths of up to 14" (356mm) and 150" (3,810mm wide) (depending on the cutter drum). The front load-out conveyor can be positioned up to 60° to either side, making the machine flexible for many working situation. The 42" (1066mm) wide heavy-duty conveyor belts have 1" (25mm) molded rubber cleats, self-cleaning head and tail pulleys and new style canvas conveyor covers on the load-out conveyor. New easy-open belt guard latches are among the features to make the mechanics and operators job go faster.
The Guardian Remote Telematics system is also available with the RX-900e. With Guardian, the machine's electrical system, hydraulic system, engine, pressure transducers, grade/slope control, and fuel consumption can be closely monitored in real-time via cellular signal. The Guardian system allows owners and service technicians to closely monitor the machine's activity and easily troubleshoot the machine's various systems. The Guardian system will automatically email all fault codes and maintenance reminders.
The RX-900e is powered by a 950 hp (750 kW) Caterpillar® C27 Tier 4i engine.
Company info
Related products