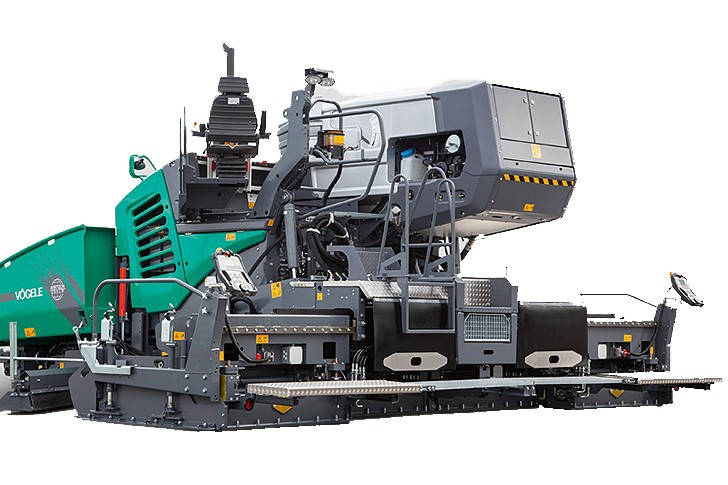 The AB 600 Extending Screed has a basic width of 3m. Equipped with the VÖGELE single-tube telescoping system, its pave width is infinitely variable up to 6m. By addition of bolt-on extensions, the screed builds up for joint-free paving to a maximum of 9.5m. As a result, the AB 600 is ideally suited to combining with the VÖGELE pavers of the Universal Class and the Highway Class.
Features & Benefits
Redesigned side plates
With the particularly ergonomic, hydraulically controlled side plates, all adjustments can be made comfortably and safely from the screed's walkway. The mechanical side plates are very easily adjustable in height.
Excellent floating and paving behaviour of the screed
The optimized geometry of the tamper bar and screed plates allows for an even flatter screed planing angle, improving the floating behaviour of the screed. The result is excellent compaction plus enhanced evenness.
Highly efficient screed heating
New, powerful generators provide an even greater heating capacity. The screed heats up more quickly and evenly thanks to the enhanced heating performance.
Safe and convenient ascent
The middle ascent allows the operator to acess his platform quickly and conveniently. A wide, vibration-damped walkway makes for safe and comfortable working.
Hydraulic crown adjustment
Hydraulic crown control is provided as standard for the AB 500 and the AB 600 screeds. Adjustment is carried out swiftly and precisely using the push-buttons on the screed console. The value for the crown is shown in the displays of both screed consoles.
Ergonomic screed console
The robustly designed screed consoles are perfectly equipped for tough job-site conditions. The brilliant colour display is easy to read from any angle. The SmartWheel offers two speeds for screed width control with absolute precision.
Specs
Key Specifications

| | |
| --- | --- |
| Paving Width | 9 ft. 10 in. - 19ft. 8in. |
| Basic Width | 9 ft. 10 in. |
| Weight | 9,660 Ibs. (TP2) |