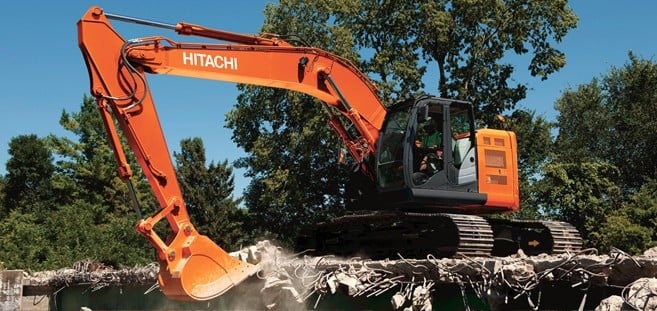 The ZX245USLC-5 is the largest of Hitachi's reduced-tail-swing excavators. This excavator delivers all the power, smoothness, precision and ease of operation you've come to expect from our larger Hitachi excavators – in an easy-to-maneuver package. With tight tail-swing radius, it's perfect for working very close to obstacles.
Features & Benefits
Comfortable cab
Perched on silicone-filled mounts, the ZX Dash-5 cab isolates noise and vibration. The spacious interior provides plenty of legroom and all-day comfort.
Fuel-efficient engine
The Isuzu engine employs a cooled exhaust gas-recirculation (EGR) platform paired with a diesel particulate filter (DPF) to meet EPA IT4/EU Stage IIIB emissions regulations. It is easy to maintain and requires no special additional fluids.
Improved hydraulics
They combine a hydraulic-boost system with an enhanced boom recirculation function to generate more aggressive boom/arm speed, returning the arm to the dig position faster, so you can move more dirt in a day.
Three power modes
E mode (economy) is perfect for light-duty work, reducing noise. The P (standard) mode provides a great balance of power and fuel economy for most tasks. The H/P (high-power) mode increases engine speed to boost horsepower to work through tough spots.
More durability
Exclusive boom design features three bulkheads within the boom to resist torsional stress. This results in unsurpassed durability. Booms, arms and mainframes are so tough, they're warranted for three years or 10,000 hours, whichever comes first.
Easy maintenance
From the self-cleaning steps and convenient grab bars that provide easy engine access, to the centralized lube banks and grouped service points – the ZX245USLC-5 is loaded with time- and-money saving advantages.