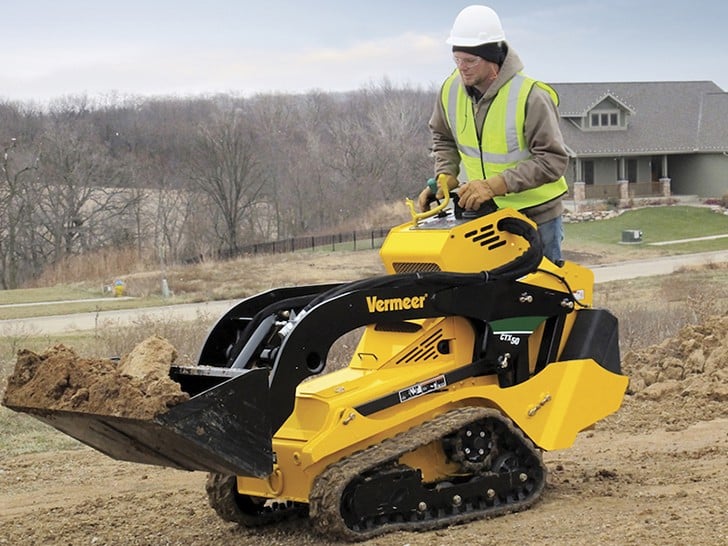 Whether it's on a commercial worksite or home project, the CTX50 can maneuver in and out of small spaces. Featuring a 600 lb (272.2 kg) ISO-rated operating capacity and a tipping capacity of 1715 lb (777.9 lb), the CTX50 is well-suited to both the needs of the rental customer and landscape contractor. What's more, the CTX50 is track-driven, with a spring-cushioned operator platform for added safety and comfort. Versatile and equipped with a 72" (182.9 cm) dump height, this mini skid steer saves labor and time.
Features & Benefits
JOYSTICK CONTROL
The single, pilot-operated joystick offers the operator a smooth range of operation without balancing the engagement of two separate controls.
Loader arms
Vertical geometry lift loader arms help provide an ISO-rated operating capacity of 600 lb (272.2 kg).
Hydraulic pumps
The hydraulic pumps are attached directly to the engine giving the machine a greater power advantage over models directing power from the engine through the belt to the pump.
Undercarriage
The undercarriage features a high-mounted track sprocket. The higher mounting reduces premature wear and tear in rocky soil conditions, while the cast sprocket is heat-treated for longer life.
Specs
Key specifications

| | |
| --- | --- |
| Rated Operating Capacity (SAE) | 600 lbs (272.2 kg) |
| Tipping Capacity (With 175 lb (79.38 kg) operator) | 1715 lbs (777.9 kg) |