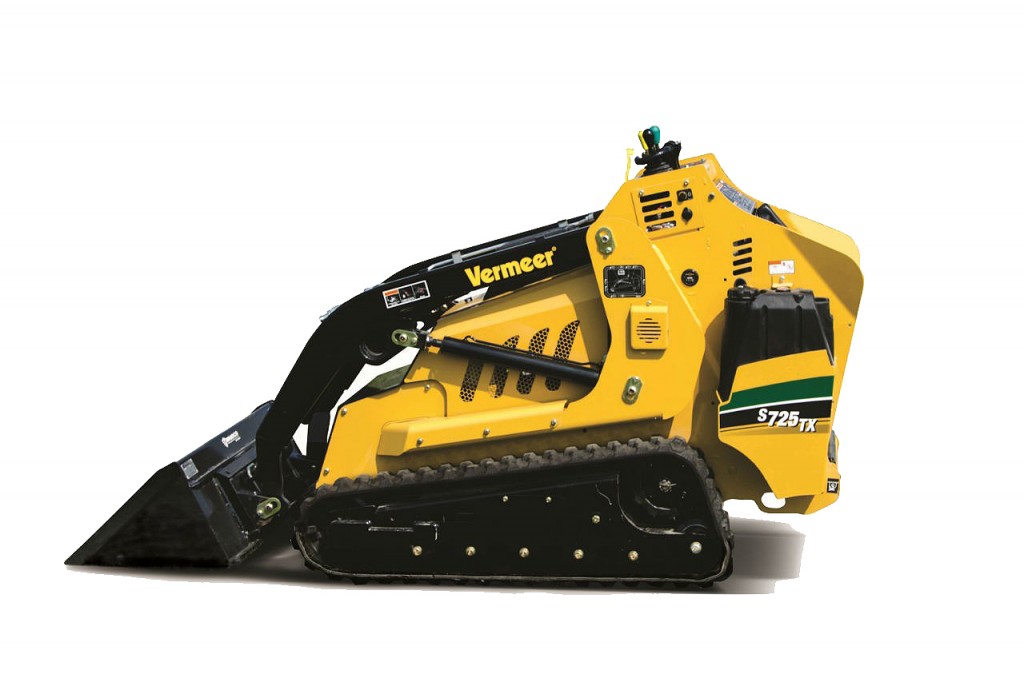 The newest Vermeer mini skid steer can handle a wide array of jobs – from irrigation systems and hardscape projects to tree care removal and fiber optic installations- all without sacrificing performance. Its compact size and choice of track widths makes the S725TX ideal for landscape professionals and do-it-yourself homeowners who need the ability to maneuver through gates and other tight spaces. Characterized by easy-to-use, single pilot-operated joysticks and an operator's station that keeps you out of jobsite debris, the new S725TX offers the ultimate in both operator comfort and safety.
Features & Benefits
EFFICIENCY AND PRODUCTIVITY
The S725TX comes equipped with a single pilot-operated ground drive joystick, which allows for a smooth range of motion. Additionally, a conveniently placed auxiliary lever by the loader arm controls, allows operators to multitask.
Maneuverability
The narrow footprint enhances maneuverability and access through narrow spaces such as backyard gates. Choose between 7" (17.8 cm) or 9" (22.9 cm) wide tracks.
A DUAL HYDRAULIC AUXILIARY
This option adds a second dedicated low-flow hydraulic circuit to optimize operator efficiency when powering attachments.
Lower operation costs
Get more bang for your buck with a high mounted track sprocket. The higher mounting reduces premature wear and tear in rocky soil conditions, while the ADI cast sprocket is heat-treated for longer life.
DEDICATED SPRING-CUSHIONED PLATFORM
This platform keeps the operator out of the mud. The integrated operator presence system suspends ground drive and powered boom/bucket motion when the operator steps off the platform.
Specs
Key specifications

| | |
| --- | --- |
| Rated Operating Capacity (SAE) | 750 lbs (340.2 kg) |
| Tipping Capacity (With 175 lb (79.38 kg) operator) | 2145 lbs (973 kg) |
| Weight (Standard Bucket, Diesel Engine) | 3020 lbs (1369.8 kg) |
| Weight (No Bucket, Diesel Engine) | 2880 lbs (1306.3 kg) |