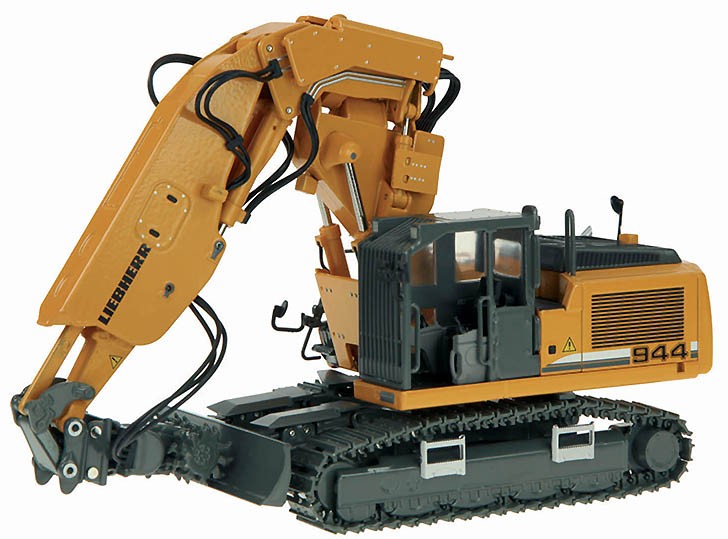 For over 20 years, Liebherr has provided specialist excavators for tunnel building. The R 944 C Litronic Tunneling excavator meets the current, practical demand for extremely powerful excavators to build new large-profile tunnels. Powered by a Liebherr six-cylinder in-line engine which produces an output of 190 kW / 258 hp at a nominal speed of 1,800 rpm, the R 944 C Litronic Tunnel guarantees an optimal output. To reduce particulate emissions, the tunnel excavator can be fitted with the new Liebherr particulate filter ­system as an optional extra certified in accordance with the VERT standard. The windows on the right and to the rear are polycarbonate and therefore characterised by their high impact resistance and very good visual qualities. The R 944 C Litronic Tunneling excavator comes with the convenient Liebherr Tool Management System as standard. This system can save individual pressures and pump flows for up to 10 different tools, automatically adjusting the data after the hydraulic add-on tool has been changed.
Features & Benefits
Performance
Liebherr tunnel excavators meet all the high demands imposed in tunnel construction in every respect, with both the basic machine and the attachment precisely matched to this particular type of work.
Reliability
All the materials used have undergone intensive, long-term tests and meet high Liebherr quality standards even under the hardest conditions. In addition to being extremely robust, the attachment on Liebherr tunnel excavators is able to rotate 2 x 45°.
Safety
The special cab is safeguarded with FOPS and FGPS as standard. To prevent damage from falling rocks, all the hoses in exposed locations on the equipment fittings are additionally secured by protection plates.
Cab
The windows on the right and at the rear are fitted with polycarbonate panes, resistant to scratches and impacts, and feature extremely good visibility. As an option, the cab is also available with polycarbonate window panes all round.