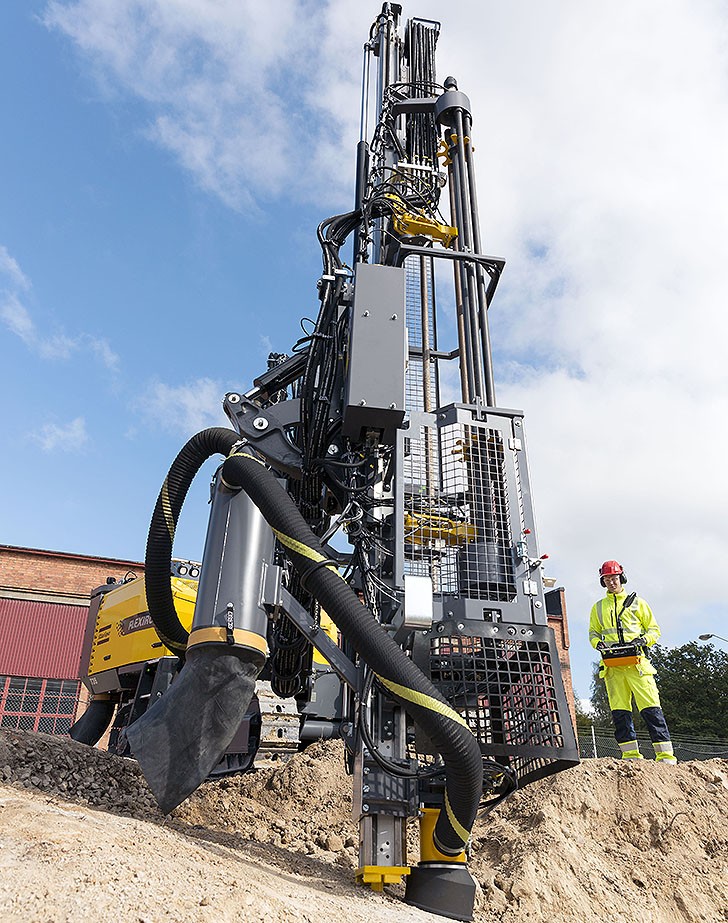 The tophammer surface drill rig FlexiROC T30 R is an excellent choice for small, yet demanding jobs in construction and quarry industries. Its compact size means that the FlexiROC T30 R can easily be transported from job to job. Extended boom coverage of 5200 mm through an 80-degrees radius saves contractors time and money with more holes from fewer set-ups. Radio remote control comes as standard and the rig's twin tracks provide excellent maneuverability on tough terrain. Improved diesel consumption and increased drill steel life compared to the previous model ROC D3 RRC, translate into lower operating costs.
Features & Benefits
Reach and Productivity
Boom coverage of 5200mm through an 80-degree radius translates into more holes from fewer setups. This versatility makes the FlexiROC T30 R an ideal choice for small yet demanding construction jobs, boulder blasting and anchoring.
Reliable and efficient
The FlexiROC T30 R meets stringent Tier 4 engine emissions standards. Variable fan control and self-adjusting RPM ensure great efficiency and low diesel consumption.
Safer than ever
The FlexiROC T30 R excels even on difficult terrain where its low centre of gravity and high ground clearance provide rugged mobility in all conditions.
Specs
Key Specifications

| | |
| --- | --- |
| Drilling method | Tophammer |
| Hole diameter | 1 7/8 - 3 1/2 inch |
| Engine power | 116kw (156hp) at 2000 RPM |