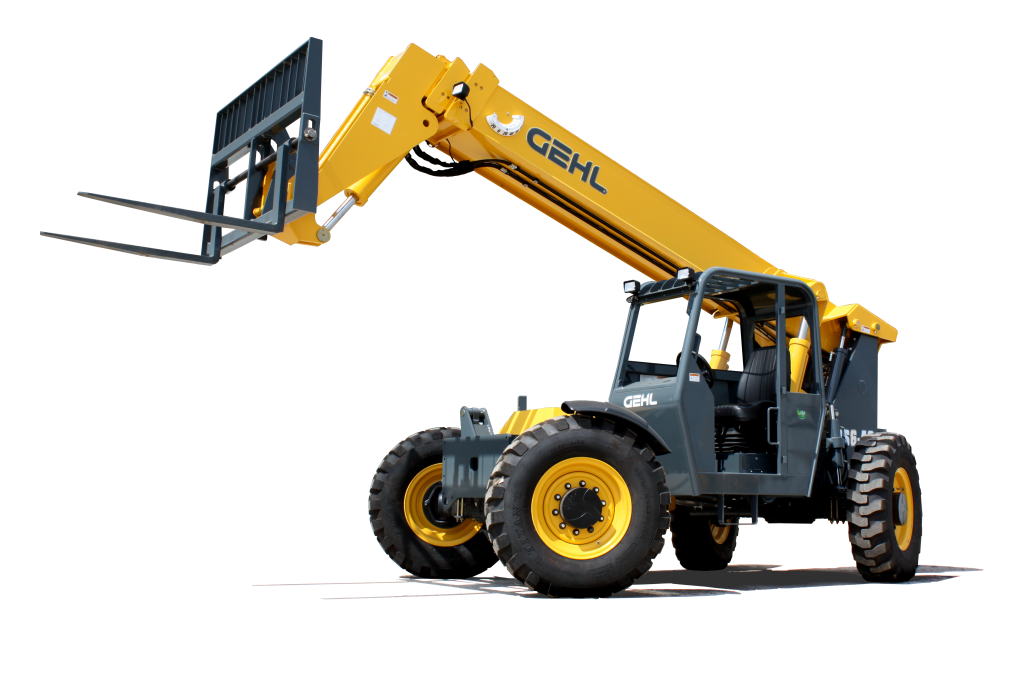 Jobsites demand superior performance, and that's what the RS Series Telescopic Handlers provide. Lifting up to 12,000 pounds (RS12-42) with lift heights up to 55 feet (RS10-55), these machines provide the extra working capacity without sacrificing the comfort and features expected in the RS Series Telescopic Handlers.
Features & Benefits
Boom tip
Boom tip lift hook option is now available as a factory-installed option or field installed option.
Spacious
44 cubic-foot cab enclosure provides optimal leg room and a spacious operating environment.
Visibility
FOPS is completely welded into the ROPS, providing better visibility when placing a load.
Frame
Strong frame with reinforced C-channels performs well under heavy lifting conditions.
Levelling
Frame levelling feature adjusts 10-degrees to the left and right, enhancing performance on uneven terrain.
Handling
Three steering modes – 4-wheel, 2-wheel and crab – enhance maneuverability and are easily changed by the flip of a switch.
Remote boom control
Remote Boom Control can raise/lower and extend/retract the boom, as well as start/stop the engine from the work platform or outside the cab.
Engine
Engine shutdown protection feature allows 30-seconds of run time for moving the unit to a safe location for loading or repair. Dana three-speed power-shift transmission is easy to maintain.
Hydraulics
Dual-function, pilot-assisted joystick is standard equipment. Optional tri-function, pilot-assisted joystick allows the operator to set variable tilt and auxiliary function speeds.
SERVICEABILITY
Over-sized front cover provides easy access to the hydraulic reservoir and hydraulic pressure ports for service and testing. Side-mounted fuel tank with battery access and an additional storage compartment.
Specs
Key Specifications

| | |
| --- | --- |
| Rated Lift Capacity | 6,600 lbs. (2994 kg) |
| Gross Power | 120 hp (89 kW) |
| Maximum Lift Height | 42' 0" (12.8 m) |
| Approximate Weight | 22,000 lbs. (9979 kg) |