Vermeer's new mid-horsepower stump cutter tackles tough jobs in narrow spaces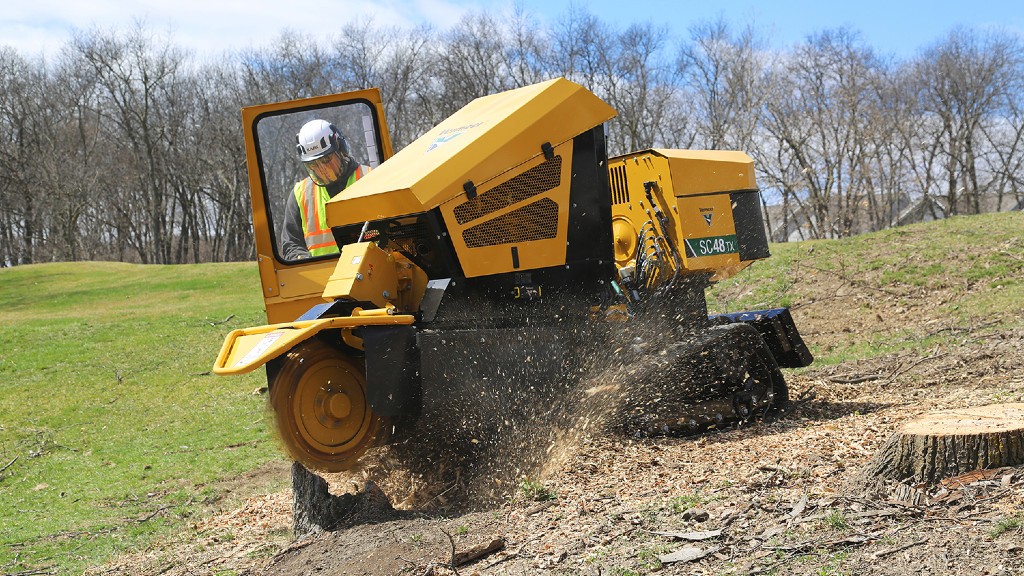 The Vermeer SC48TX stump cutter is a compact machine capable of entering narrow residential job sites with low ground pressure. Despite its size, Vermeer says that it can efficiently remove larger stumps. Powered by a 48-hp (36-kW) 1.7 L Cat diesel engine certified to Tier 4 Final/Stage V emissions regulations, the Vermeer SC48TX can cut up to 28 inches (71.1 centimetres) above grade and 16 inches (40.6 centimetres) below the surface. It features a straight-line cutting width of 65 inches (170.2 centimetres).
"Companies operating this size of stump-cutting equipment previously were limited to mainly gas-powered options. They expressed interest in a diesel engine choice because the high torque produced will help them work efficiently when cutting below grade," explained Josh Vrieze, senior product manager for Vermeer Environmental Equipment.
Low-disturbance tracks provide traction on soft, steep, and rocky terrain with low ground pressure and improved stability. This helps enable minimal job prep before and clean up afterward. These retractable tracks transform the machine to only 35 inches (89 centimetres) for navigating narrow job sites and standard 36-inch (91-centimetre) gates. Once through the gate, the tracks can be extended to 49 inches (140 centimetres) for maximum stability.
"The SC48TX stump cutter is agile enough for tree care and landscape professionals to get through most gates while the tracks allow for increased flotation," said Vrieze.
To help maximize productivity, the Vermeer SC48TX is outfitted with the SmartSweep control system that monitors engine load and provides continuous feedback, resulting in a smooth and consistent cutter wheel sweep rate.
The Vermeer Cutting System (VCS) helps solve many challenges associated with traditional cutting systems. Rather than using a bolt to secure teeth to the cutter wheel, the VCS has a mounting and retention structure that helps keep teeth from shifting in the pocket and absorbs the shearing force while operating. In addition, two-sided carbide V-profile cutter teeth help optimize cutting performance and can be flipped to the other side of the cutter wheel for an extended wear life.
Vermeer designed the SC48TX with a direct-drive system that transfers power to the cutter wheel through a pair of gearboxes. Like other Vermeer stump cutters, the SC48TX is beltless, so users won't have to think about replacing a belt. A bump start clutch smooths the transition as the drive system gets up to speed. An operator presence system will disengage the cutter wheel and bring it to a stop within seconds if the operator's hands leave the control.
An optional full-function remote control allows the operation of the stump cutter without being at the operator's station.
"The remote can assist with navigating tight gate entries," said Vrieze.
An optional backfill blade has a rounded lower edge to minimize turf damage.
"It saves either manual work or having to bring another piece of equipment to do the work. The backfill blade makes this machine very versatile," said Vrieze.