Precision crane load positioning system from Wolffkran reduces unwanted movement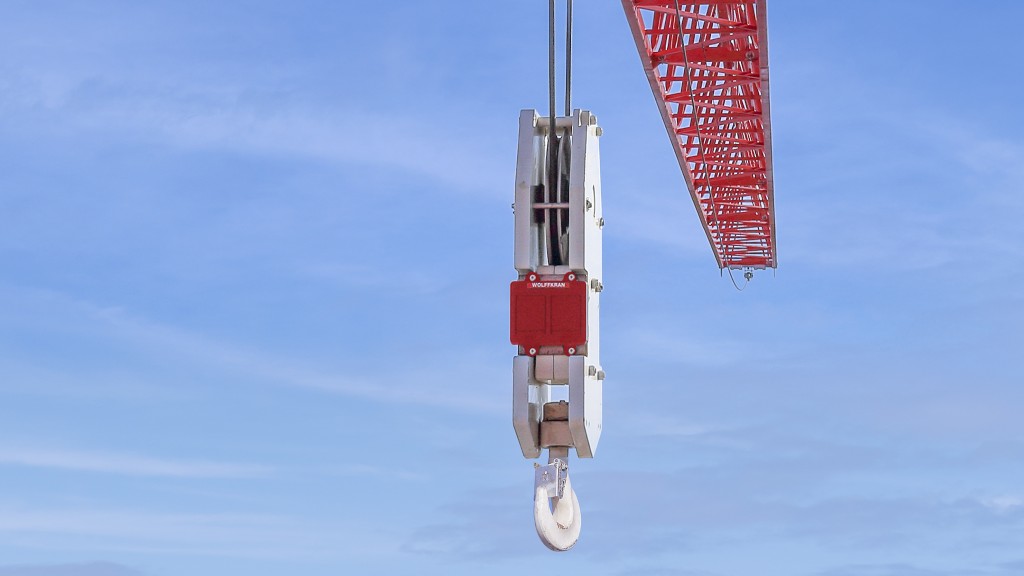 Wolffkran introduced its electronic crane assistance system, High Speed Positioning System (HiSPS) at bauma in 2022 and has now made the technology available for order.
HiSPS uses two battery-powered sensors on the trolley and hook block of the crane hook. These are connected to a control unit in the switch cabinet, which detects rope movements and automatically adjusts the motion and speed of the slewing gear and trolley. This helps loads on the crane hook be moved virtually sway-free and positioned with millimetre precision.
When the HiSPS is engaged, a load already swinging due to crane movement can be stopped within seconds. Wind effects can also be eliminated using the system.
Since the trolley always assumes its position automatically via the hook block when HiSPS is activated, it prevents the load from being pulled diagonally. The trolley automatically moves as well, or is always positioned precisely over the load when the hook is manually pulled, or when the load is manually pushed by hand on the ground.
The end result is a reduced risk of accidents or damage due to swinging loads or hooks. Plus, the system helps optimize anti-collision systems thanks to automatic operation.
Along with safety considerations, HiSPS helps operators work more efficiently, Wolffkran says. Operators can work more smoothly when running cranes via remote control from the ground - previously, movements had to be slow in order to avoid pendulum motion, but with HiSPS in place, they can move faster.
In addition, HiSPS allows operators to save hook positions so they can be reached automatically, allowing loads to be positioned more precisely even with a limited view.
It also collects movement and position data that can be integrated into building information modeling tools for integration into digital construction site systems.