(VIDEO) Ram powers up the 1500 for 2025 with new engines and electric options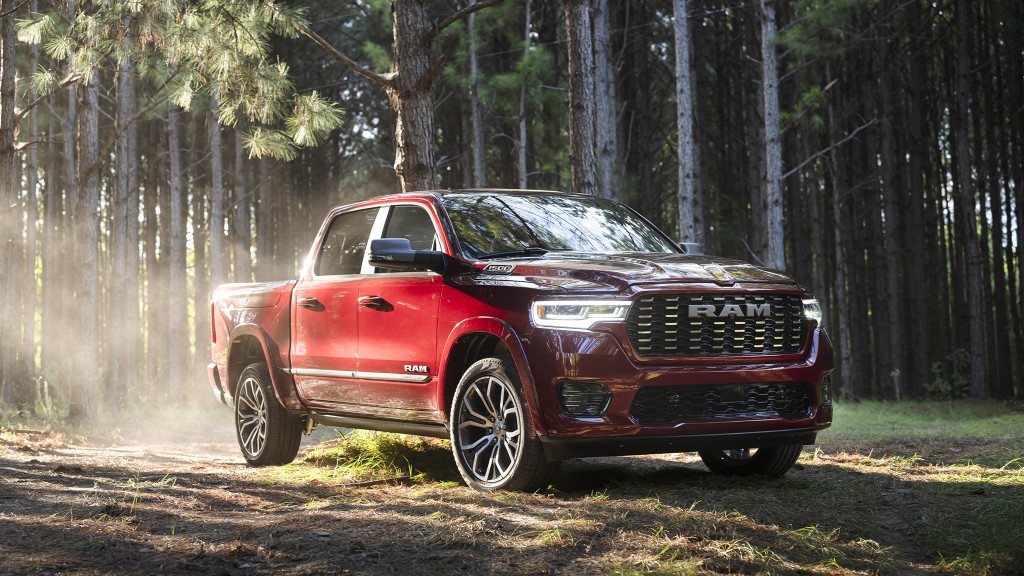 The 2025 Ram 1500 features a new 3.0-litre Hurricane engine family that provides more power and performance alongside improved fuel efficiency. The new engines ensure that Ram has options for buyers looking for efficient pickups, whether they are powered by gas or electricity.
Along with the gas-powered 1500, the all-electric Ram 1500 REV will enter the market in the fourth quarter of 2024, and the Ram 1500 Ramcharger - a generator-powered battery-electric truck - will follow.
Higher torque and performance from 3.0-litre engines
New in the 2025 model are the 3.0-litre Hurricane and Hurricane High Output Straight-Six Turbo engines from the Stellantis Hurricane twin-turbo family. They are joined by the 3.6-litre Pentastar V-6 eTorque.
The new 3.0-litre Hurricane engine is rated at 420 horsepower and 469 lb.-ft. of torque, while the High Output engine is rated at 540 hp and 521 lb.-ft. of torque. Built on the foundation of a deep-skirt cast-aluminum block with a structural aluminum alloy oil pan, the Hurricane engine uses cross-bolted steel main bearing caps plus forged steel crankshaft and connecting rods. Both 3.0 litre engines, as well as the 3.6-litre V-6, are paired with the TorqueFlight 8-speed automatic transmission, which optimizes smooth shift changes for better fuel economy and performance.
Capability for the 2025 Ram 1500 includes a maximum towing capacity of 11,580 pounds, a maximum payload of 2,300 pounds, and up to 24 inches of water fording.
Performance truck fans will also have a model available for them in the third quarter of 2024, as the Ram 1500 RHO joins the market, powered by the 540-hp Hurricane H/O.
A new high-torque rear axle is available for trucks equipped with the 3.0-litre H/O engine. Available in 2- or 4-wheel-drive, a traditional open or limited-slip differential automatically divides torque among the rear wheels to maximize available traction.
Design updates include 2.0-kW inverter and power tailgate
A design update to the 2025 Ram 1500 includes a variety of changes to the body stylings, with an eye towards aerodynamics and clean, consistent profiles throughout. Several lighting options are available across the lineup and depending on the trim level selected.
At the back of the truck, a power open/close tailgate is new for 2025, and allows users to lower the tailgate with the key fob. A multifunction tailgate continues to be available. The RamBox cargo management system includes versatile weatherproof, lockable, illuminable, and drainable storage bins built into the bed rails.
An onboard power inverter can produce up to two kW. Two covered outlets in the bed allow owners to power lights, a television, a reciprocating saw, and other tools as needed. Users with the 3.0-litre engine running and in park can turn the inverter on via the touchscreen or a switch near the outlets, which will ramp the engine rpms up to support the inverter. Trucks equipped with the 3.6-litre V-6 can run the inverter while the truck is in motion.
Added technology for connected services and safety
The Uconnect 5 system includes a 12-inch touchscreen with higher resolution and new 14.5-inch reconfigurable touchscreen displays that feature split-screen capability for dual application operation. A 10.25-inch passenger screen offers three major functions - copilot, entertainment via HDMI, and the ability to view exterior vehicle cameras.
Technology targeting safety include Active Driving Assist, Ram's Level 2 automated driving capability, which includes hands-on-wheel and eyes-on-road automated driving using lane centering with adaptive cruise control. The system uses multiple sensors, including radar and cameras, to determine appropriate roads for the technology. Hands-free Driving Assist is Level 2+ automated driving capability and offers hands-off driving at all speeds and lane centering on approved roadways.
More than 100 active and passive safety and security features are available.
An available fully digital rearview mirror with tow mode provides an unobstructed rear view that enhances safety and visibility. The digital rearview mirror displays video in real time from a rear-facing camera, offering an image that is unobstructed by cab structures.
Drivers can use a full-colour Head Up Display that features several different content areas, such as Lane Departure, adaptive cruise control, turn-by-turn navigation, and more.
Watch the introduction of the 2025 Ram 1500 lineup