2023 spec guide: compact track loaders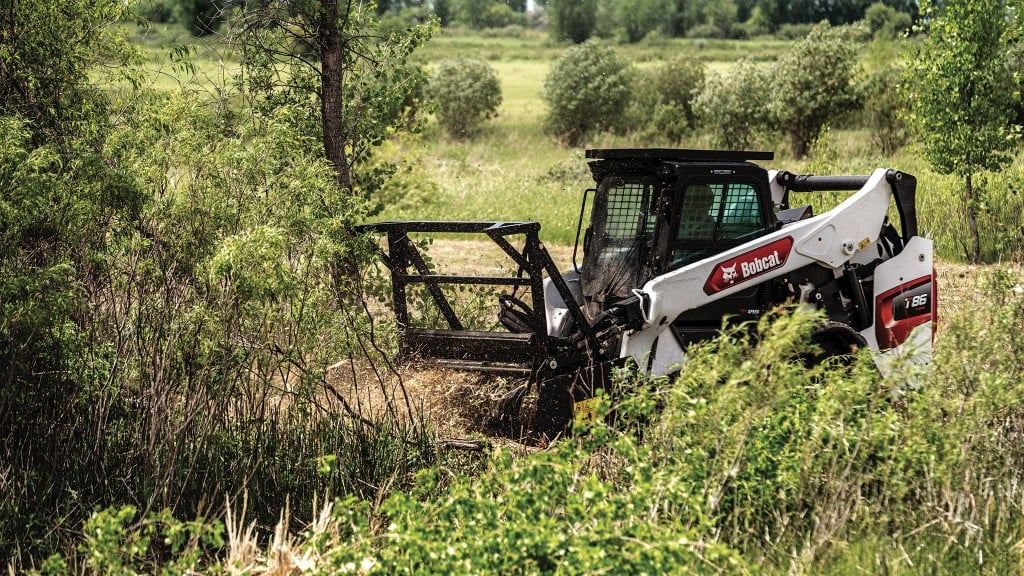 Compact track loaders are a growing segment of the construction marketplace and for good reason: they are nimble, versatile machines that can dig, load, carry, and use a variety of attachments. Tracked machines are able to deal with many types of terrain far better than wheeled units, which can get bogged down in sandy or muddy conditions. Plus, CTLs have lower ground pressure than similar loaders – important when working to avoid damage to surfaces such as lawns. These small, capable machines also benefit from expanding technology that adds efficiency. Here is a look at the current selection of compact track loaders.
Wacker Neuson
Wacker Neuson says its compact track loaders offer enhanced cab design and service accessibility. Daily maintenance accessibility starts with a cab that tips forward, even when the loader arms are down. This provides complete and easy access to maintenance components. The simple design and efficient layout means less time on daily service checks. Wacker Neuson's CTLs also offer comfort features, including strategically positioned joysticks that provide intuitive and comfortable operation. The cab provides plenty of head room and leg room including angled foot pedals and foot bed. The high-visibility cabs deliver an excellent view of the worksite, significantly reducing operator fatigue.
Featured: ST27
Wacker Neuson's newest CTL model is the ST27. The ST27 offers high power-to-weight ratio with an operating weight of 7,310 pounds and a rated operating capacity of 1,890 pounds (at 35 percent of tip). This model features good serviceability, operator comfort, and panoramic visibility.
CASE Construction Equipment
B Series CTLs from CASE feature 360-degree visibility and an intuitive operator interface through their eight-inch LCD multifunction display, which also offers a split-screen backup camera. Updated controls, simple start-up and operation, powerful breakout forces, and high-flow or enhanced high-flow auxiliary hydraulics combine to ensure optimal productivity. ISO and H operating patterns can be swapped simply at the push of a button. Operators can set total machine responsiveness to low, moderate, or aggressive, or they can independently set tilt, lift, and drive speed, as well as loader arm and drive control to best meet the demands of the job.
Featured: TV620B
The TV620B is one of the industry's largest and strongest compact track loaders, according to CASE. With 114 hp and a 6,200-pound rated operating capacity at 50 percent tipping load, it delivers high breakout forces. Standard adjustable electro-hydraulic controls, high-flow hydraulics, auto ride control, one-way self-levelling, a hydraulic coupler, an auto-reversing fan, LED lights, and a five-year subscription to CASE SiteWatch telematics. CASE SiteConnect Module remote service tools are also standard.
Bobcat Company
Bobcat says it has focused on continued innovation with the recent launch of its R-Series skid-steer and compact track loader line. The R-Series loaders are the most powerful, durable loaders Bobcat has ever built. They feature improved stability, more efficient hydraulics, and improved breakout forces and lift capacity compared to previous models. Comfortable cabs and excellent visibility make Bobcat CTLs easy to operate. Paired with Genuine Bobcat attachments, Bobcat says its compact track loaders are a versatile addition to any job site.
Featured: T86
The T86 is the most powerful compact track loader Bobcat has ever built, delivering more usable engine and hydraulic horsepower than ever before. The T86 features an optimized weight-to-horsepower ratio that makes this vertical lift machine powerful, maneuverable, efficient, and productive.
Caterpillar
Compact track loaders that allow tasks to be completed more easily are becoming more valued by customers thanks to advanced technology, labour-saving machine features, and innovative attachments, which can help customers save time and make more money by automating repetitive tasks like grading, digging, and loading. Advanced technologies also allow Cat CTLs to perform these tasks with less user experience. Some of these features include dual-direction self-levelling, return-to-dig, and work tool positioning. Cat CTLs can be paired with the Smart attachment lineup: Smart Grader Blade, Smart Dozer Blade, and Smart Backhoe Attachment.
Featured: 259D3
The 259D3 provides a 75-hp package packed with standard features like torsion suspension undercarriage, two-speed travel, rear-view camera, interactive full-colour display, and Smart technology. The available one-piece enclosed cab design delivers excellent in-cab comfort. Add any assortment of attachments, including Smart Attachments, to increase versatility.
John Deere Construction & Forestry
Customers rely on CTLs to be more productive on a range of job sites. To help maximize productivity, EH Boom performance packages are available for John Deere machines. This shortens cycle times and speeds up repetitive boom movements like boom height kickout, return to dig, and return to carry. John Deere also offers more than 100 attachments, increasing operator efficiency and machine versatility. John Deere says its CTLs have easy-to-access service checkpoints and can put in more hours of work between recommended service intervals.
Featured: 333G
John Deere says its 333G CTL offers optimal power and expansive capabilities for jobs of any scale. The 333G can be outfitted with a range of grade control solutions, such as SmartGrade, saving operators time and avoiding rework. Keeping operators productive and efficient, this compact track loader is compatible with a multitude of attachments and offers a spacious and ergonomic cab.
JCB
JCB's single-arm Powerboom and side door entry provide a strong and safe compact track loader. With two Teleskid and three CTL models to choose from, JCB gives operators the ability to tailor joystick movement to how they work. JCB CTLs not only offer excellent visibility, but also a fully welded chassis for maximum strength and reduced weight. The range is rated for capacities from 2,096 to 3,695 pounds.
Featured: 270T
The 270T compact track loader features a 74-hp JCB Diesel by Kohler Tier 4 Final engine that requires no exhaust aftertreatment. To maximize strength, the 270T has a fully welded chassis and the largest quick hitch pivot pins in the industry for greater breakout force, according to JCB.
Kubota Canada
Kubota's SVL series compact track loaders are designed with the operator and their work in mind. The company says that these compact track loaders deliver high bucket breakout force and lifting capacity, outstanding stability, two-speed travel with auto downshift for maximum torque when turning, a reliable Kubota engine, and more. Operator-focused features, such as a wide cab with roll-up door, low-effort hydraulic pilot controls, and easy maintenance, make it easy to run any compact track loader from the SVL lineup.
Featured: SVL 75-3
The SVL 75-3 combines performance and productivity with an advanced multifunction valve for improved simultaneous operation. The SVL 75-3 brings together a new hydraulic system, added technology, and features - including simultaneous functionalty, auto downshift, a one-piece pressurized cab, and horsepower – to address a wide range of tasks.
New Holland Construction
The 300 series compact track loaders are designed to fit all contractor project needs. The line starts with the C327 at 8,270 pounds operating weight and 74 hp with radial lift, and goes up to the C362 at 16,100 pounds and 114 hp with super boom vertical lift. All of these CTLs are equipped with technology to make the job easier, including an LCD display for a quick view of engine settings and performance information. They come with a low engine hood and no rear frame towers, and they have a back-up camera to give operators greater visibility.
Featured: C362
The biggest and most powerful New Holland CTL to date, the C362 can complete projects of all sizes. It features a 6,200-pound rated operating capacity at 50 percent tipping load, 114 hp at 2,500 rpm, and 16,100 pounds total weight. This all makes the C362 a versatile machine for handling a range of jobs.
ASV
ASV compact track loaders are purpose-built to deliver performance for all types of jobs, including forestry, landscaping, construction, and snow removal. Each CTL is engineered with ASV's Posi-Track undercarriage technology for more traction, speed, and performance on a wide range of terrains. The line's MAX-Series loaders feature a cab designed for comfort and deliver 360-degree visibility, a roomy layout, and a 7-inch full-colour touchscreen display. All ASV compact track loaders include a two-year, 2,000-hour warranty. The warranty features what ASV says is the industry's first and only no-derailment guarantee and covers the tracks for the entire warranty period.
Featured: VT-100
ASV's mew 103.5-hp vertical-lift VT-100 compact track loader is solid in loading and grading applications. ASV says that the model includes elevated comfort, visibility, and performance features. The VT-100 features standard 40 gpm high flow, a 3,500-pound ROC, and a 10,000-pound tipping load for maximum performance.
Takeuchi-US
Available in both radial- and vertical-lift configurations, Takeuchi compact track loaders feature a unique undercarriage design with model-specific components that are matched to each platform for greater durability. Operator stations feature a high-back suspension seat and low-effort, pilot-operated joystick controls that reduce fatigue. All new Takeuchi track loaders feature a standard 5.7-inch multifunction colour monitor and rear-view camera that give operators a much broader view of the job site. The Takeuchi Fleet Management telematics system allows users to remotely connect and view the health and service needs of their machines. A full line of Takeuchi attachments, including hydraulically driven options, make these machines even more versatile.
Featured: TL8R2
Takeuchi's newest compact track loader model, the radial-lift TL8R2, features a fully redesigned cabin including a 5.7-inch colour multi-informational display with rear-view camera, LED lighting, and high-torque spin turn. The TL8R2's quiet-ride undercarriage reduces noise and vibration, greatly improving ride quality and operator comfort. Optional features include creep mode, load-sensing auto shift, and high-flow auxiliary hydraulics.
Yanmar Compact Equipment
Yanmar's new line of compact track loaders are construction-grade machines featuring Yanmar engines. The TL100VS is available now, with the TL65RS, TL75VS, and TL80VS coming in late 2023. Ranging from 67 to 103.5 hp, the new CTLs cover a range of customer needs for construction work, rental applications, and more. The models include several optional efficiency-enhancing features to improve the operator experience and overall productivity. These include a work tool positioner, return-to-position technology, self-levelling, ride control, and auto 2-speed capabilities. Each machine will have a 2-year/2,000-hour warranty.
Featured: TL100VS
Yanmar says its new 103.5-hp TL100VS compact track loader offers its reliability, productivity, and intuitive features for enhanced efficiency and easy training. Standard 40-gpm high flow, a 3,600-pound ROC, and a 10,286-pound tipping load improve performance capacity and efficiency. Travel speeds up to 8 mph on the new torsion axle suspended undercarriage round out the performance-enhancing features.
Hyundai Construction Equipment Americas
Hyundai's new compact track loader has an advanced vertical lift design that delivers lifting capacity and reach, enabling operators to effortlessly handle heavy loads with precision. The Smart Power Control system optimizes engine performance, ensuring efficient fuel consumption without compromising on power. With enhanced visibility from the spacious cab and an intuitive control layout, operators can maneuver confidently. Additionally, the HT100V boasts rugged durability and low maintenance requirements.
Featured: HT100V
The HT100V has a number of features standard on every unit. In future it will offer a High-Flow hydraulic option, which provides extra capacity to run attachments that need an additional hydraulic boost, expanding versatility. Additionally, it is equipped with HiMATE telematics, providing real-time data on machine performance, maintenance needs, and location, enhancing productivity and efficiency.
Check out our 2023 spec guide for skid-steer loaders here.
Related Articles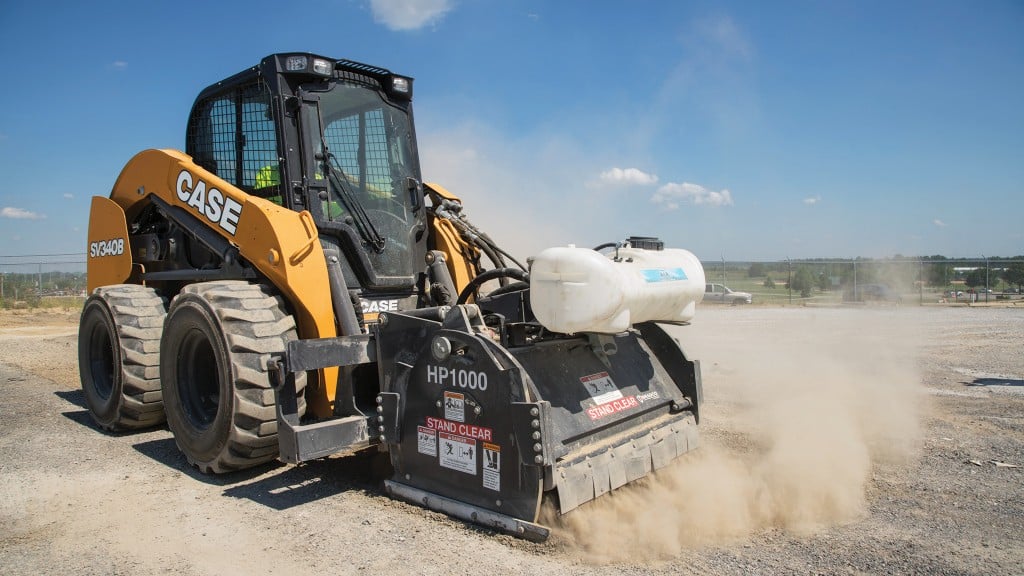 What to consider when selecting a hydraulic flow option for your skid-steer or compact track loader