Snorkel and Xtreme Manufacturing debut wide range of new machines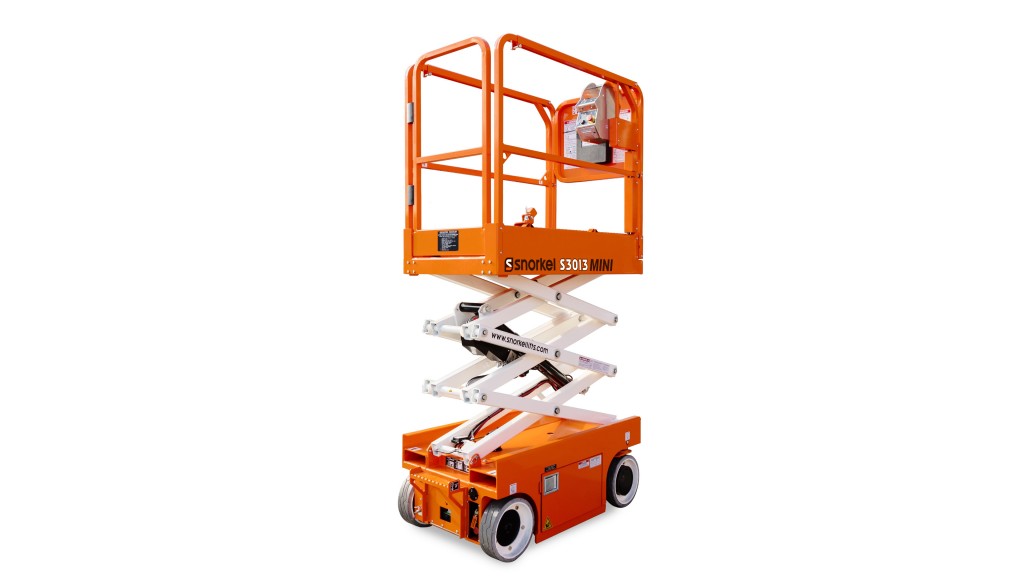 Xtreme Manufacturing and Snorkel will display the new lineups of construction equipment at CONEXPO/CON-AGG 2023.
Snorkel has debuted seven new machines including three electric-drive scissor lifts: the S3013 Mini, the S3219 Plus, and the S3220 Mini. The S3013 Mini features a maximum working height of 19 feet, the S3219 Plus has a working height of 25 feet, and the S3220 Mini offers a working height of 26 feet. All three models also come with an extendable platform and can fit through a standard doorway, making them ideal for indoor and outdoor applications.
The TM20E joins Snorkel's line of zero-emission mast lifts that feature a zero-degree inside turning radius and are compact enough for a wide range of applications.
Two new rough-terrain articulating boom lifts will make their first appearance at the event: the 600AJ and the 600AJN. Both models feature a maximum working height of 66 feet and maximum platform capacities of 1,000 pounds. The 600AJN has a width of Seven feet (compared to the 600AJ width of just over eight feet) making it suitable for use in applications that require a narrower machine.
Four new models join Snorkel's line of lithium-ion scissor lifts, which won the EquipmentWatch Highest Retained Value Award for 2022. The S6926RTE, S6933RTE, S6940RTE, and S6947RTE rough-terrain scissor lifts offer working heights ranging from 32 to 53 feet and feature Snorkel's lithium-ion technology for quiet, zero-emission operation.
Xtreme Manufacturing will unveil its new XR50100-G tracked telehandler the company has affectionately nicknamed the "Trackzilla." The XR50100-G features a maximum working height of 100 feet and a maximum lifting capacity of 50,000 pounds, giving this machine the ability to handle the heaviest loads at the highest heights.
Another first for Xtreme is the Xtreme Glazier. The XR2215GL glass lifter features a two-section boom with a maximum extension of 65 inches and a lift capacity of 2,200 pounds retracted and 500 pounds extended.
Snorkel will also be exhibiting machines from its existing lines of scissor lifts, mast lifts, and boom lifts, as well as the ML18C material lift and the XR619-A compact roller-boom telehandler. Xtreme Manufacturing will display its telehandlers, including compact, high-capacity, ultra-high-capacity, and ultra-xtreme-capacity models.
BZI Steel has joined both Xtreme Manufacturing and Snorkel at CONEXPO-CON/AGG.
BZI's InnovaTech will feature some of their unique attachments that connect to Xtreme telehandlers and Snorkel boom lifts. These attachments allow for safer and more efficient steel erection.
BZI attachments on display
The MezzMaster helps improve the traditional means of lifting roofs and mezzanines using a telehandler attachment that consists of a system of clamps, leverages, and controls that securely hold an assembly while navigating through the building footprint to final placement.
The WallMaster provides simpler and safer wall system installations. WallMaster is a telehandler attachment designed to handle panelized, insulated metal panels and to work side-by-side with ground-level assembly on the panelization system.
The WeldAir100 is designed specifically for Snorkel boom lifts and consists of a framework with an inverter welder and an air compressor to provide welding and arc-blasting capabilities. The WeldAir100 mounts to the back of a boom lift allowing equipment to travel with the machine, while welding cables and air hoses are channelled to the operator in the lift platform for ease of use.