Smaller cold planer from Astec fits size-restricted job sites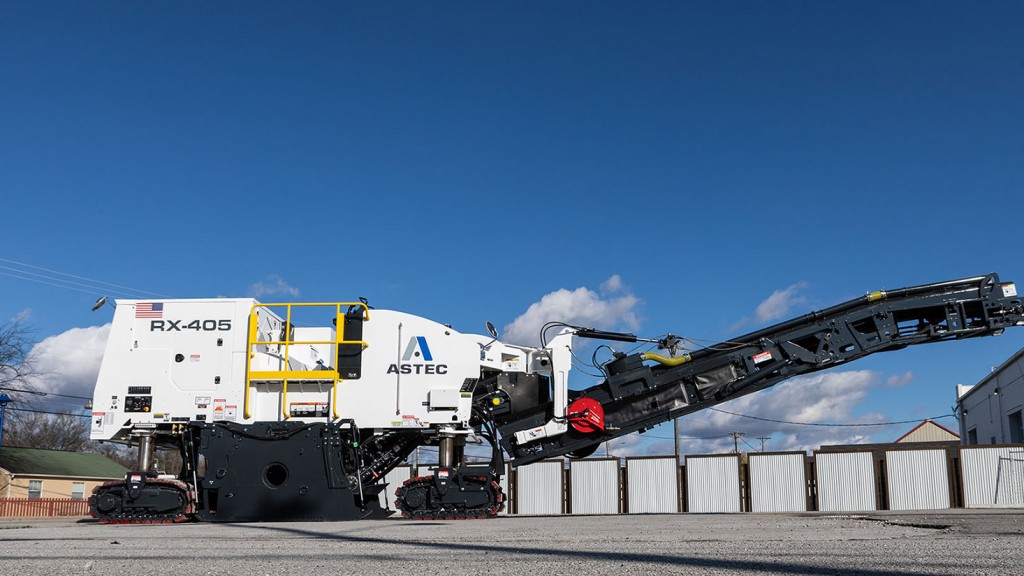 The RX-405 milling machine from Astec Industries is a smaller cold planer that offers versatility and flexibility in a variety of applications. With the addition of the RX-405, Astec's mills now range from 2 feet to 13 feet in cut width.
Kyle Neisen, product director for Astec, says, "We're excited to offer the RX-405 so that all contractors can benefit from the Astec lineup. Contractors of all sizes now have a machine that they can take to size-restrictive job sites like trenches, utility work and parking lots."
The RX-405 features all new control stations that focus on user comfort and intuitive use. "The button layout and joysticks offer all-day comfort for long jobs," states Neisen. With the new control station design, operators can protect the controls from tree limbs and other obstacles by adjusting the tilt on-the-fly. The same tilt mechanism can turn the controls all the way over for safe storage and protection when the machine is not in use.
The compact mill is designed to make changing drums fast and easy. A hinged door allows quick access to all necessary parts.
The RX-405 is designed to make drum maintenance better as well. The machine features a belt lifter that takes the belt off of the main engine sheave, disabling the engine's ability to turn the drum during tool changes. The mill also includes a drum indexer, which remotely turns the drum, making it easy to get the drum to a good spot.
The new cold planer can also be equipped with a rear object detection system, which uses a camera system to spot objects that might end up behind the mill. The system includes buttons at the back to temporarily lock-out the machine from reversing.
The RX-405 also features the ACE grade and slow system, which is intuitive and easy to use, allowing the operators at the main level or on the ground to fully control the machine.