Genie's highest capacity telehandler designed to lower total cost of ownership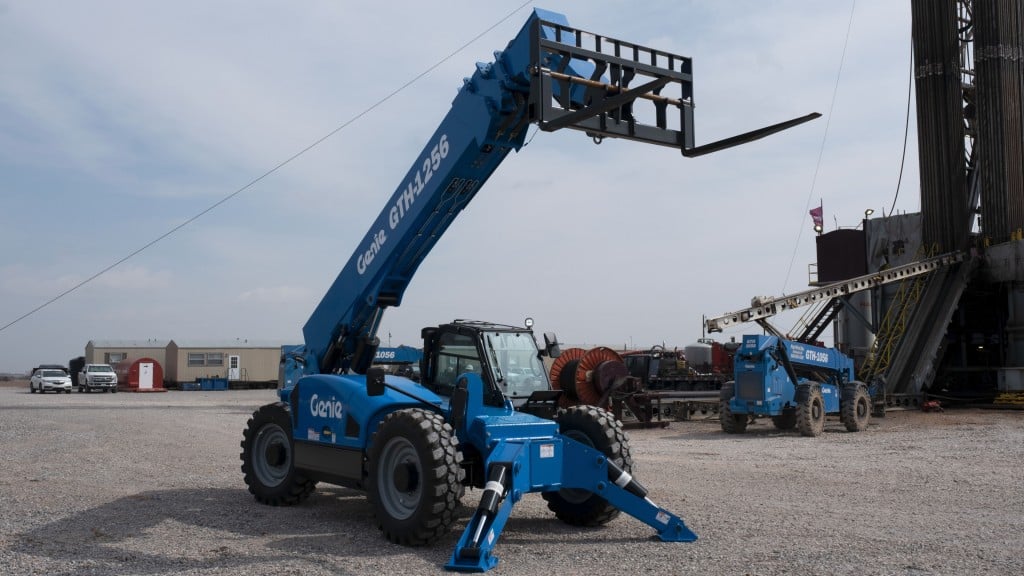 Genie's GTH-1256 telescopic handler is Genie's highest capacity telehandler yet and builds on the design of Genie's 6K, 8K, and 10K telehandlers. The new 12,000 lb capacity telehandler is designed to improve durability, lower the total cost of ownership, and provide ideal productivity on the job site. The GTH-1256 shares many features and parts across the other GTH product line and aims to simplify fleet ownership and maintenance.
The GTH-1256 has a 6,000 lb (2.721 kg) weight capacity at a max height of 56 feet 3 inches (17.15 m) and 3,500 lb (1,588 kg) capacity at max outreach of 42 feet (12.8 m).
Genie's GTH-1256 delivers 15 percent more efficiency in power transfer for picking and placing and is powered by a side-mounted 120 hp Deutz engine with a four-speed powershift transmission. New limited slip differentials on both axles and full-time four-wheel drive provide the traction needed for job sites, while single-reduction, planetary, specialty, and transaxle lines deliver the reliability, power, and performance for rough terrain.
Genie's Enduro A/T tires come as standard. These hybrid, all-terrain tires are a combination of rock lug tires and conventional rough terrain tires. A wide centre bar delivers better wear on hard surfaces and self-cleaning outer lugs power through soft, muddy ground without becoming clogged. Enduro A/T tires also provide one-third longer wear before replacement is needed, reducing ownership costs.
A new cab design features enhanced visibility of all four tires, a seven-inch display, a reverse backup camera, a rear proximity alarm, and a full A/C system.
"This is a high-capacity telehandler designed, built, and extensively tested for the realities of heavy-duty jobs," says Genie Senior Product Manager Amalija Kopac. "When we were designing and testing this machine, we prioritized durability and reliability, along with a reduced total cost of ownership and productivity, ensuring our 12k telehandler will deliver the performance and longevity needed by equipment operators and owners."
The Genie Quick Attach system makes it easy and fast to swap attachments, and the GTH-1256 shares attachments with Genie's GTH-1056 10k telehandler, including three carriage sizes (48", 60", and 72"), a rotating carriage and a swing carriage. This commonality gives fleet owners an opportunity to increase the versatility of their fleet in a cost-effective manner, contributing to lower costs and a better rROIC.
The GTH-1256 telehandler will debut Feb. 13 to 15, 2023, at the Genie booth at The ARA Show.