Keestrack to show fully electric solutions at bauma as it adds more sustainable options to crushing and screening lines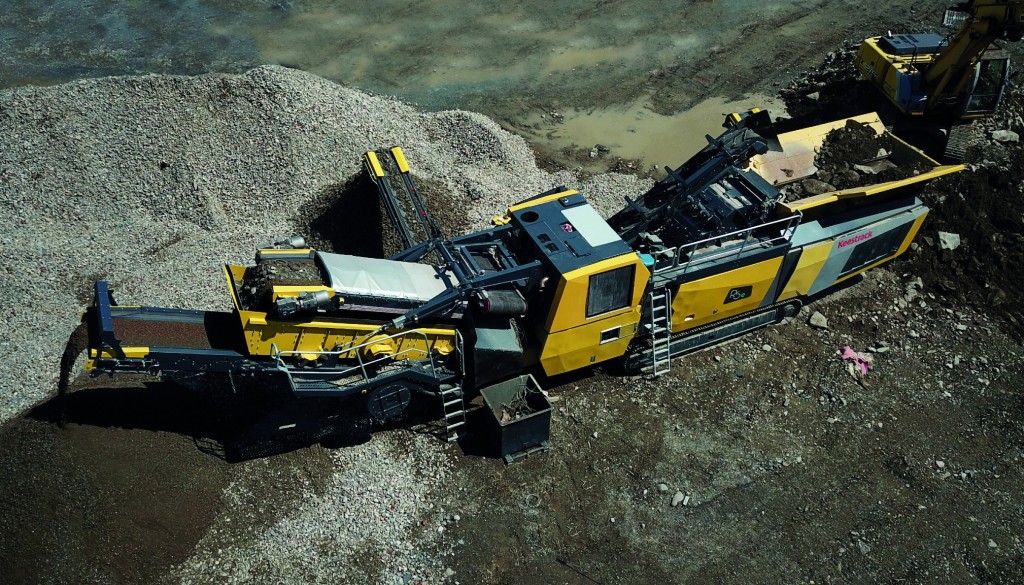 Keestrack has always had a strong focus on sustainability in the crushing and screening sector, and it will bring even more focus to electric drive for aggregates operations at bauma with the introduction of its newest machine options.
The ZERO-drive machines that will be on display at bauma this October have no combustion engines on board - they are specifically driven by electric motors, which the company says is the greenest and most effective choice on the market currently.
Zero emissions thanks to electric drive
While Keestrack's e-drive machines have always been able to plug in to mains power, they have also had the option for power from the onboard diesel engine or any other generator. The diesel-electric plants have had the opportunity to save up to 40 percent in terms of fuel use, and when crushers, screeners and stackers are connected, that can drop by up to 70 percent, the company says.
However, the ZERO-drive equipment is built with no combustion engine on board, and thus offer very high efficiency with low energy requirements and much lower maintenance than diesel powered units. Eight machines will initially be available with ZERO-drive, Keestrack says.
The R5e ZERO jaw crusher, which will be on display at bauma, features a double deck pre-screen and a feed opening of 1,110 x 750 mm and an outlet adjustment C.S.S. min.-max. 45-180 mm. It can take a feed size of up to 600 mm. It can be equipped in closed circuit with a single deck screen, oversize, recycling and fines conveyor. A pre-screening stockpile conveyor is an option on either side of the machine. The jaw crusher is equipped with the patented N.S.S. non-stop system, which protects the crusher from uncrushable feed.
Also new in the ZERO-drive line is the A6 tracked apron feeder, which functions as a buffer with its 15-cubic-metre hopper to ensure that the following machine, usually a stacker, is evenly fed with material. It has two drive speeds and the hopper can turn 90 degrees as needed.
Tracked engine/generator units bring mobile power
Along with the new machine line, Keestrack is introducing new tracked engine/generator units that can provide power when there is no plug in connection to the grid available on site. The M5 tracked engine unit will be on display at bauma, featuring a Cummins X12 EU Stage V engine and alternator that can provide 383 kW and 450 kVA to drive all electric equipment at 197 g/kWh. When there is no power alternative, these engine/generator units add an economic advantage by powering the complete production train with just one engine.
New units expand crushing lines
A number of new crushers will be on display at bauma, starting with the I4e tracked mobile reversible impact crusher, which features an advanced diesel-electric drive concept. Keestrack's innovative RIC (Reversible Impact Crusher) technology adds flexibility for secondary and tertiary crushing of rock and recycled building materials such as asphalt. This machine's specific design includes a large variable crushing chamber, powerful rotor and electronically monitored hydraulic gap adjustment. It allows feed sizes up to 250 mm and ensures consistently high-quality end products of up to 0/2 mmm in closed circuit. Secondary and tertiary crushing can be combined in a mobile solution, making the I4e an alternative to mobile cones or vertical impact crushers. Keestrack says the machine offers lower wear, significant energy savings and better end product quality.
The drive unit, with a 447 kW diesel engine and 300 kVa generator, is designed to be removable. Electric drive for the I4e provides cost-efficiency and emissions-free plug-in network opportunities.
The H7e cone crusher is now Keestrack's largest machine. At a height of more than 7 metres and a fully equipped weight of 92 tonnes, the H7e has a two-deck prescreen and three-deck afterscreen, a feed size of up to 250 mm, a C.S.S. min-max of 16 to 48 mm depending on the crusher chamber configuration, and a capacity of up to 415 tonnes per hour. As with other Keestrack machines, it can drop its engine/genset away from the machine in a less dusty and lower vibration environment.
The new R5e impact crusher is available both as a fully electric ZERO-drive unit or with a drop-off engine/genset. Very mobile and easy to transport, the R5e can be transported in one piece, even equipped in closed circuit.
A double-deck prescreen ensures perfect screening, and material can be stockpiled by side conveyors or go via crusher bypass. Driven by a 200 kW motor, the rotor, with a width of 1,000 mm and a diameter of 1,260 mm, has an extremely high mass moment of inertial , ensuring high productivity and stability. The optional two-deck precision screen can be placed in closed circuit, and the middle and fine fraction can be stockpiled as an additional option.