Mecalac to introduce mid-sized electric machine line during bauma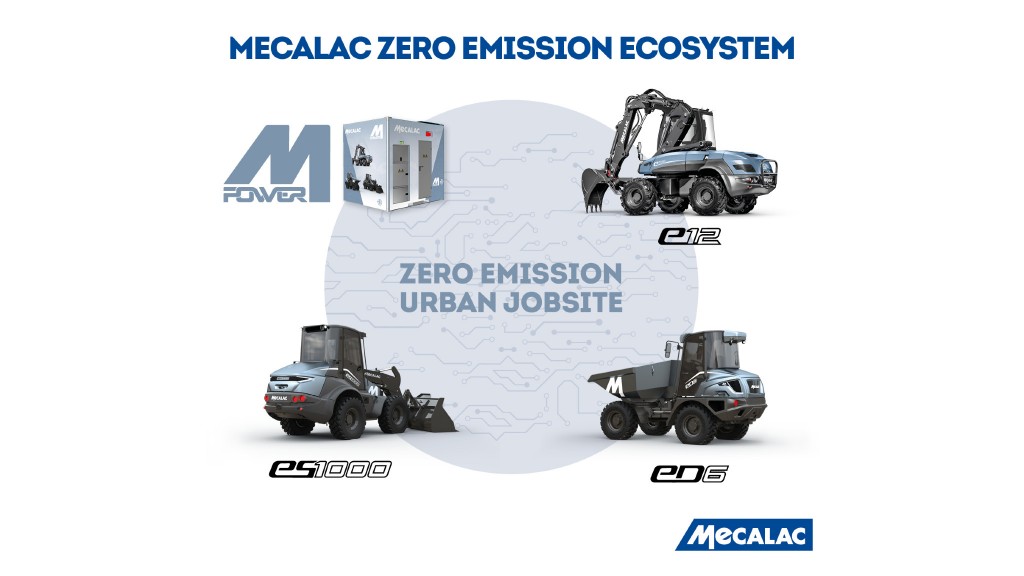 Electromobility is a growing theme among construction equipment manufacturers, especially considering a move by many European cities to encourage zero-emission job sites within their cores. That theme is appearing at bauma for 2022 as well, and Mecalac has announced its intention to push hard into the electric equipment sector.
Mecalac is debuting what it calls a complete zero-emission ecosystem for urban work sites at bauma, with the introduction of an excavator, a swing loader and a site dumper all powered by electricity. The target for Mecalac was to step away from the smaller machines introduced by other manufacturers and move into medium-sized equipment for urban construction work.
The result is Mecalac's line of electric machines that include the e12 excavator, an 11-ton machine; the 1,000-litre es1000 swing loader; and the 6-ton ed6 site dumper. Those, combined with the M-Power high power battery charging solution, form the backbone of Mecalac's efforts to create intelligent, clean and silent construction sites, the company states.
While full details regarding the three machines are still forthcoming, Mecalac says it has successfully answered many questions regarding energy optimization to bring these larger electric machines to the job site. Technological breakthroughs in the hydraulic distribution system, as well as in auxiliary systems like heating and cooling, aid in reducing energy consumption without affecting performance. It has also kept in consideration the way that operators use these types of machines, and have configured controls to react optimally.
The M-Power system is a mobile high power supply solution that has a 300 kWh storage capacity, giving it the ability to replace diesel generators and provide a roving battery charging option.
All in all, Mecalac says its electric machine offerings will reduce CO2 emissions significantly compared to combustion engines on job sites, as well as cutting down noise pollution significantly and providing new options for working inside structures.
New compact loaders to be introduced
Along with its electromobility platform, Mecalac will be showing a new line of compact loaders at bauma, with six models ranging from 1.74 to 2.85 t in size. The MCL series is targeted at rental, construction and agriculture, and is positioned to compete with skid-steers, small tractors and similar equipment.
Powered by Perkins Stage V/Tier 4 Final engines ranging from 25 to 49 hp, the MCL line features four models with standard booms and two with short booms, providing options for various industry sectors. All are available in three versions - canopy, canopy with foldable top, or cab - and can work with a range of attachments.
MCL loaders can be equipped with a range of technologies that improve comfort and driver support. The M-Drive system, for example, turns certain models into a tool carrier; operators can control the speed of the machine with the foot pedal at a selected engine rpm. Speed control can be used to redefine the speed range that can be used via the foot pedal, as required - choosing a lower speed, for example, allows users to do more precise work. A digital keypad adds better control, ensuring only the right people are able to use the machine. In addition, Mecalac's MyMecalac Connected Services make sure the machine is used in an optimum manner, collecting and optimizing accessible machine data to reduce downtime and improve fleet management.
Unique dumper adds safety to material transport
Site dumpers are growing in popularity on many job sites, but these machines tend to have some limitations due to their construction and design. Mecalac has taken a new look at dumpers and created something unique - the Revotruck. A dumper-style machine, the Revotruck aims to improve safety and operation by allowing operators to rotate the entire cab of the machine at the touch of a button, allowing them greater views of the site they're working on.
Mecalac says the Revotruck's rotating cab design ensures that drivers maintain their body posture no matter the direction they're operating, reducing potential back problems, and that the machine automatically adapts to the actual position of the cab when it comes to driving direction, speed and steering. Access to the cab is excellent, and the machine is designed for stability with switchable steering modes that provide agility in all kinds of work spaces.
The Revotruck is designed for challenging situations, and has plenty of flex to deal with obstacles on rugged job sites. It is designed around a central linkage between the two parts of the chassis that features up to 18 degrees of oscillation, which ensures that the machine is stable and has traction in all conditions. The unique design features four equally sized wheels and a switchable steering mode - front steering, all-wheel steering and crab steering are available – that ensure the machine is able to handle tight spaces.
Related Articles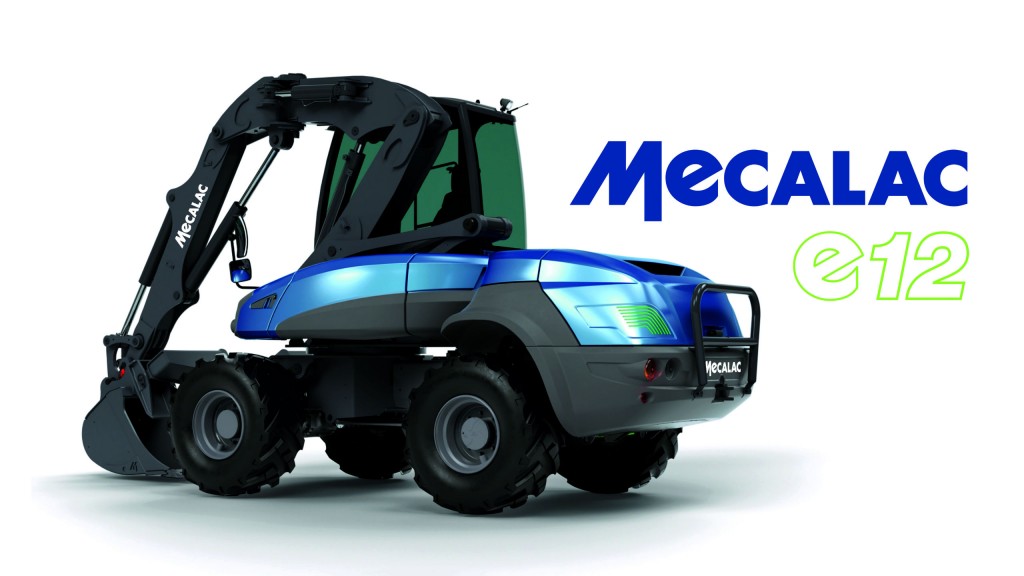 The Mecalac e12: a 100 percent electric excavator for urban construction sites to be shown at Intermat