In-depth report: telehandlers for hoisting & material handling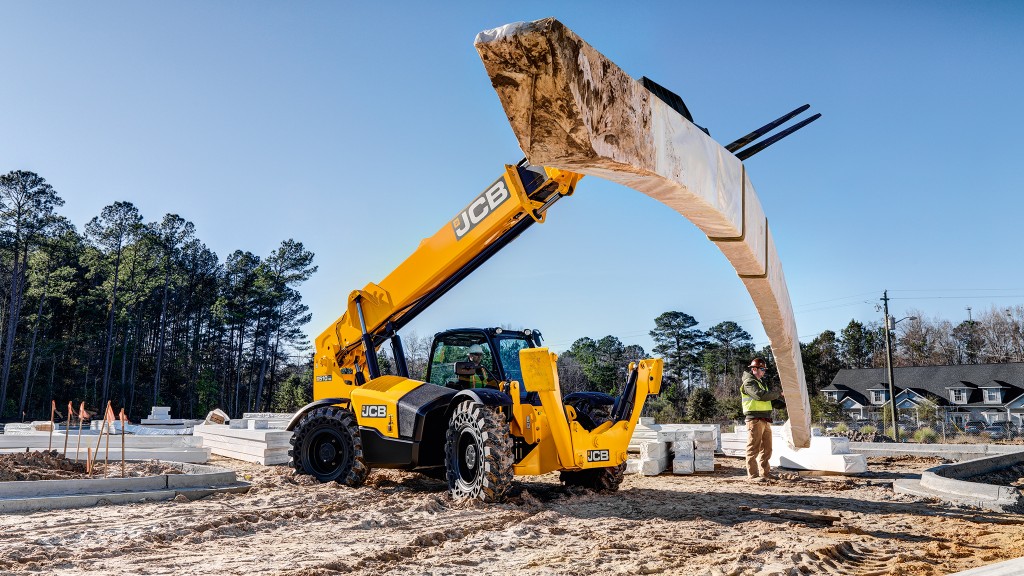 Telehandlers excel at moving materials to hard-to-access areas on job sites, whether deep into a building site, over obstructions, or up high. In this in-depth report, we focus on the use of telehandlers for hoisting and material handling on job sites, including which type of telehandler is best-suited to these uses, when it is ideal to use a telehandler instead of a crane, attachment options for different material types, and the unique safety considerations to take into account when suspending loads.
How to select a telehandler for hoisting and material handling
Telehandlers excel at more than lifting palletized loads – utilizing a variety of buckets telehandlers can move gravel, dirt, or rocks. With grapples they can handle pipes and other building materials, and with hooks they can hoist even more. Our experts agree that the first consideration when selecting a telehandler should be given to how the machine will primarily be used.
If height and reach is needed to place loads, then a pick and place (also referred to as lift and place) telehandler is the best solution. These machines have three-, four-, or five-section booms to deliver height and reach, and they are also outfitted with outriggers that deliver stability and maximize load chart capacity.
If the telehandler will primarily be used for unloading trucks or moving material from one place to another, then a pick and carry machine (also referred to as a tool carrier) is the best option. These telehandlers usually have two-section booms and no outriggers.
John Boehme, senior product manager – telehandlers, with JLG, recommends that you start by calculating the maximum pick that the machine needs to handle: identify the maximum weight of the load, the maximum angle that the machine needs to be able to lift and place the load, and the maximum height that the load needs to be placed at.
Our experts all emphasize that knowing the job site conditions is very important – whether the telehandler will be working on an undeveloped surface, such as dirt or rocky soil, or whether the surface will be finished, such as turf or concrete. This will inform tire selection, as noted by experts from both JLG and Liebherr. Foam-filled/solid tires are ideal for undeveloped terrain, and non-marking or turf tires are ideal for finished surfaces.
You should also consider the materials that the tires will be exposed to – and whether your telehandler's tires need to be scratch-resistant, abrasion-resistant, acid-resistant, etc.
Ultimately, you'll want to pick the machine that can deliver the versatility you need on your job sites. "Expanding the versatility of telehandlers is all about the different types of attachments that can be used on the front of the machines. With fork-mounted, coupler-mounted, and permanent-mounted options, owners and operators can use one machine to do a myriad of tasks by simply changing the attachment," says Boehme.
Attachments extend the versatility of telehandlers
Attachments used for hoisting and material handling include truss booms, grapples, jibs for extra length, swing carriages, tilt carriages, fork-mounted hooks that slip over forks, and pipe/pole grapples. Some telehandlers can even be mounted with a tire manipulator attachment for installation and removal of wheel assemblies from large construction and mining equipment.
Bucket options, which are ideal for use with tool carrier type telehandlers, include grapple buckets, fork-mounted buckets, and material buckets for job site cleanup, spreading material (such as gravel), and loading and unloading trucks. Outfitting a telehandler with a skid-steer adapter plate extends the carrier's versatility even further for use in other applications, such as snow clearing and sweeping.
Stan Peterson, telehandler product director, adds that Xtreme can even approve custom attachment designs for specialized needs.
Each manufacturer offers its own lineup of attachments compatible with their telehandlers, and Liebherr notes that they provide an options matrix that carefully shows which attachment system works on which machine. They also offer different sizes of each tool to equip a range of telehandler sizes, from small to large machines.
Every attachment is issued with a specific load chart approved for use on a specific model of telehandler, adds Peterson from Xtreme.
Operators need to be aware that the load capacity with the attachment may be reduced from the standard-issue load chart – and the range of motion of the machine may be different.
"As an operator, as you are using the machine and changing attachments, or are looking at what's best to use, you're always going to need to go back and make sure that your capacity falls within the attachment you're using," recommends Rebecca Yates, product manager – material handling, with JCB.
"Understanding the nature of the work to be accomplished and the capabilities of each type of attachment the machine can be fitted with is crucial to safe and efficient use," says Boehme. "This means knowing whether a load needs to be picked or placed. Does the job require loose material to be scooped, or a load suspended? Does the operator need to grapple loose material or pipes? Answering these questions will help owners/operators select the appropriate size and type of attachments."
An integrated boom hook, also known as a lifting lug or clevis, is standard on many telehandlers now, and the operator doesn't need to install anything. The operator can put a chain or strap through it to efficiently handle a suspended load.
Yates adds that the hook may be positioned differently depending on the manufacturer of the machine and that will change where the load is centred. The telehandler will also have a load chart specific to use of the boom-mounted lift hook.
When to use a telehandler vs. when to use other types of equipment
Telehandlers are ideal for lifting, carrying, and placing palletized loads as well as jobs that require lifting a particular tool or device into place to work, says Peterson.
They are also ideal for reaching over the sides of high trucks to load and unload material.
According to Skyjack, when materials need to be hoisted and space is an issue or the area is obstructed and does not allow for the use of a crane, a telehandler becomes the ideal choice. For example, in residential construction applications, where you normally wouldn't have a crane, a telehandler can be used to hoist pre-assembled roof trusses.
Boehme says that telehandlers are able to place materials at height with the same as, or more, precision than a crane – especially, he notes, when equipped with JLG's remote boom control which allows the operator to work outside the cab for better visibility of the load. He also adds that OEMs are introducing higher-capacity telehandlers as crane alternatives to meet growing market demand.
Yates points out that one benefit of using a telehandler for hoisting is that they don't have the same operator certification requirements as cranes – it's easier to have more operators trained to use them safely.
The telehandler's boom can also extend material further over a sidewalk or across a ditch, unlike some other types of equipment that can be used for hoisting, such as excavators.
Ultimately, Boehme recommends, "To best determine if a telehandler can serve as an appropriate substitute for a crane, consult the machine's load chart. It features an X and Y axis for distance from the front tires and height needed for placement. Using the load chart and a tape measure, a determination can be made to see if the machine can safely place the load.
"Or, owners/operators can go through a dry run procedure, or a practice run of the lift or pick being performed with no load on the forks, to test if it will work. Using the indicators on the side of the boom, operators can complete a dry run placement, then compare it to the load chart to determine if the telehandler chosen can safely place the load."
Tips for safe hoisting and material handling
There are unique safety considerations that must be given when a telehandler is carrying a long load or a suspended load that has the potential to swing.
Our experts all emphasize the importance of operator education when it comes to handling suspended loads. Referencing the telehandler's operation and safety manual is necessary, as is consulting the machine's load chart for safe and productive handling and hoisting.
Skyjack notes that the operator needs to be properly trained for hoisting materials and the area around the machine needs to be cordoned off to prevent bystanders from entering the work area. The load must also be carefully secured and evenly positioned before lifting.
Liebherr offers training sessions for operators to work with them on exercises, a walkaround, and practical training.
If riggers (workers on the ground who help control the suspended load to keep it from spinning during placement) are present, the operator must always know where they are and what they are doing. Boehme emphasizes the importance of a clear line of sight to these workers, and full visibility of the entire pick is extremely important – this includes the hoisted material, people in the area, and the infrastructure nearby.
He recommends that operators work in low gear for better speed and control when moving, turning, and placing the load.
Suspended loads introduce dynamic forces that can affect the stability of the machine, and Peterson from Xtreme says that operators need to exercise caution to avoid sudden stops or sharp turns. Guy lines can reduce swinging, and the load should be kept close to the ground, but not dragging.
Yates adds that the operator needs to be aware of any wind, in addition to the telehandler's travel speed, which will change the dynamics of the lift. Ends of long loads, such as pipes, also need to be secured so that they won't fly around.
It's also important to consider the terrain on the job site, including slopes and potholes, as it will impact not only productivity, but also the performance of the telehandler. "Going over bumps with a suspended load feels very different from travelling with the boom lowered," says Boehme.