Big flexibility in a small package: in-depth on compact telehandlers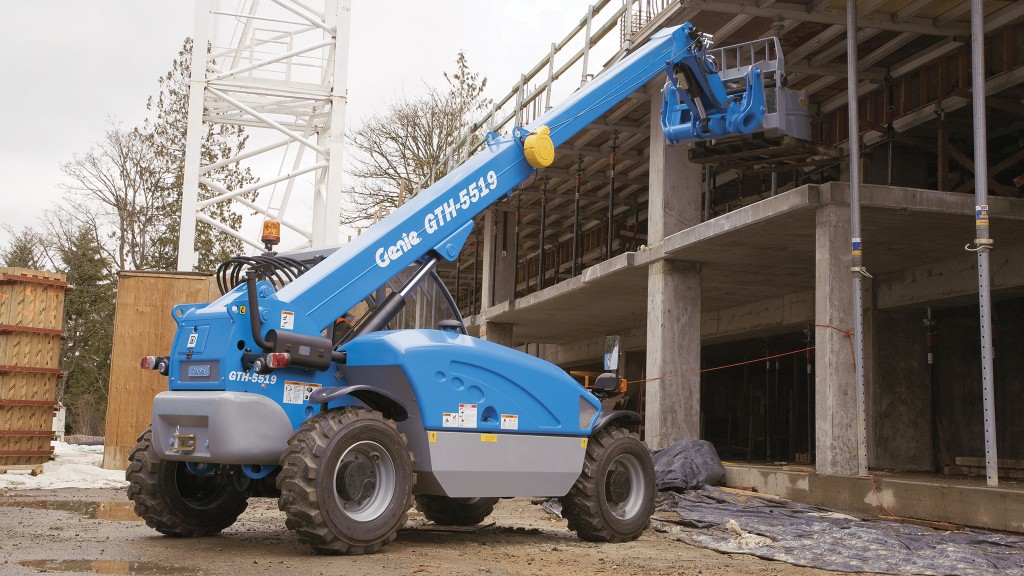 The compact telehandler is a versatile, maneuverable machine ideal for confined locations, including parking garages, urban jobsites, loading and unloading in congested areas, agriculture and more. These machines are designed for use with more than just forks and, when outfitted with a skid-steer coupler, can perform many similar tasks to other equipment including skid steers, small wheel loaders, and forklifts, but with the advantage of much greater reach.
For this article, we're defining "compact telehandler" as any telehandler with a maximum lift capacity below 6,000 pounds. However, as manufacturers continue to introduce smaller machines, several other designations including sub-compact, super-compact and ultra-compact have come into use – but there is no standardized definition for each of these categories.
JCB considers a sub-compact telehandler to be any machine under 5,000 pounds maximum lift capacity and Genie considers a sub-compact machine to be anything under its 5,500-pound-capacity GTH-5519. Josh Taylor, Genie product manager, Terex AWP, noted that both compact and sub-compact machines have shorter wheelbases and more compact operator cabins.

Snorkel considers telehandlers between 5,000 and 6,000 pounds lift capacity to be compact and anything below 5,000 pounds to be sub-compact, while Manitou refers to anything below a 4,000-pound lift capacity as sub-compact. Skyjack defines any telehandler with a lift capacity between 4,000 and 6,000 pounds as compact.

JLG uses the term "super-compact" when referring to its G5-18A model which, at 5,500 pounds lift capacity, is much smaller than any other telehandler the company offers under the JLG brand. As of February, JLG even has a 2,700-pound-capacity SkyTrak model, the 3013, which the company refers to as ultra-compact.

The growing North American market
Several manufacturers noted that the compact telehandler market has shown strong growth in recent years.

"Currently, the compact telehandler market is one of the most competitive in the equipment industry with more than 15 models in the market," said Rebecca Yates, JCB product manager for material handling. One of the reasons the compact telehandler is so popular is the skid-steer coupler on the front end, she added. That feature provides versatility for operators and owners in a variety of applications in both rental and end-use markets.

The compact telehandler category has been one of the most popular rental machines since its introduction around 20 years ago, noted Taylor. "It has evolved slightly in that more manufacturers have entered the market, presumably due to its popularity."

The primary distribution is through rental channels, but the smaller size does make them attractive to end users as well, Taylor added. Many can be towed on a standard trailer behind a heavy-duty pickup or small dump truck.
"The relatively low acquisition price and versatility make them attractive to own for contractors, landscapers and tradesmen."
According to John Boehme, senior product manager, JLG, urbanization is driving growth in North America for compact telehandlers.

If you need to unload a truck in the congested downtown of a large city, you may only have one-side access to the load. On tight, congested roads, sometimes a truck can barely get through – and it still needs to be unloaded. According to Boehme, the smallest of telehandlers, such as the SkyTrak 3013, can do that. "It has the turning radius and small stature required to get it done; we're talking about machines that are just over 50 inches wide and maybe 105 inches long that can get in there and get the material unloaded quickly."

Matthew Elvin, CEO of Snorkel, noted that a large portion of compact telehandlers in North America are rented and stay on jobsites for most of the project due to their small dimensions for navigating the jobsite in pick and carry applications.
According to Malcolm Early, vice president of marketing at Skyjack, the market growth for telehandlers has been growing upwards from 2016 to 2019. The compact segment has seen ever greater levels of growth and is expanding in importance.
Productivity and versatility in a compact package
Compact telehandlers are extremely versatile and maneuverable, which is their primary advantage on a jobsite.
"They are able to manage jobs, such as unloading trucks, staging material and assisting jobsite cleanup. They do have advantages over other pieces of equipment, such as vertical mast forklifts, skid steers or loaders," said Taylor.

Yates noted that a compact telehandler on any size jobsite is a versatile and valuable tool. "Compared to a standard forklift, a compact telehandler like the JCB 505-20TC provides several advantages including four-wheel drive with three modes of steering to maneuver around tight, unfinished work areas. The reach an extending boom on a compact telehandler provides can double operator productivity with less time to reposition the machine or trucks to load and unload materials."

The advantages are pretty clear when it comes to size, said Boehme – not only in length, but in width. "Maybe the equipment needs to fit through a set of double doors; a compact telehandler can do that. The tradeoffs [with larger models] are typically that you won't get as much lift height or reach and typically not as much capacity as larger, heavier models with more boom sections."

That said, the height and reach of super compact telehandlers are an advantage when compared to forklifts and skid-steer loaders. Telehandlers can place things on a roof or reach into a truck, unlike a skid steer or forklift in most cases, Boehme added, and the lighter weight means they can be operated in spaces with weight restrictions, such as parking garages or other structures.

Steven Kiskunas, Manitou Group's product manager for telescopic handlers, noted that compact telehandlers have the advantage of providing four-wheel drive and four-wheel steer movement in poor ground conditions.
"The compact telehandler with its ground engaging boom design and additional 'tool carrier' heritage means that it brings an extra dimension to the jobsite compared to wheel loaders and skid steers." Early said that Skyjack's SJ519 TH model is capable of using a wider variety of attachments such as carriages, forks, bucket, high-capacity jib boom, and truss carrier in addition to skid-steer attachments when the machine is outfitted with Skyjack's skid-steer attachment adaptor plate.

"This means that the SJ519 TH can do the work of a wheel loader or a skid steer yet also lift material to height."

While forklifts can often be used both inside and outside, Elvin said that most compact telehandlers, including Snorkel's SR5719 are available with optional non-marking high grip tires.

The lift can be used both on rough terrain and on concrete slab. Snorkel now also offers its diesel-powered SR5719 compact telehandler in an all-electric version, the SR5719E.

"This lithium-ion battery powered compact telehandler delivers equivalent performance as the diesel version, including powerful four-wheel drive, but with the added benefit of zero emissions and less noise. This means that it can be used during all stages of construction, even indoors during final fit-out stage," said Elvin.
Built for more than just forks
"You determine how productive or versatile the machine is by how many different tools you can put at the end of the machine," said Boehme. "For telehandlers, popular attachments are generally buckets, forks and carriages, lifting hooks for lift, carry and place work. Specialized attachments are called upon for applications that are more unique in nature."

A benefit of compact telehandlers is their ability to use skid-steer attachments. Skid-steer loaders use a universal coupler - an attachment that fits one skid steer will typically fit another. Compact telehandlers can be equipped with a skid-steer coupler instead of the regular telehandler coupler so contractors can use the same attachments on both machine types. You can then use the skid steer attachments with the height and reach capabilities of a telehandler.

"Bigger machines, such as those with 6,000+ pounds capacity, you rarely see equipped with a universal skid-steer coupler, because the attachments manufactured for skid-steer use aren't intended for use on machines of that size and weight," said Boehme.

JCB offers three types of attachment couplers on its telehandlers: JCB Q-fit, compact tool carrier and the skid-steer coupler, which Yates said is the most popular option on the 505-20TC and 504-13TC models. "The skid-steer coupler allows the compact telehandler to be that Swiss Army Knife on the jobsite, rendering it useful in so many applications," she said. "The skid-steer coupler allows the use of a set of forks to load/unload trucks, a bucket to move gravel, a grapple to clean large debris or even a sweeper to clean up trash or dirt on a roadway, just to name a few applications."

Taylor noted that the Genie GTH-5519 telehandler is equipped with a constant-flow auxiliary hydraulic circuit for use with rotating attachments, such as sweepers. "The advantage of this model is that it is designed to be versatile and fit a wide variety of applications. Skid-steer loaders, track loaders and small wheel loaders are designed primarily as earthmoving machinery. They can be adapted to perform other duties but can also be less adept at performing these jobs due to their purpose-built nature."

The auxiliary hydraulics on Snorkel's SR5719 provide flow of 18.5 gpm to run demanding attachments.

As Manitou also manufactures skid-steer and compact track loaders, the company offers a full line of attachments that attach to the skid-steer coupler on its compact telehandlers. Kiskunas noted that grapple buckets are a particularly popular skid-steer attachments used by compact telehandlers for site cleanup.
Buying and rental tips
It is important for buyers to know about available skid-steer couplers and what type of attachments they may need when purchasing a compact telehandler, said Boehme. If they own a skid steer they may already own some of what they need.

"Buyers should also know the model's weight," he added. "There are a lot of different compact telehandlers out there, so weight will help them determine if the unit they are considering can be pulled by the truck/trailer combinations available to them that will be used for transporting the unit between jobsites. If they do not have adequate transport equipment, the unit might have to be delivered - adding costs and potentially delays based on availability of the transport company."

Researching width and length is also important if you want to self-trailer, which Boehme emphasizes is a huge advantage of compact equipment.

"There are a lot of choices in the compact telehandler market and while many models may seem the same, some things to consider would include reviewing the actual load chart for the telehandler; this will show the true working capability of the telehandler and not just the maximum values to ensure the telehandler can perform all the work necessary," said Yates.

Boehme added that critical to any telehandler purchase is making sure the model selected has the right lift height and reach. Any OEM or distribution partner can help customers determine which model or models are suitable for the work to be completed.

"When looking to purchase or rent, a contractor should first consider the likely weight of the loads that they need to carry, plus where those loads will be placed, such as a specific height. This will help the contractor identify the specifications of the telehandler needed. A further consideration, which is particularly important when looking to purchase, is how the telehandler will be transported between jobs. If looking to tow the telehandler, the contractor needs to review local requirements for size and weight," said Elvin.

"It is also important to take the time to sit in the cab," added Yates. Just because a telehandler is compact doesn't mean that the operator will be uncomfortable in the smaller cab. By sitting in the cab the operator will see firsthand the visibility to the jobsite, which is a vital safety consideration.
Related Articles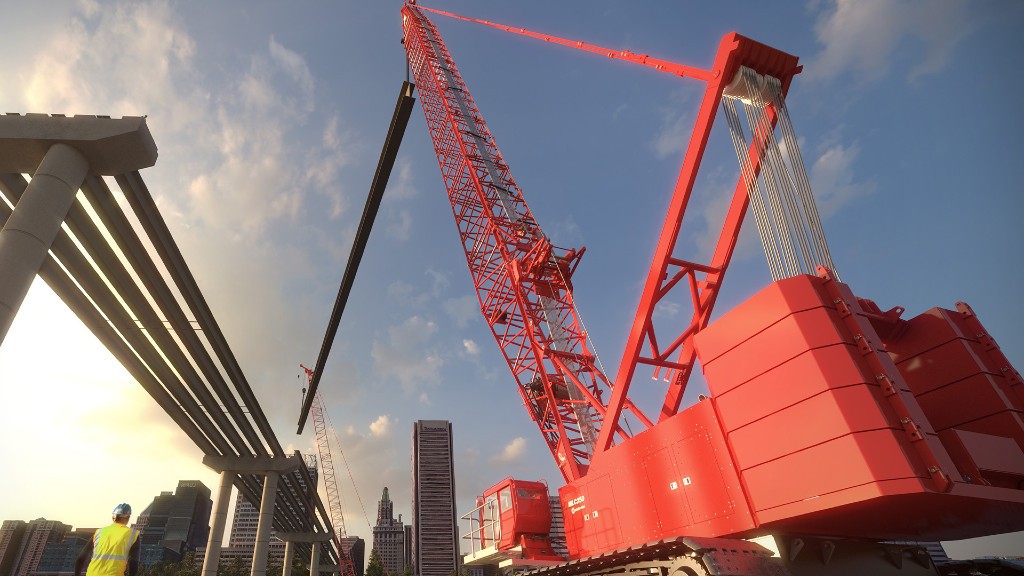 (VIDEO) Manitowoc lattice boom crawler crane updates feature open-loop hydraulics and increased serviceability