Milling machines, asphalt pavers, and more highlighted at World of Asphalt 2022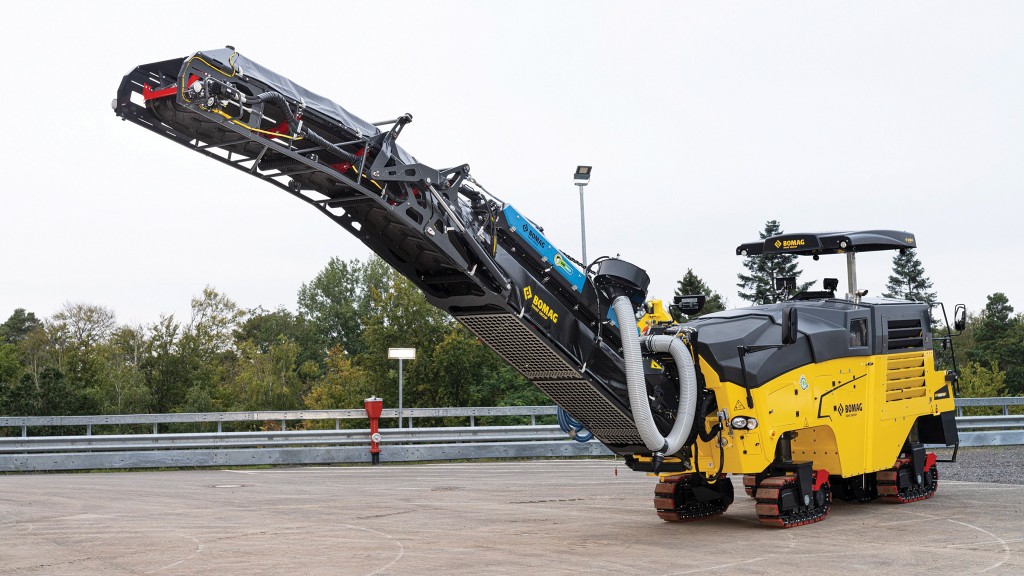 World of Asphalt celebrated its twentieth anniversary at the Nashville Music City Center in Nashville, Tennessee, in March. Organizers say that more than 440 companies were spread across more than 193,000 square feet of convention space. Compare that to the first iteration, held in February 2001, which hosted 86 exhibitors on 28,000 square feet. Here are a few of the highlights from this year's event.
BOMAG debuts two new milling machines
The BOMAG BM 1200/35-2 milling machine has a 350-hp (260-kW) MTU engine that allows for a 164 foot per minute (50 m/min) maximum milling speed and 410 foot per minute (125 m/min) transport speed. The machine design optimizes engine output to milling speed, increasing efficiency.
The mill has a 47.2-inch (1,200-mm) cutting width and maximum 13-inch (330-mm) cutting depth. It is outfitted with a 25.6-inch-wide (650 mm) inside conveyor and a 23.6-inch-wide (600 mm) outside conveyor that can move material from the cutter housing to haul trucks at capacities reaching 235 cubic feet/hr (180 cubic metres/hr). The maximum discharge height is 224.4 inches (5,700 mm), with the conveyor able to swivel 45 degrees to the left and right.
BOMAG's BM 600/15-2 compact milling machine comes in 3- and 4-wheel designs and features machine levelling sensors integrated into the mill's side plate cylinders. A 7-inch (178-mm) colour display is used for operation and levelling control during mill set-up. A range of quick-exchange drum designs are available in widths from 3.15 to 23.6 inches (80 to 600 mm). The mill has a maximum 23.6-inch (600-mm) cutting width. Its hydraulic system boosts transport speeds to 3.7 mph (6 km/hr) for 3-wheel and 6.2 mph (10 km/hr) 4-wheel configurations. A 15.7-inch-wide (400 mm) conveyor design features 30-degree left/right swiveling for truck loading at up to 111.2 cubic yards/hr (85 cubic metres/hr) discharge rates.
Dynapac launches new class of highway pavers for North America
Dynapac showcased its newest range of highway class pavers and screeds built for the North American Market. This includes four paver models, the D30T - 10-foot tracked machine, D30W - 10-foot wheeled machine, D25T - 8-foot tracked machine, and D25W - 8-foot wheeled machine, as well as two screeds, the Mat Master 16R (8-16 feet), and the Mat Master 20R (10-20 feet).
The tracked and wheeled pavers can reach transportation speeds of up to 10 mph for fast repositioning of the machine. Dynamic Suspension Control (DSC) on the wheel pavers can ensure the necessary traction for highway paving. Heat control systems keep the screed at desired temperatures. The Dynapac smart dashboard and HMI design have several operator-assist functions built in such as FeedAssist, CleanAssist, ImpactAssist, DiveStop, and LightAssist.
The Mat Master screeds are equipped with DiveStop and Active Screed Assist to pave regardless of material types. A double-width heavy-duty screed design is suitable for paving highways, new construction, or large commercial job sites.
Wirtgen Group shows roller, pavers, and a new compact milling machine
Hamm
Hamm displayed its HD 14i TT pneumatic tire roller, from its HD CompactLine. The roller's working weight is around 7,817 pounds (3,545 kg) with a working width of 50.2 inches (1,276 mm). Standard features of the HD 14i TT include the vibration-isolated operator's platform, 12 V socket, a vandal-proof cover on the dashboard, an electronic battery isolation switch, and a pressure water-sprinkling system. Options include a heated driver's seat, rollover protection, and an automatic engine stop function.
Vögele
Vögele presented several of its current pavers: the SUPER 700i Mini Class paver in combination with the AB 200 extending screed, the SUPER 1800-3i SprayJet Special Class paver in combination with the VR 600 rear-mounted screed, and the SUPER 2000-3i Highway Class paver in combination with the VF 600 extending screed with front-mounted extensions.
The SUPER 700i, combined with the AB 200 extending screed, has paving widths between 3 feet 7 inches (1.1 m) and 6 feet 7 inches (2 m). Using width reductions, it can get to a minimum paving width of only 1 foot 8 inches (0.5 m). It can get to a maximum width of 10 feet 6 inches (3.2 m) using attachments.
The SUPER 1800-3i SprayJet with fixed-width screed VR 600 can be used as a spray screed or as a standard screed. The bitumen emulsion is sprayed and the asphalt surface is placed in a single pass. The paver, with the rear-mounted VR 600 screed, has a maximum spray width of 19 feet 6 inches (6 m).
The SUPER 2000-3i tracked paver has an installation capacity of up to 1,540 US tph (1,400 tph) and a 6-cylinder diesel engine. With the VF 600 front-mounted screed, the paver can get to a maximum paving width of 19 feet 6 inches (6 m), 25 feet 5 inches (7.75 m) using attachments. It is also equipped with a telescopic guidance system for width adjustment. The L-shaped frame gives it high rigidity in longitudinal and transverse directions, while allowing for controlled torsion.
Wirtgen
Wirtgen introduced the W 120 Fi compact milling machine at World of Asphalt 2022. The front loaders, with working widths of 1.0 m, 1.2 m, and 1.3 m, are powered by John Deere engines that deliver a rated output of 265 kW/355 hp.
The technologies of the F-series large milling machines have now been integrated into the F-series compact milling machines. These include the on-board digital assistance systems Mill Assist, Wirtgen Performance Tracker (WPT), and the Level Pro Active levelling system. In automatic mode, Mill Assist selects the operating strategy with the most favourable balance between milling performance and operating costs. The levelling system features operating panels that display all connected sensors and measured values.
Caterpillar introduces new compact line of pavers and updates large asphalt paver line
Caterpillar announced that it will be introducing a new compact line of asphalt pavers and screeds. These standard 8-foot size-class paver and screed combinations include the AP400, AP455, AP500, and AP555 asphalt pavers as well as the SE47 V and SE47 FM asphalt screeds.
The standard paving range with the SE47 V screed is 8 to 15 feet 6 inches (2.4 to 4.7 m) with a maximum width of 20 feet (6.1 m), while the standard paving range of the SE47 FM screed is 8 feet to 15 feet 6 inches (2.4 to 4.7 m) with a maximum width of 20 feet 6 inches (6.2 m). Since these 13- to 15-ton-size-class machines have a length of less than 18 feet 6 inches (5.6 m) and width of 8 feet 6 inches (2.6 m), they can be transported without special permits.
The AP455 and AP555 have the Cat Mobil-trac undercarriage design, which is a four-bogie system with self-tensioning accumulators and centre guide blocks to help prevent slippage and reduce wear. A simple wheel undercarriage design is available. The AP400 can be equipped with a front-wheel assist option, while the AP500 can be equipped with front-wheel assist or the all-wheel drive option.
Caterpillar's large asphalt paver line has been updated. The new AP600, AP655, AP1000, and AP1055 asphalt pavers have new screed offerings, technology that assists with paver set-up, better material retention, and enhanced visibility. The SE47 FM and SE60 FM Screeds have extenders in front of the main screed. The SE47 FM has a paving range of 8 feet to 20 feet 6 inches, while the SE60 FM provides 10 feet to 25 feet 6 inches paving range.
Topcon Positioning Group highlights SmoothRide paving workflow solution
World of Asphalt 2022 saw Topcon Positioning Systems highlight two paving solutions.
The asphalt paving solution, SmoothRide, covers the entire asphalt paving workflow. The system can perform highway-speed road scans to start a project. It can create CAD plans and convert to 3D models. Then the 3D machine control can handle the milling and paving. Intelligent compaction finishes the job.
Pavelink is a cloud-based application. It interconnects the asphalt production process (mixing plants), logistics, and paving at the job site. It helps in decision making by gathering and centralizing all relevant process data. This includes quantities produced, in transit and processed on site, truck locations, and paver data such as screed width and paver speed.